Believe it or not, there was a time when the internet didn't exist. The word "Google" didn't exist. Go back a little further and there were only phones in places, drills all had cords attached to them, and the only way you could buy something was to have cash or write a check for it (in cursive).
I've been installing pools long enough to remember these times. We used to have to build the pools with electric cords spread out everywhere, use a map to find the home, and find a payphone if I had to call the homeowner on the way.
Of course, we had to walk to the job in the snow uphill both ways.
Back then, you had to go to a store that sold above-ground pools or answer an ad in the paper to have a salesman come out to your house to sell you a pool. There was also the option of buying from a Sears or Montgomery Ward catalog that was mailed to you.
There are pros and cons to purchasing at a physical store and online. Buying online advantages include cheaper prices, information on the product, and selection. Buying at a local store has the advantage of better customer service and better installation assistance.
WHERE ARE MOST ABOVE-GROUND POOLS BOUGHT?
As the starter and moderator of the largest above-ground swimming pools group on Facebook, I'm able to gather information. Here's where pool owners said they bought theirs.
| | |
| --- | --- |
| WHERE THE POOL WAS PURCHASED | |
| Local brick and mortar pool store | |
| | |
| | |
| | |
| | |
ADVANTAGES OF BUYING AN ABOVE GROUND POOL ONLINE
Overall, about half of all pool packages are bought online. Here are the reasons why:
1 Price (In truth, this is counts as the first three top advantages)
By far, this is the biggest advantage of buying online. Almost all local pool retailers cannot even come close to selling a comparable pool package for the same price as an internet retailer.
And we're not talking a difference of a couple of hundred bucks. It's often a thousand dollars and more price difference when comparing the same quality of pool and its components.
About five years ago, I watched a price battle go on between the only real above-ground pool store in Orlando and a Florida-based internet pool retailer.
I was the primary installer for both of them, so I got all the info I wanted with who sold what, how much, and who won out for each customer looking at both companies.
In the end, the internet company won out over price. It took two years, but the local store wound up changing their sales strategy and started selling high-end only with good customer service for a premium price.
They realized two things – that there was a market for selling nice pools locally with great service for a premium price AND that they could not compete price-wise with the internet.
If price is your main concern, then buying an above-ground pool on the internet is your way to go.
2 Selection
Local pool stores will have just a few models and often only one (maybe two) manufacturers to choose from. They also will often only have a couple of pump/filter, ladder, liner, and other accessory options.
With the internet, you can find almost all makes and models of above-ground pools for sale. Same with all the add-ons and accessories that go with the pool.
This isn't always an advantage as too many options can really bog down your final decision process, but if you are wanting to explore all pool types and makers, then online is where you go.
After a period of searching, most will narrow their search down to a couple of internet sites. Each site, like a brick and mortar store, will have a limited selection for the pool model, liner, ladder/steps, pump/filter, etc., so your choices(for a pool package) will still ultimately be limited.
3 Product information
We all already know this. There's no place like the internet to find information. This is no exception with learning about above-ground pools and their components.
You get to be in your underwear til 3 am if you want to research which filter is best or if an oval pool is better than a round one or the best type of liner, or a hundred other things.
A local pool store will have very limited product information when you go there. They may have a website of their own that you can access some info from or a physical brochure, but the reality is that you'll often be relying on the salesman to give you the info on the products.
This isn't necessarily an advantage as there is a lot of poor or misinformation on the internet about products people buy. As a pool guy in the real world of 36 years and counting AND an internet guy who has sold lots of above-ground pools and their components online, I can verify that most of what you read about products are biased to get you to buy something.
Just because it's well written from a good-looking site and makes sense to you doesn't mean it's at all true. In most cases, I'm sorry to say it's not. And don't get me started on "reviews" and how fake most of them are.
4 Ease of purchase
Most who buy pool packages online will call and make the purchase over the phone. And I recommend this.
As sites get better and better at being clear with the pool packages and component selections, more and more are able to "click only" and buy.
Even though you should call to make your above-ground pool package purchase online, it's still much more convenient than going down to a retail pool store (usually at least twice) and buying there.
ADVANTAGES TO BUYING AN ABOVE GROUND POOL AT A LOCAL RETAIL STORE
With a local retail above ground pool store, you're most likely going to pay a lot more for a pool, but there are some real advantages.
1 You can see the pool up and running
People have gotten more and more used to buying big things "site unseen". Many still want to see what they are paying thousands for first.
Most retail pool stores will have a pool or two set up and full of water. They do this because nothing will make the pool sale better than people seeing it for real.
Some pool supply stores that sell above grounds may just have a small display pool or just a piece of the wall and frame to show you what it looks like in the real world. This is good too.
2 They may have better product knowledge
In all the years of me installing above-ground pools bought online, I have only heard of one guy who sold online that actually knows about above-ground pools from the real world.
You are lucky if the online salesman you are talking to has even swam in an above-ground pool before, let alone serviced, repaired, or installed one. An online above-ground pool salesman will have a rebuttal(answer) book in front of him so he can answer any questions you have, but that's the extent of his pool knowledge.
A local pool store salesman may not know anything about pool either, but you have a better chance of him having some real-world knowledge. You may even get lucky and have a salesman that knows his stuff.
And if he doesn't, there's more than likely an owner or someone in-store that he can refer to that actually knows something. Yeah, talk to that person instead.
Talking to a salesman who knows what he is talking about from experience makes all the difference in the world with the purchase process.
3 They often have an installer or installation available
This can be a big plus if you live in an area where there are no independent above-ground pool installers. In reality, some have no choice but to buy from a local retailer because that is the only way they can have a pool installed.
I have installed pools that were in people's garages for a year or two because they bought a pool online and couldn't find anyone to install it. When they find me, I'm like their savior.
Knowitall advice: Don't buy an above-ground pool until you know who will be installing it.
Some stores won't offer installation. With those, they will have a guy like me that they can give my number to and I can install it independent of the pool sale.
An online above-ground pool store sells pools all over the country (and the world). They most likely won't have an installer to refer to you for your specific area.
4 They may be able to deliver sooner
If your local above-ground pool store keeps an inventory, then you may get your pool sooner than if buying online.
Before 2020, online pools used to arrive an average about five business days after you bought them. With post-2020 supply weirdness, the pool you bought online could take a couple of weeks to get.
It can also take this long if buying locally. You'll know quickly though just by asking. With an online purchase, you may not get a clear or straight answer on delivery time.
5 They may deliver closer to where the pool is going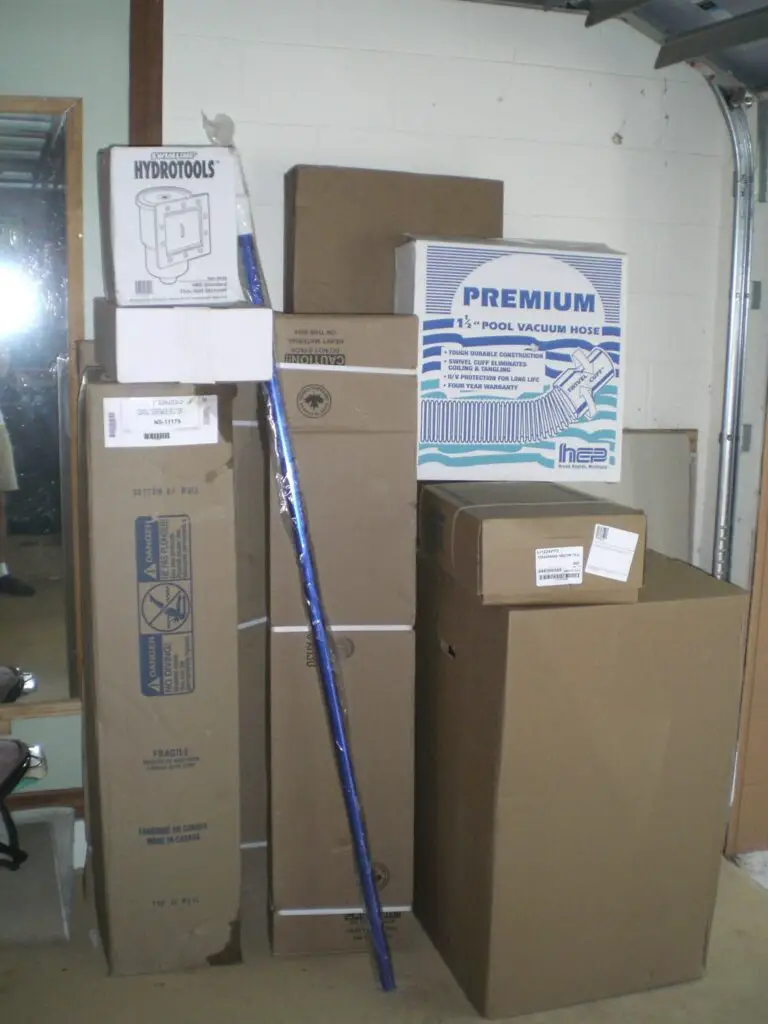 This is not a big deal, but worth mentioning at least.
When a pool is shipped by freight, it comes wrapped on a pallet and is usually delivered off the truck and set somewhere on your property by a pallet jack. Pallet jacks only move on concrete or pavers, so at best, the pool will be delivered in the driveway or garage (if you have a concrete driveway).
With a local delivery, they can often deliver the pool to the backyard where the pool is to be installed. Not always though, but usually.
To a pool installer like me, this doesn't matter much. But it may make a difference to someone self-installing or if someone doesn't have a garage or someplace in the front yard to keep the pool safe from being stolen before it can be installed.
6 If there's a problem, a local store may be able to take care of it better or sooner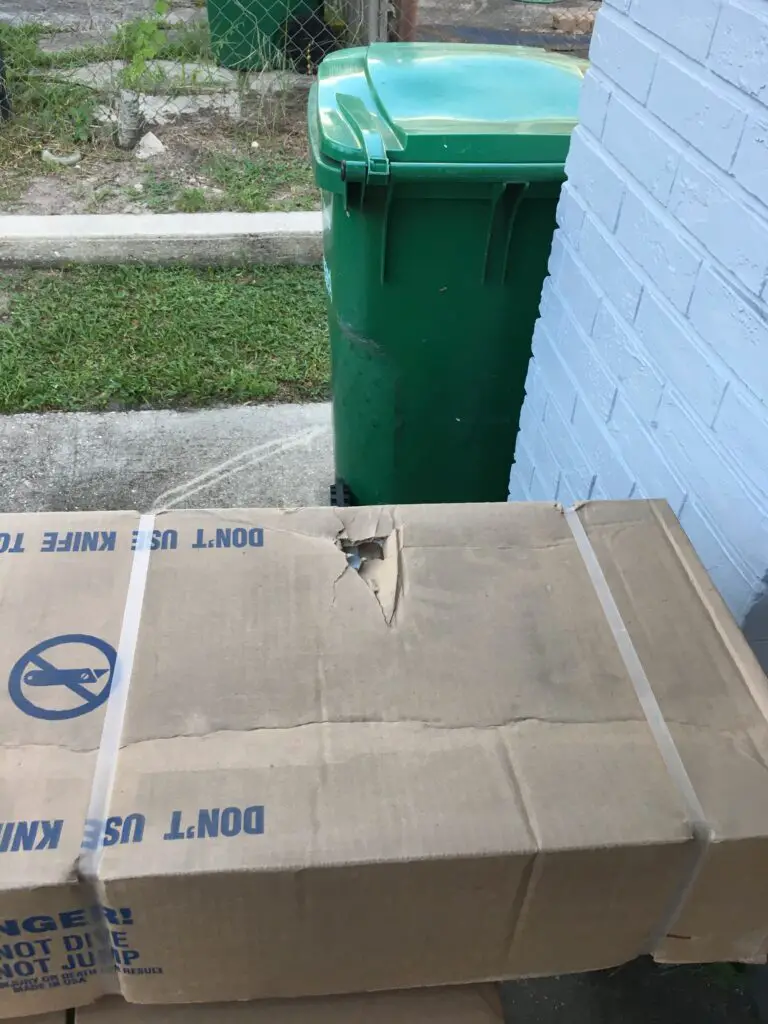 Most pool packages don't have issues, but stuff does happen. And when it does, a local store most often can take care of the issue a lot faster and better than an online store. Here are some common issues.
A If something in the package is missing, a local store may get it to you faster
A metal-walled above-ground pool package comes in a lot of different boxes. And a box can be missing. Usually, you won't know that a box is missing until the pool is getting installed.
Depending on what is missing, getting it can be time-sensitive if you have an installer there waiting for it so he can complete the installation.
If you bought the pool online, the fastest they would be able to get the missing box to you is overnight, which they normally won't do. If the local store you bought the pool from has it in their inventory, then you may be able to get it that day.
B If something in the order is wrong, a local store may be able to fix the error faster
Mistakes can happen with the order, warehouse, or during shipping/delivery. The wrong liner, pump/filter pack, ladder, and even the pool model can get delivered.
Again, if you bought online, fixing a wrong order will take days. If bought locally, you may get the right stuff that same day.
NOTE: It has become somewhat rare for an internet order to be wrong. The cost to them for sending out the wrong stuff is big, so most online retailers have a good system for not forgetting anything or shipping the wrong stuff.
C Broken or missing parts in the box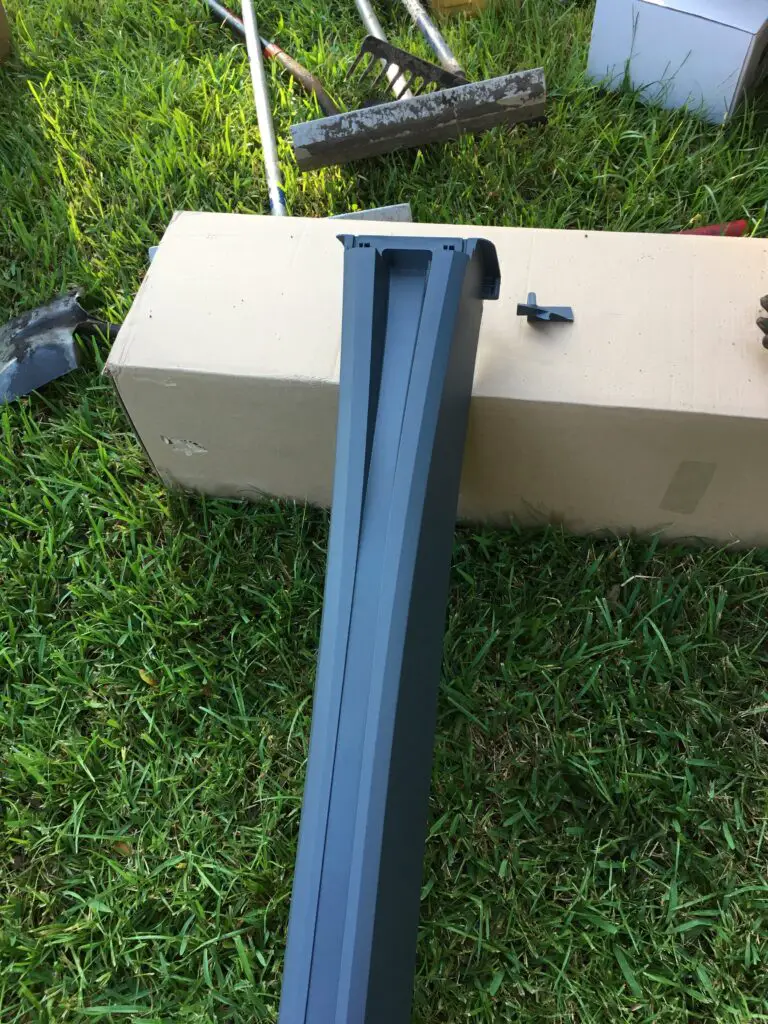 This is a factory or shipping error. It's not uncommon to have some parts of the pool frame come broken or missing from unopened boxes. This is especially common with pools that have a lot of resin frame parts.
No one will know a part is missing or broken until they open that particular box. This is often during the installation of the pool, which makes getting a replacement time-sensitive. This is where buying locally can have a big advantage over online stores.
Knowitall install advice: Before beginning the installation process, open all pool boxes to count and inspect all parts, especially the pool's frame parts.
Missing a bottom connector or bottom track piece can kill the day for an install as you can't get too far without it. Being able to drive to the pool store to get it right away will save the day. If bought online, the install will have to get pushed back as they won't be able to get the part to the yard quickly.
D Defective parts
Defective parts, like broken or missing ones, are usually discovered during or after the installation. This also makes for a time-sensitive situation.
And just like broken or missing parts, a local store may be able to get you replacements much quicker than online.
E Seam separation
During the last ten years or so of me installing pools and changing liners, the rate of liner seam separations has been about 1 in every 200 liners. So, although fairly rare, a seam separation can happen to you.
A seam separation is 100% a liner manufacturer's defect. You may think it was how the liner was installed, or how the pool bottom was done, or weather conditions, or your kids' neighbor that you don't like, or because Venus is in retrograde. Regardless, the seam separated because it was defective. Period.
Seam separations are the fault of the liner manufacturer and they will give you a new liner for free. And that is all you are usually going to get unless you bought the pool locally.
Some local stores will feel bad about your bad 1 in 200 luck and pay an installer to put the replacement liner in for you. They may even pay for your lost water and chemicals.
An online pool store will not do anything extra for you if you get a seam separation except maybe aid you in getting the replacement liner from the manufacturer.
F If your installer sucks, a local store may be able to help
As an above-ground swimming pool installer for 36 years and counting, I am qualified to say that most installers aren't great. They can not show up, have a bad attitude, do a poor job, and not come back if there was an issue with the install.
Local above-ground pool stores almost all have to at least have an installer or two that they know in the area. Some local pool purchases come with the installation as part of the sale too.
If you are having issues with an installer and you bought the pool online, they will not be able to help you in any way. A local store may be able to put the installer in line or get you another one. This can be a huge advantage to buying a pool locally.
SHOULD YOU (YES I MEAN YOU) BUY A POOL ONLINE OR FROM A LOCAL STORE?
I don't know you, so I can't say whether you should buy your above-ground pool package online or locally. There are two factors though that I think are fairly universal to all.
With all things being equal, I would easily say to buy a pool from a local store over the internet, but all things are not equal, are they? I just can't get past the price difference if it's a lot. And sometimes it's thousands more if buying local, which is considerable to me and most.
If I were you, I would find out about these two things before deciding where to buy – local or online.
1 Check your local pool store options
You may have this awesome above-ground pool store in your area. It may be one that doesn't overcharge for their products, has secured some good installers, and stand very well behind what they sell.
If you have a gem like this, then you will most likely buy from them. And you should.
Check out the pool store options. You may not have a store around that sells pools. If not, then that makes your decision easy.
Walk into these stores and see how it goes. Get enough info to compare prices and similar products online and see about their installer resources. Get a feel for the place and see if the vibe is right for you to buy a pool from them.
NOTE: Some pool supply stores will sell above-ground pools. Where I install, we have some Pinch-A-Penny stores that sell them. Some Leslies stores are set up to sell them too.
2 Decide who will be installing the pool
Above-ground swimming pool installers are hard to find. Good ones who have done more than just a few are even harder to find.
If you plan on having a professional install your future pool, then this may reduce your options. Some areas of the country can only have their pool installed if they buy locally.
In my area of Central Florida, we have only a couple of independent installers. So, if people can find me or another guy like me, then they are good to buy whatever wherever. This is a big pool market though.
Most places in the country won't have any installers, so you will be forced to buy local as they will have installers that only install their products. With that, your choices are few or one.
If you plan on installing yourself, then you're golden. You can buy from anywhere. And with that, you'll probably go with online as the price and options are better.