As an above ground swimming pool installer, it will make me nervous when I see that the person that I built the pool for two days ago is calling me. Usually, they just have a simple question about their new pool pump or what shock to use or something not related to my install. Sometimes though, I'll get, "my pool is not filling all the way," or "the pool is losing water," or "there's moisture around the outside of the pool."
When I hear something like this, my first thought is always there might be a seam separation.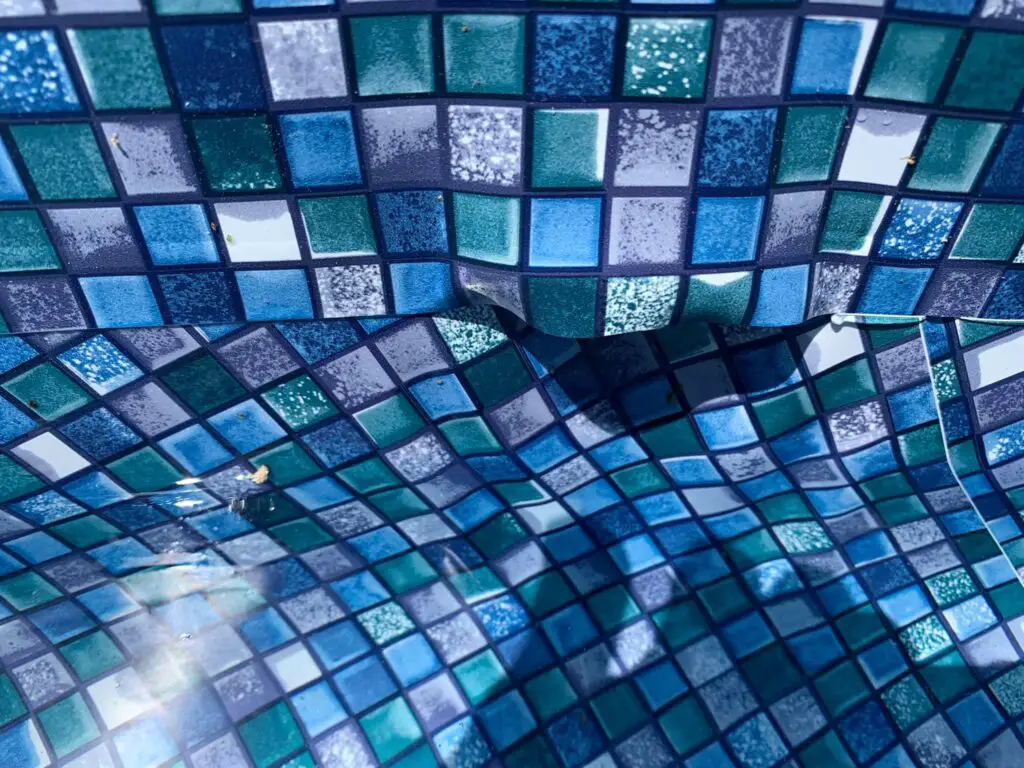 If you have verified that your pool liner has a seam separation, it's best to call the retailer that you bought the pool or liner from and tell them. After that, you may have to call the liner manufacturer and see what it takes to get a replacement liner under their warranty.
SEAM SEPARATIONS IN ABOVE GROUND POOL LINERS ARE RARE, BUT THEY DO HAPPEN.
In my more than 36 years of installing above ground pools and doing liner change-outs, I will come across a seam rip/separation once in about two hundred liners. For me then, I'm dealing with at least one seam rip a year. This is a rare occurrence, but I almost never go a season without experiencing one.
HOW TO KNOW IF YOU HAVE A SEAM SEPARATION
Here is an unfortunate fact of life – swimming pools can leak. With above ground pools, they usually don't leak until some years later when the liner starts to get brittle from age. There are other ways and places that above grounds leak, but that is usually from either a poor installation of the skimmer, return, or pool equipment, or poor products (some Chinese made skimmers don't fit well), or a combination of both.
The first thing that has to happen is the pool has to be losing water. This sounds painfully obvious, but I have to mention this because sometimes people can get it in their heads that their pool is leaking, and they won't even want to verify it before involving the installer, retailer, and the manufacturer.
So, before you stress yourself out and start calling and pointing fingers, go here and make sure you in fact have a leak in your pool.
If you have read how to find a leak in an above ground pool, and have determined that you do have a seam separation, it's now time to call the company that you bought the product from.
WHAT A MANUFACTURER'S LINER WARRANTY COVERS
If you look at your liner's warranty, you'll see that it's prorated (like car tires warranties). This means the older the liner is, the less money they will give you for a replacement.
In the case of seam separation, the manufacturer usually covers 100% replacement because about 95% or all seam separations happen within the first year. And a good liner will have at least a full one year warranty.
So, if the seam separation happens in the first year (it usually happens within the first week), then after they get proof, the maker will send out a replacement liner and pay shipping too.
In many cases, if the retailer is an established one, the retailer will ship out the liner and then have the manufacturer ship the replacement to them. That way, you get your replacement liner much sooner, which is nice.
Note: The retailer doesn't have to send you out a liner. They usually do it as a courtesy to the pool owner. Treating them poorly during this may make them decide that you should wait for the manufacturer to ship you the liner instead. It pays to be respectful, Karen. Jus' sayin.
8 CHARACTERISTICS OF A SEAM SEPARATION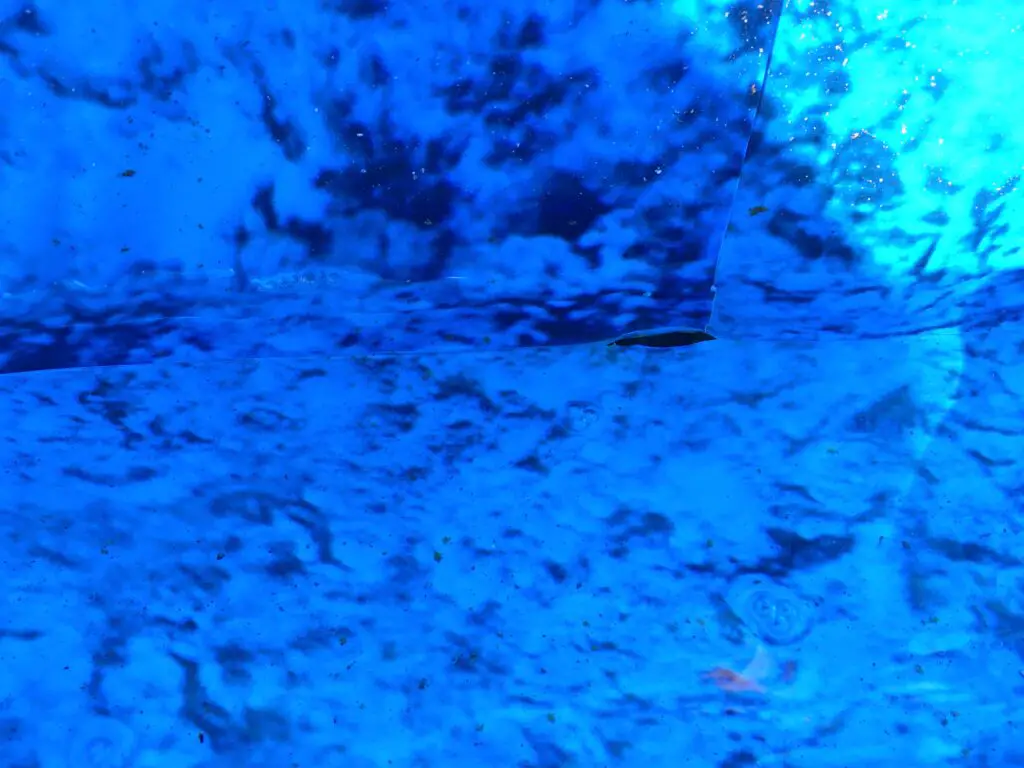 Seam rips or separations almost always happen within the first few days of the liner getting installed. I have seen seam rip a year or two later, but that is extremely rare.
Seam rips/separations usually happen at the seam running along the perimeter area of the pool where the wall meets the floor. Every liner has a seam that fuses side (wall) vinyl pieces with bottom (floor) pieces. Any seam can separate in a pool liner, but this perimeter seam is the most common by far.
Seam separations will start small and almost always gets bigger. This means the pool will leak at a faster and faster rate as time goes by.
Seam separations cannot be successfully patched. Underwater vinyl patch kits work very well for patching regular holes in a pool liner. But a patch cannot hold forever on a seam separation. WHY? Because the separation continues to get bigger, which loosens the patch glued over it.
Seam separations are not caused by poor liner installation. Some of these liners can go in super tight. They can be so tight, that they will temporarily pull the pool's wall down while filling with water.
A seam separation is a manufacturer's defect of the product. Period. Trying to blame the installer will only make him angry. If he's been installing for any period of time, he will know the install wasn't the cause.
Something sharp cannot cause a seam separation. Neither can an off level or out of shape pool or stretching it too tight. In my years of going behind DIYers and inexperienced installers, I have seen some really poor pool installations. But I have never seen an install that was so bad, it caused a seam rip.
It doesn't matter what type or gauge the liner is. No one liner type or quality is any more or less prone to getting a seam separation.
WHAT TO EXPECT WHEN YOU HAVE A SEAM SEPARATION IN YOUR ABOVE GROUND POOL
Let me see if I can paint your scenario. You just bought and had a pool installed and it wasn't cheap. With excitement, you are waiting for the pool to fill so you and the family can start using it. As the pool is filling for the first time, you either notice something wet along the outside of the pool or that the pool can't seem to fill up all the way.
Fast forward a couple of days, and you've done what it takes to find out that your brand new pool's brand new liner is leaking with a manufacturer's defect called a "seam separation". How close did I get?
Years ago, the big vinyl liner makers required you to cut out the seam rip and physically mail it to them as proof. Today, most will only need a picture of it. A good picture of it. This usually requires the pool being drained at least down to the seam rip, so you can get a nice up-close shot of it.
When you first find out that you have a defect in the liner and that it will have to be replaced, most pool owner's first thought is that this will be completely covered under warranty. Yeah, that rarely happens.
Reality check. In most cases, the pool owner pays for all the expenses that result in a seam separation except the replacement liner.
THE COMPLETE COST OF REPLACING A LINER DUE TO HAVING A SEAM SEPARATION
Changing out a liner just doesn't happen free of cost. Sure, the manufacturer will quickly send you a replacement liner. But they will not cover the other costs, And here they are:
Replacement water. The pool will have to be completely drained to remove the defective liner and replace it with a new one. There is nowhere to temporarily store the water that was in the pool initially. It has to be drained out and then re-filled with different water.
If you filled your pool with your well, then that's not bad. But if you filled with municipal (city) water or had a tanker fill it, then you could be talking about a hundred to several hundred dollars to get the pool refilled.
Re-startup chemicals. When a pool is newly filled, it will at least need to be shocked. This isn't too big of a cost. If you are using a well to fill it though, it may take more than that in start-up chemicals to get certain metals or acids out.
Labor to replace the liner If you did the pool install yourself, then cool. It will only cost you your time and you'll have an opportunity to get that bottom smoother this second time.
Best to Play nice
If you had an installer do the job, then yeah, the seam separation wasn't at all his fault. He'll have to be paid to install another liner. When this happens to one of my installs, I will feel for the pool owner and give a deep discount to put in the replacement liner. I do this because I feel for the customer and it was nothing that they did to cause this.
If the pool owner was nasty and accusatory with the seam separation process, then I won't give them anything. It is common sense to think that the person who actually did the work is responsible for the mishap. I reserve empathy for that. But those who are just downright nasty about this will get nothing from me. Even when they find out that the installer had nothing to do with it, I won't give a discount.
My advice then is to be civil and treat people with respect if you have a seam separation. It was no one's fault except the manufacturer, so, until you arrive at this conclusion, be nice.
Some Chinese-Made Unibead/Beaded Liners Will Separate At The Top Bead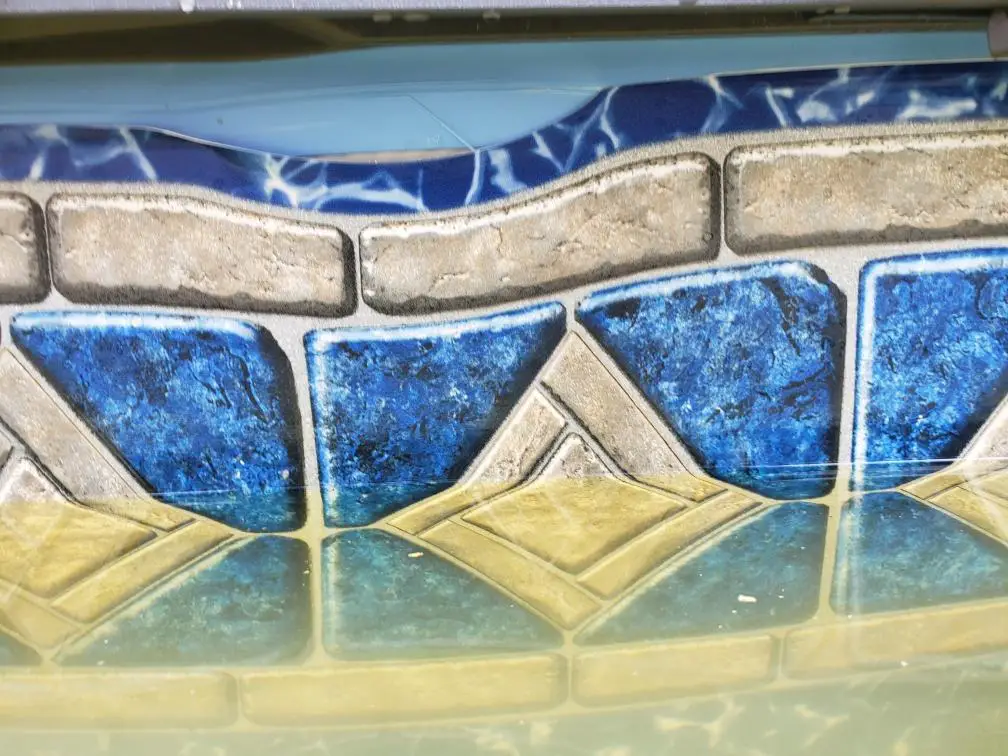 Chinese-made liners are becoming more popular and are now available in beaded and J-hook type.
There are always growing pains though and some of these liners are separating at the top bead. This is extremely rare with North American made liners, but it does happen. This type of separation won't cause as much water loss, but should be addressed and replaced very quickly. You don't want water getting in between the liner and the wall.
SOMETIMES THE RETAILER WILL PAY SOME OF THE OTHER EXPENSES FROM THE SEAM SEPARATION
There are some local (brick and mortar) above ground pool retailers that will pay for some of the above when one of the pool's liners they sell has a seam separation. I know this because I've had stores pay me in full to replace the liner.
Currently, there's a retailer in Orlando that will do this, and I think it's great. Just know though that when a retailer does things like this, it's because they charge a lot more for the pool package. They have enough profit built in to handle stuff like this and still come out very good.
Online stores selling above grounds will sell comparable pool packages for considerably less. And they won't give you anything if something goes wrong that wasn't their fault, like a seam separation. But, the discount you got upfront is usually worth it as things like seam rips are rare.
Seam rips/separations really suck for everyone involved, especially the pool owner (you). For most people that this happens to, there's a run of different emotions that they go through during the process of finding out what it is, and then getting it fixed by replacing the liner.
If you found this article, you most likely are in the early discovery stage and are angry and overly expectant. This is natural. Soon though, you will be less angry. And wanting to just get the new liner in and get this unfortunate manufacturer's mistake behind you. I am hoping this article gets you there faster, so you can move forward and start enjoying your pool.