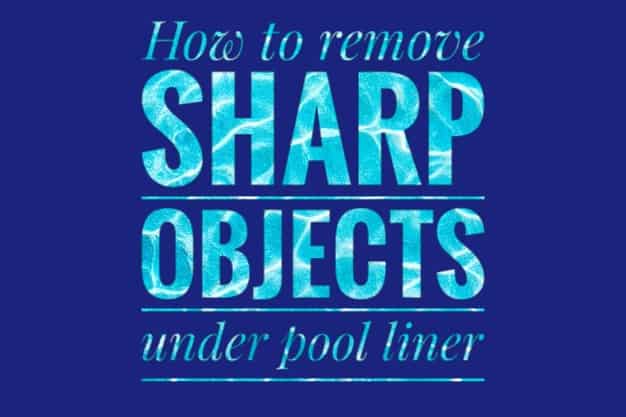 Above ground swimming pools are pretty awesome. They can go up in a day, fill up with water in another. Then you can be swimming a day after that.
Most above grounds have earth bottoms. This is ok except when you are swimming along and discover something sharp at the bottom and under the liner. Yikes!
Having something sharp under your above ground pool liner is usually not a big deal. It can be easily fixed by taking a piece of wood and hammering down the object. Place the wood over the sharp object and use the hammer to gently tap the object down. If the object tapped down flat and you no longer feel it, check to make sure the tapping didn't make a hole (it rarely does). If no hole, then you are done. It's fixed and will not come back up.
8 COMMON THINGS THAT CAN BE UNDER AN ABOVE GROUND POOL LINER
In thirty-six years of installing above ground pools, I've seen a lot of weird things under a pool liner including a close-pin that I left behind during my install (that was several years ago when I used close pins to keep the liner in place). Here are the more common items:
Rocks
Rocks come in all shapes and sizes. Some are smooth, some are jagged. Some are small pieces of concrete and some are pieces of crushed shell. The sharp-edged and jagged rocks are obviously more concerning than the decorative, smooth stones.
Most earth will have at least a few rocks in it. Some sand you buy will have a couple of rocks. Rocks are common in the earth. Don't stress too hard if you feel one or two under the liner.
Roots
Roots can be a little more concerning than rocks, but they are usually no big deal either. It is very common for a pool site to have some existing roots in the earth. I have built pools that were completely out in the open and a hundred yards from any tree. There were roots in the earth.
A small root piece that was just missed under the liner is not a big deal. Where it becomes a big deal is if that root is still connected to the root system. This means that the root that you feel under the liner may not move. Because it's still connected to other roots.
In all the years that I have had to fix sharp things under pool liners, I have only had to drain the pool to fix the issue twice. Both times were when there was a root that was still attached. This is not good.
Glass
Interestingly, there's not as much glass in the earth as there was. I've been putting above ground pools in the ground for more than three decades and recently recalled most pool sites having some amount of pieces of glass.
My guess is that since we, as a society, have replaced many things that were made of glass now with plastic. This has resulted in less glass in the earth.
There is still some glass to be found in the earth though and although there is much less than before, one or two pieces is still fairly common.
Glass under the pool liner usually sounds worse than it actually is. Most glass pieces in the earth aren't very sharp anymore as the broken edges will dull over time.
Nutgrass/Nutsedge
Don't know what nutgrass is? Have you ever seen grass growing through a black asphalt road? That's nutgrass. It is one of only three things that I have ever seen grow right through a liner. The two other things were one time occurrences.
Nutgrass or Nut Sedge is a very common problem with above ground pools. Before it punctures the liner and starts growing through, it makes a very sharp edge against the liner.
When people feel this, they usually think it's something else. Then this perfect blade of grass pokes through and then they know. Learn how to prevent nutgrass from growing in your pool here.
Old construction trash
Back in the early nineties and before, when a house got built, they used to bury whatever trash there was from the construction of the home. This has long since been outlawed but you'd be surprised at how much construction-related trash there still is in the ground of back yards.
I have frequently found items like nails, tile pieces, shingle pieces, concrete, metal trim, wood, and beer cans that were all related to the construction of the home (or a later addition). This can be a pain and some things can get left under the liner.
A screw from the pool install
Well, this happens even to the best of us. A screw will fall into the bottom of the pool right before the liner goes in and no one will notice.
In an oval – part of the pool's structure
Unlike the much simpler round-shaped above ground pools, oval pools have metal parts that run underneath the pool's bottom. Sometimes, these metal parts can find their way close enough to the surface of the bottom of the pool to be felt. This is not good but usually will not cause a hole in the liner.
Some oval designs are not great and so are prone to this happening. It's rarely the end of the world and the pool owner usually just lives with it. To fix it though, the pool almost always has to be drained.
Horned nose beetle
Although rare, horned nose beetles can make a hole in an above ground pool liner. Most of the time, this is mistaken for a rock.
Many years ago, I was installing pools for one of those companies that sell above ground pools for twenty thousand dollars if they can. They suck but I didn't know about them at the time. Just that they paid me a few hundred more than my price.
Anyway, I had this one pool owner all bent out of shape because he could feel a rock under his liner and it was obviously the installer's fault (mine). Now, this guy was indignant and I was much younger (in my early twenties), so I put up with his unnecessary abuse.
I went out to his house and had to field his abuse as I got into the pool to investigate the rock under the liner. After bitterly pointing out the area of the pool where the rock was, he waited as I went under the water. When I broke the surface, I had a horned nose beetle in my hand.
"This wasn't a rock. It was this. A horned nose beetle" I told him. "I didn't leave anything under your liner, this guy crawled under the liner afterward. And it's not covered under any warranty" (Learn more about liner warranties)
It took a couple of minutes for this angry guy to process the false, negative conclusion he made of me and I greatly enjoyed is lack of ability to apologize to me.
ITEMS NEEDED TO FIX THE ISSUE OF SOMETHING SHARP BEING UNDER THE LINER
You may only need the first two items, but for the sake of being thorough, I'll list everything.
Hammer
Small piece of wood
Diver's weight belt or something heavy to easily keep you under the water
Sharp utility knife
Quarter
Syringe needle (or any applicator) with round-up in it (for nutgrass repair only)
FIXING THE ISSUE OF SOMETHING SHARP UNDER THE ABOVE GROUND POOL LINER
Weigh yourself down with something so you can stay at the bottom of the pool without floating up.
If you don't know what it is, take a small piece of wood and a hammer down to where the sharp object is.
Place the wood over the sharp object and use the hammer to gently tap the object down
If the object tapped down flat and you no longer feel it, check to make sure the tapping didn't make a hole(it rarely does) If no hole, then you are done. It's fixed and will not come back up.
If your tapping made a small hole, no big deal at all. Use the quarter to cut a circle patch from the repair kit and follow the directions to gluing it on the hole. Now, you are done.
If the object does NOT TAP DOWN, then try to determine what it is.
If you think it's just a rock or some unattached piece of construction trash or a beetle, then you can take the utility knife and make a small cut so you can pull the object out. NOTE: I don't usually recommend cutting a hole in the liner. If there is already a hole, then you don't have as much to lose.
If you successfully removed the sharp object from the hole you made, then great. Patch the hole and you are done.
If the object did not tap down and/or you have determined that it's an attached root, then you can either live with it or you'll have to drain the pool all the way down, peel the liner back, dig up and remove the root, replace the liner and refill the pool. Note: This is a rare option. If you must do this, keep in mind that the liner will begin to shrink as soon as you drain the pool. Make this repair within minutes of draining the pool and get water back in it ASAP!
If the object is nutgrass, pull the blade of grass out from the hole, inject some roundup into the hole (to kill the remaining nutgrass), then patch the hole with the underwater patch kit, and you are done.
When/If you have determined that the sharp object is part of the pool's structure (ovals only), call the guy who installed the pool and have him look at it. If you built the oval, decide if the area is sharp enough to make a hole. If it is, you may have to drain the pool and cover the area with more earth or sand. Note: Due to some poor designs, some oval pools will lift a bit and expose some of the water plates or straps that run underneath the pool. This usually doesn't have to be repaired as those parts you see and feel will still have a layer of earth or sand between them and the liner.
While I'll admit it sucks to discover something sharp under your above ground swimming pool liner, in most cases, it's no big deal.
One of the things that I like about above ground pools is that they can have a more natural feel to then than a concrete or fiberglass pool. This is mainly because most of them have an earth bottom with nothing between your feet and the planet except a liner.
There are some drawbacks to this though. The earth is alive and dynamic, so sometimes things are going to happen. Fortunately, most things that happen are easily fixed.