Commonly, above-ground swimming pools are installed on the earth or ground. Some will put them on concrete though and that's pretty nice. Well, it's nice when it's done right at least.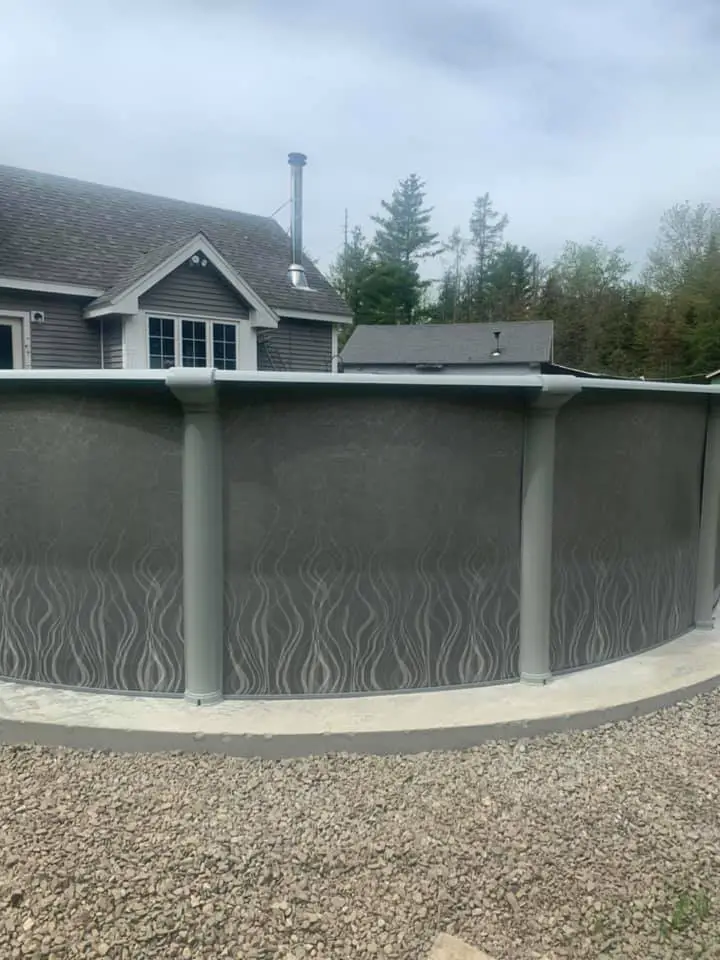 Installing an above ground swimming pool on concrete is nice as long as the slab is level. Most backyard patio concrete slabs are poured off- level to allow rainwater to drain off of them. This makes it difficult to install an above ground pool on them.
POURING A CONCRETE PAD SPECIFICALLY FOR AN ABOVE GROUND POOL VERSUS INSTALLING ONE ON AN EXISTING SLAB
Deciding to pour a concrete slab for your future above ground pool is a nice decision. With a pool on concrete, you don't have to worry about nutgrass, moles, or any earth dynamics causing issues. There are a couple of drawbacks to it, but for the most part, it's a solid way to go.
Most thinking about installing their pools on concrete are doing so because they have some kind of existing patio or slab in the yard. Using an existing concrete slab is often problematic though.
Unless you're a concrete person, you may not realize that most concrete patios or outdoor slabs of any kind are considerably off level. This is because any outdoor hard ground surface needs to have a gradual drop-off to allow rainwater to drain off of it.
When most people look at their existing concrete slab, it looks level. I've had more than a few people call me out to build their above ground on an existing slab. When I talk to them, I explain how most slabs or patios are too off-level to install a pool on, but they will assure me that they checked and the concrete slab in their backyard is level.
When I get to their house to build the pool, I'll pull out my laser level and show them that the deck that they insisted was perfectly level, is off quite a bit.
The last time I went out to build a pool on an existing slab, the lady assured me that her concrete was level as her husband checked it with a level. Plus, it was only a 15' round pool, so even if it was off a little, it couldn't be much in the span of 15' across.
When I got to her house and checked the slab, it was off by two full inches in that 15' span. And a pool being two inches off is entirely unacceptable. Fortunately for me, I brought my skid/steer machine just in case I'd have to build the pool on the earth instead. And that's what I had to do
NOT ALL EXISTING CONCRETE SLABS ARE OFF LEVEL, BUT MOST OF THEM ARE
You can't assume either that your existing slab is off level. Some are perfectly level. Last year, I build a pool on the basketball court that someone had in their backyard. It was perfectly level.
You can't accurately check to see if your slab is level by just laying down a four-foot level. Even the four-foot level will tell you it's off, but many people don't really know how to read a level. The best way then is to either use a builder's level that you can rent or borrow, or use a line level with a string.
Most don't have access to a builder's or laser level, and renting one just to use for two minutes doesn't make much sense. So, using a two-dollar line level and some string is a good bet.
Use stakes in the ground beyond the slab or whatever you need to be able to have a nylon string running tightly across the slab and a few inches above it. Once the string is running across the concrete, attach the line-level onto the line in the middle of the run. The line-level is designed to attach to the string, so it's easy to do.
Using the line level, adjust the level of the string by raising or lowering it at one or both ends. Do this until the line level shows the string to be perfectly level. Once you know that the string running across the slab is perfectly level, use a tape measure and measure down from the string, to the concrete on both ends of the slab. The difference in numbers is how off-level the slab is.
You have made the string perfectly level over the slab, so if the distance from the string down to the slab is 2" in one end and 4" on the other, then the slab is off by 2 inches. This would not be good for installing an above ground pool.
TIPS FOR POURING A CONCRETE SLAB FOR AN ABOVE GROUND POOL
Pouring a concrete pad for an above ground pool is pretty straightforward. Here are a couple of tips to make it a better overall product.
#1 Make the slab at least one foot bigger all the way around than the size of the pool
Don't try to make the slab perfectly sized with the pool. Above ground pools aren't Swiss watches. They often are not made with exact dimensions and are usually installed imperfectly shaped.
Using a 24' round pool as an example (which is the most common above ground size) you'll ideally want to pour a 26' round slab. This will give you a nice extra ledge all the way around the pool. And it will give you plenty of room if the pool goes up a little egg-shaped.
#2 The standard thickness of a concrete patio slab is 4". For an above ground pool, you can get away with only a 2" thick pour.
Concrete is expensive. You can save some money by just making a 2″ thick pour. Some will think that the concrete needs to be at least 4" thick as pool water is heavy. This is not needed as the water weight is evenly distributed.
I'm bringing this up as an option to save some money. You may find some structural engineers disagree with this. I mean, this is the internet, the place where everyone anonymously knows more than everyone else.
The way I know a 2" pour will work well is that I have seen it in the real world working well several times. For me, this trumps what some pasty geek will tell you based on his indoor-only math.
#3 Make sure the slab is level
I know this sounds obvious, and it's not something to be concerned with if you are having a concrete contractor do the pour. If you are doing the job yourself though, keep in mind that the wall of the pool should be level to within at least a half-inch.
A slab even as little as an inch off from one side to the other will show in the finished pool. So, you want to get this level.
#4 Do not put up the pool wall, and then pour concrete in the bottom
It might make sense to have concrete poured only in the bottom of the pool (and not on the outside), but this is limiting.
When you pour the concrete after the pool wall is up, the concrete forms with the pool's wall and bottom track. This is ok as long as nothing ever happens to the pool. But if there ever is an issue with the pool and it needs to be replaced, the replacement will never form to the concrete floor.
In this case, a strip of concrete will have to be cut along the perimeter to get the old pool out and the new one in place.
Concrete will last a hundred years, but an above ground pool will not. I have had to cut out concrete to remove and install a replacement more than a few times in the last 34 years. I would avoid pouring concrete after the wall goes up if you can.
#5 Concrete slabs crack. It's ok.
Some will overthink how to prevent the slab they pour from cracking in the future. I have seen people using a bunch of expansion joints placed in weird positions. They are overly concerned with this because they think the weight of the pool's water will cause the concrete to crack.
As a pool guy for more than three decades, I can say one thing for sure. "Most concrete decks crack". Do what you want to try to prevent this, but don't beat yourself up when it happens, because it probably will.
The worst-case scenario here is that the concrete cracks so bad, that you feel it in the bottom of the pool. This sounds worse than it is as the only annoyance is that you will feel it. A crack won't damage the pool at all.
#6 You will need to use foam coving and at least a liner guard/pad
Every metal-walled above ground pool needs coving. Most installs will just have the earth or sand as the coving. When a pool is on concrete though, earth or sand can sift out from under the wall, so a sand cove is "no bueno" for this.
Foam coving was originally designed for display pools on concrete in showrooms. It won't move or break down, so it's needed for pools on concrete.
Also, I (and others) have found that when liners rest directly on concrete, they will form leaks. This is why something has to go between the concrete bottom and the liner. A liner guard is the easiest option for this as it's easy to install and is made for it.
Some will use other things to pad their pool bottom with on concrete. Styrofoam sheeting is a decent option, but it's expensive and more difficult to install as the sheets have to be cut and duck taped together tightly. It's also common for people to use carpet as a barrier for the bottom too. This works well also.
#7 Concrete is expensive
You may want to get a rough idea of the cost of having a slab poured before giving it any further thought. It can be very pricey to have done. It can be a lot even if you DIY it too.
TIPS FOR USING AN EXISTING CONCRETE SLAB FOR AND ABOVE GROUND POOL.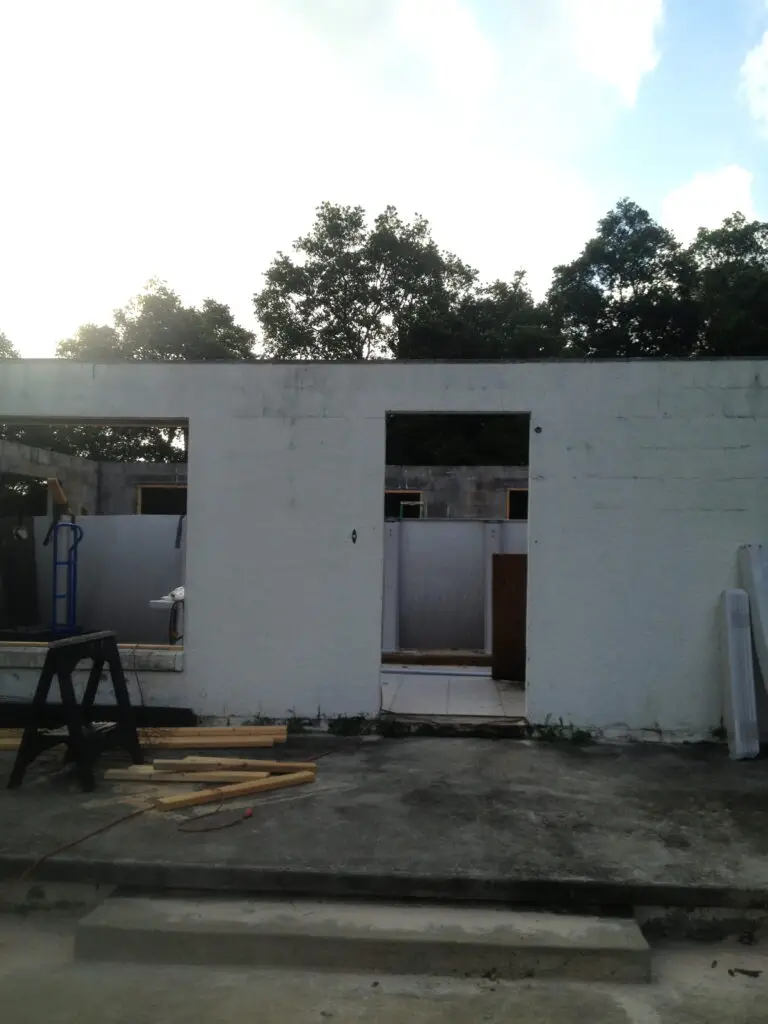 Using an existing slab to put an above ground pool on seems like a better and easier idea than installing it on the earth, but it's oftentimes very problematic. This is all because most existing slabs are off-level.
The following tips will mainly help you with info on installing on an off-level concrete slab.
1 MOST IMPORTANT – Make sure the slab is level
I cannot stress to you how important this is. Every year, tons of people decide to put an above ground on their existing concrete patio and just think that it will be level enough.
They will go through the trouble of installing the pool and then at some point (hopefully sooner during the install than later) they realize that the pool will be too off-level. Some will install the pool completely and not know until they fill the pool up with water.
They will instantly notice how off-level the pool is by the water. Water has to be level because of its weight, its liquid form, and the gravitational pull of the planet. Duh! This is the main reason a swimming pool has to be level. Because it's full of level water.
It sucks when people have to take their pool back down because they didn't check beforehand on the level of the concrete pad. So do that first.
To check the level of the slab, see above for directions.
If by some great luck, you find that your slab is level, then great. Read no further.
2 Make sure the concrete pad is big enough
Don't assume it's big enough. Take out a tape measure and make sure it will fit the size pool you are wanting.
Some slabs will be too small, but people will use it anyway. They do this by building up the earth to the same level adjacent to the slab to make more surface to fit the pool. This usually works well as long as the pool's wall is level.
3 If the concrete is off level, you can still install the pool on it, but it will be difficult
Above ground pools start to look visibly off starting at one inch. Some pool install manuals will tell you that up to one inch off level total is OK, but no more than that.
As a professional installer, I shoot for the pool to being off no more than one-quarter of an inch max. If your slab is only off an inch total from one end of the pool site to the other, you may be ok to proceed with the install. It won't affect the pool in any way but may bug you as it will be slightly noticeable.
Most existing concrete slabs will be off much more than that though, And if that's the case, it's usually easier to pick another spot in the yard on the earth for the install site.
If you do choose to install the pool on the off-level concrete pad, you will have to somehow get the bottom track level. This will be very difficult. The bottom track will rest directly on the high end of the slab but will have to be elevated on the lower end.
This is tough as the slab is gradually off level, which means the pool's bottom track will have to be raised at different levels all the way around. You will need to be able to elevate each bottom connector to a specific height. This will need something like 4"x4" square shims made of metal or plastic that are thin enough to create thicknesses plus or minus at least 1/8 of an inch.
The other option is to cut the concrete in the area of where the track is going and remove so you can build-up that area of the slab to the same level with earth and patio stones. This is a good way to make the bottom track level but cutting concrete and removing it is not easy.
4 If the slab is too off level, you can build a sandbox on it
This is an easier and viable option for putting an above ground on a concrete slab. With this, you use pressure-treated wood to build a frame and then fill the frame up with sand.
Now, you have an area on top of the concrete slab with 4" or so of sand. You can install the pool on the sand and be able to level it perfectly.
The wood used for the perimeter of the sandbox should be screwed into the concrete with brackets to ensure that they never move or allow the sand to escape the box.
Of course, when building the sandbox, make it much bigger than the dimension of the pool so there's plenty of sand on the outside of the pool. This will help to disallow any sand under the pool from escaping out by going under the wall.
INSTALLING AN OVAL POOL ON CONCRETE IS VERY DIFFICULT
Almost all oval pool designs require some of their parts to be below the bottom track. This means they cannot be installed on just one plane or level. So, even if an existing concrete slab is perfectly level, an oval cannot be built on it.
In the case of an oval pool, I only recommend building a sandbox on the concrete slab for a proper installation. Making cuts in the concrete so an oval can rest on it level is too much work and too problematic. I did this once years ago and swore I would never do it again. And I haven't.