Despite their name, above-ground swimming pools aren't set completely on top of the ground. The grass has to be removed and the ground has to be leveled.
And even if your yard is very level, chances are that your above-ground pool (if installed properly) will be in the ground at least a couple of inches.
Most irrigation lines aren't buried in the ground very deep. In reality, most sprinkle systems are run just under the grass-line. This means that if your yard has irrigation and you are installing an above-ground pool, then you will most likely run into those lines.
You can locate irrigation lines before installing an above-ground pool. However, I usually recommend finding them during the excavation part of the pool install. When found, the irrigation lines should be cut out from the install area and re-routed. I never recommend leaving any working irrigation lines underneath the pool.
HAVE IRRIGATION IN YOUR YARD? ASSUME YOU WILL RUN INTO SOME OF IT DURING AN ABOVE GROUND POOL INSTALLATION
I install pools in Central Florida. Here, sprinkler systems are very common and I run into irrigation lines often during a pool install. Many times, people are surprised when I knock on the door to tell them that I've run into irrigation.
I hear comments like "I didn't know lines would be in that area" or "I thought the lines would be too far in the ground for you to hit them". Yeah, no. I ran into them.
Irrigation, like pool plumbing, doesn't have a set way that the system is designed and run in a yard. Anyone can choose to run the lines any way they like. In the case of most things plumbed in the ground, most choose the easiest and most direct way to get the water from its source to where it has to go.
This means that you cannot assume the lines are run in a certain way or a particular direction. Sometimes lines are run further away to prevent digging through excessive roots, hard clay, or rocks in the ground. There is no telling where sprinkler lines can be. Period.
This is why I'm a fan of waiting and finding the lines during the pool install.
EVEN IF YOU HAVE PRE-LOCATED THE IRRIGATION LINES, YOU MAY STILL RUN INTO OTHERS DURING THE POOL INSTALL
Some people like to be very well prepared and thorough. Those like this will usually try to locate everything in the ground of their future pool site ahead of time.
I have had homeowners go through the trouble of locating the irrigation at their pool site, dig them up, and relocate or re-route them before I get there. That's nice and organized, but sometimes it's a waste of effort.
If you have done something for a really long time, you probably know that whatever it is, it can get boring or become unchallenging or uneventful. After installing above-ground pools for 35 years and counting, I can say that some aspects of it have become monotonous. But not the ground.
What can be in the ground(even just under the grass) is anyone's guess. The history of that piece of earth is told in the ground. Why am I saying this? Because there can be things in the earth that will make you have to change where the pool is going.
Hidden and unknown things like big rocks, excessive roots, electric lines not to code, water main lines, old trash burn sites, and buried construction materials can get in the way and make you change the pool install site from slightly to several feet away.
This is why I say to wait and find irrigation lines during the excavation portion of the pool install instead of prior. You may have wasted your time moving sprinkler lines beforehand.
WHEN YOU RUN INTO IRRIGATION LINES DURING POOL SITE EXCAVATION, CUT LINES AND REMOVE.
The first thing that I do when installing an above-ground pool is mark out where the pool is going. I usually use a soft tape measure, a screwdriver(for securing the end of the tape), and spray paint to make out the area.
I always mark out and remove the grass at least one foot bigger than the dimension of the pool all the way around. (Example: Mark out a 26' circle for a 24' round pool) This article will help explain what I'm describing here.
While removing the grass and then leveling the earth within the marked-out pool site is when I will hit irrigation lines.
At this point, I cut the sprinkler/irrigation lines a little out from the marked site area and remove them all out from the install site. I then mark where the lines entered and exited the painted excavation area. This is so you know where they are and the lines don't get lost in the earth.
At some point, you will be re-routing those cut lines around the new pool site.
Note: The cut irrigation lines are now open water lines. This means that when the sprinkler system turns on, water will come out of some of them. They will need to be re-routed and re-connected or capped off.
I DO NOT ADVISE RE-CONNECTING OR LEAVING IRRIGATION LINES UNDERNEATH THE POOL SITE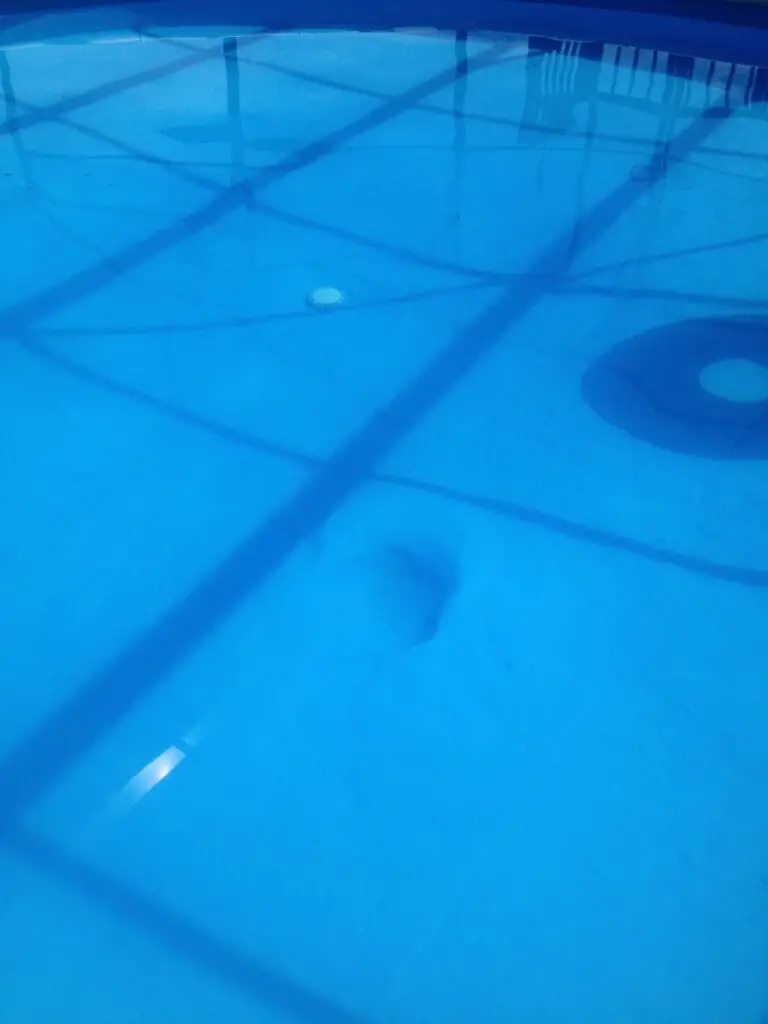 For the sake of it being easier, some will choose to just dig the lines down a little deeper and re-connect the irrigation lines where they were leaving their location under the pool. I do not recommend this!
In reality, you can leave irrigation lines under and above ground pool. The water weight will more than likely NOT put any pressure on those pipes and they will be fine.
I don't like doing that though. As a professional, I'm not a fan of anything under an above-ground pool that can leak in the future.
Usually, these PVC water lines for sprinklers won't leak. If you have some lines under your pool and you have an issue with the pool's bottom, you'll always wonder if it's the irrigation lines causing the issue.
Knowing for sure that there is nothing under your pool will give you peace of mind later if you have any issues with the pool's bottom.
It's just a more professional install not having anything questionable running or left under your above-ground pool site. Get what I'm trying to say here?
BEFORE ROLLING THE WALL OUT OR COMPLETING THE POOL INSTALL, TURN ON THE IRRIGATION SYSTEM
Now that you have removed all the irrigation lines from the pool site and marked them where they have been cut, turn on the sprinkler system for that area/zone to make sure there is none left under the pool.
If any lines have been overlooked and were broken, cracked, or nicked by the excavation process, they will shoot out water when turned on. You can then cut them out from the site too and re-route later.
I always love it when a busted pipe is revealed by turning on the sprinkler. It may suck that we missed something, but finding it at this point will prevent a disaster later.
If an irrigation pipe is leaking and left under an above-ground above-ground pool, when it turns on days later, it ruins the pool bottom and the pool usually has to be drained, the liner removed, and bottom re-done. Yeah, that's catastrophic.
WHEN RE-ROUTING THE IRRIGATION LINES, KEEP IN MIND THAT THERE WILL BE A POOL IN THE YARD NOW
Irrigation systems are designed to evenly distribute water over the grass in the yard everywhere. And since there will now be an above-ground pool in the yard, the distribution will likely change.
This means that some sprinkler heads may have to be in new locations and/or be changed out to spray water differently or in a different pattern.
You want to re-design the irrigation with a new component in the yard (your new above-ground pool). Re-locate sprinkler heads to ensure that all of the grass is covered by the system's spraying water.
Also, I don't advise sprinklers to constantly shooting water against the pool's wall. You want to avoid the wall getting soaked by sprinkler heads every day. Make sure your new irrigation doesn't do this.
RE-ROUTING THE IRRIGATION SYSTEM IS USUALLY SOMETHING THAT MOST CAN DO THEMSELVES
There are some really fancy irrigation systems out there. Most are fairly simple though. In most cases, you will run into a line or two and that's it. They can be easily cut, new pieces of pipe added and glued together pretty simply.
Most hardware stores will have what you need to do the job. Home Depot, Lowes, and Ace hardware carry extensive irrigation supplies, which is great.
Sometimes your pool site will be a spot in the yard where everything is running through it. I have seen 8-10 different irrigation pipes needing to be re-routed in a single 26' circle in the yard.
When there is extensive work to be done re-routing a sprinkler system, it may be best to hire an irrigation guy. Sometimes, electric lines for actuator valves and timers will be cut too. And some feeder lines will sit directly on top of each other, which will make re-routing them a lot harder.
Also, some ground is a lot harder to dig trenches in than others. I am really good with a shovel and use expensive shovels with sharp edges, but will have a hard time digging trenches because of one hard thing or another in the ground.
If your earth is hard to dig and you have run into a lot of irrigation that has to be moved, find a professional to fix this for you. It won't be cheap but will be worth it.
Lastly, don't expect the pool installer or any excavator that you hired to fix anything that they run into when digging. The rule is that what is in the earth is the homeowner's responsibility. Irrigation easily falls into this category.
Some guys will be nice about it and fix some minor irrigation issues associated with excavation. Anyone who does this kind of work for real (not a handyman or part-timer firefighter) will not take any responsibility for what they run into in the earth.
The reason for this is that there are too many variables in the earth. If pool installers and excavators had to be responsible for what they hit in the ground, then they would have to charge a lot more money for every job due to the potential extra cost.