Installing above-ground swimming pools partially in the ground has become more popular than ever before. This is mostly because more people can find out that it can be done AND that the cost of inground pools has skyrocketed.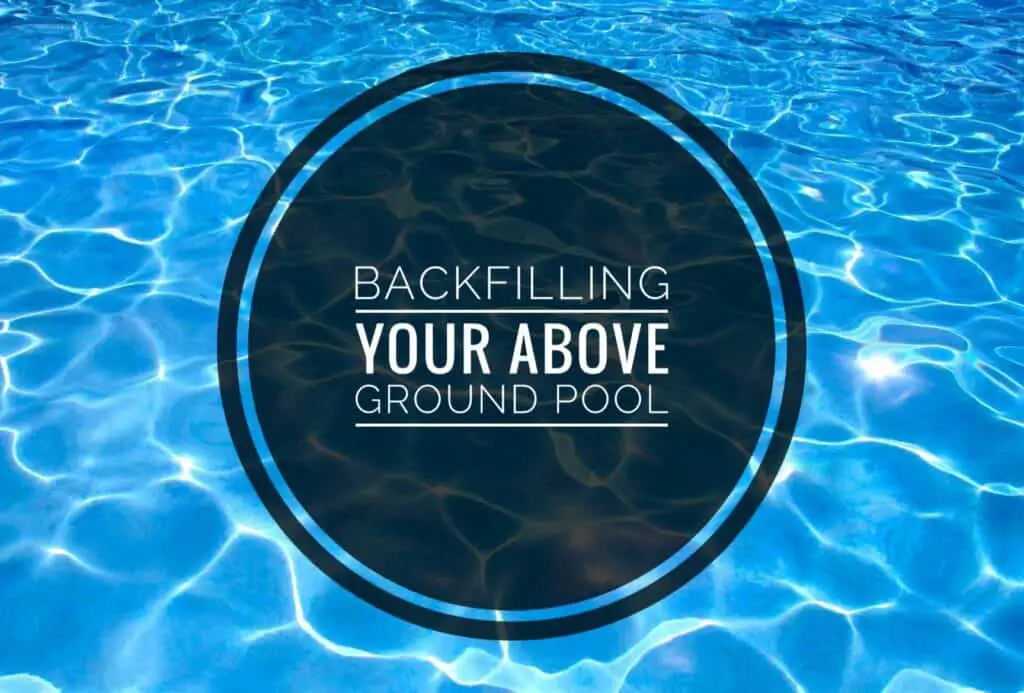 Sinking an above-ground pool in the ground some is not that hard. A hole has to be dug much bigger than the size of the pool, then the pool is installed in the hole, and after the pool is complete with water, the bigger hole is filled back in around the pool.
This article is focused on replacing the earth back around the built pool. This is called "backfilling".
Backfilling an above-ground pool that has been partially buried in the ground usually only requires waiting until the pool is filled with water and then filling the hole around the pool with the same earth that came out of the hole. If the pool is deeper in the ground than two feet and/or the earth is very sandy, then reinforcing the earth or building a retaining wall is recommended.
For the sake of this article, I'm going to assume that you have either decided to sink your above-ground pool partially in the ground or have already done so and want to know about the backfilling.
If you haven't yet decided on whether you are putting the pool in the ground some or not, then read 11 important things to know about sinking an above ground pool in the ground
Generally speaking, backfilling an above-ground pool is simple but some overthink it. Here are some tips to help you know the best way to do it.
11 THINGS TO KNOW ABOUT BACKFILLING AN ABOVE GROUND SWIMMING POOL
#1 When digging the hole (or having it dug), leave piles of dirt around the hole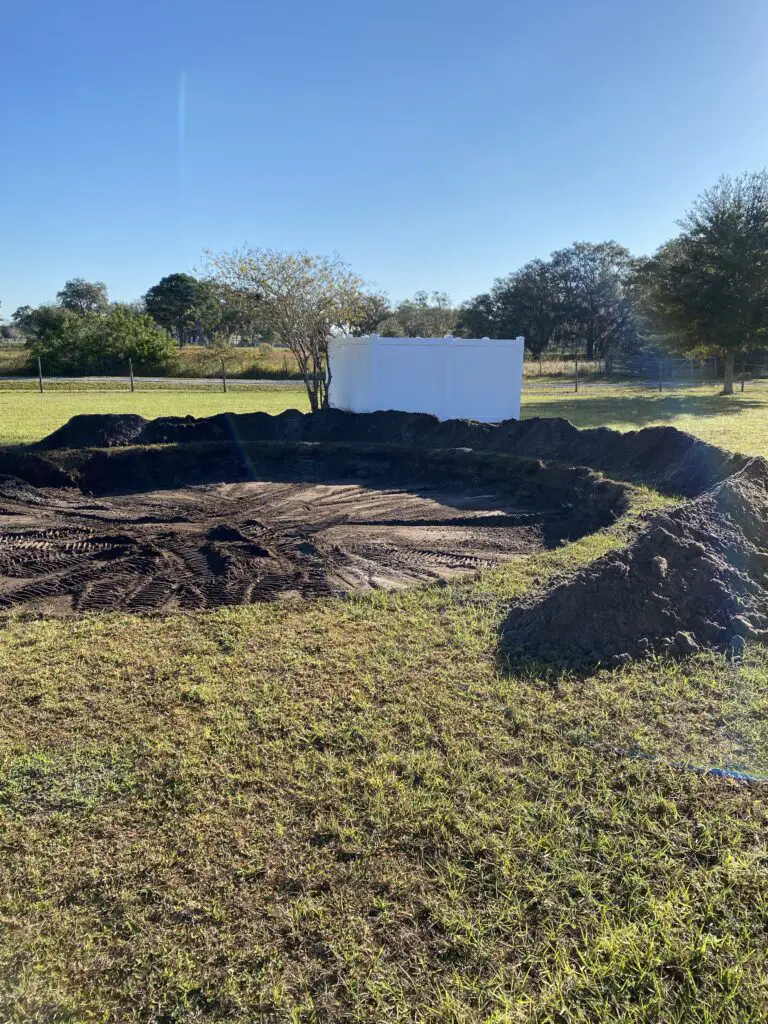 The size of the hole that needs to be dug to install a pool has to be bigger than the pool size. Personally, when installing semi-inground two-plus feet down, I like the hole to be at least three feet bigger than the pool size.
As an example, a 24' round pool (most common size) will require a 27' round hole. This means that when the pool is installed, there will be more than a foot left all the way around the pool that will need to be filled back in with dirt.
Some will make the mistake of piling the dirt far away from the hole when digging. This means that they will have to machine or wheelbarrow the dirt back around the pool when backfilling it. And that's a lot more work than if you leave some piles around the hole.
Leaving piles of earth around the hole make it easy to backfill. When the earth is right next to the hole, all you need then is a shovel to get the dirt around the pool. Some pools installed in tighter spots may not have room to leave dirt. In that situation, you will have to wheel barrow the dirt to the pool for backfilling.
NOTE: If you ran into any irrigation lines that need to be re-routed around the pool, do that before backfilling to use the open area around the pool. No sense in digging twice
#2 Fill the pool with water before backfilling DUH!!!
To many of you, this will seem very obvious. But not all of you will know this.
A TRAGIC BACKFILLING STORY
About ten years ago, I was part owner of a website that sold above-ground pools. A guy(in Indiana if I remember right) bought one of our pools and installed it partially in the ground.
To make a very long and tragic story short, he installed the pool in a three-foot deep hole and then put the dirt back around the pool before he filled it with water.
The result was that the dirt crushed his pool wall inward and destroyed his brand new pool.
A small cave-in or two can be fixed, but this guy went big and backfilled his pool all the way around very quickly. And the wall crushed inward to the point that it couldn't be fixed.
When he called me and sent me pictures, it was sad because all that I could do for him is tell him the bad news (that he destroyed his new pool) and offer him a replacement at cost.
This poor guy was so upset with himself, that he decided to push the pool completely into the hole and bury it. That's right. He said "screw this", completely buried his pool, and chose not to replace it. Very sad.
A traditional above-ground pool only has a thin continuous roll metal wall and is not designed to handle any inward pressure. It can handle outward pressure very well since it's engineered to hold water above the ground, but not the other way around.
Once the pool is filled with water though, the outward pressure of the water in the pool will allow for inward pressure and weight made by backfilling very easily.
As long as the pool is filled with water, backfilling cannot harm the pool.
#3 If you can, wait a couple of days before backfilling
Usually, if there's going to be a leak or problem with an above-ground pool, it will happen in the first few days of the installation. Leaving the pool open (not backfilled) will allow any potential issues to be fixed much easier.
A SEAM SEPARATION STORY
About three weeks ago, I installed a 15' round that was about 24 inches off level and sunk an additional six inches. This means that half of the pool was in the ground about 30 inches.
The earth at this pool site was pure white sugar sand, which is probably the loosest earth that there is and therefore not good for backfilling.
In the last ten years or so of my pool installing, I've noticed that about one in two hundred vinyl liners will have a manufacturer's defect. And the defect is when one of the seams in the liner separate and causes a hole.
This 15' round pool wound up being the one in two hundred with a seam separation. Fortunately for this homeowner, he waited to backfill and discovered his pool leaking in time. He then was able to easily replace his defective liner without having to worry about his pool caving in from a sand backfill.
When a pool is newly backfilled, the earth is at its loosest making the pool most susceptible to caving in if it has to be drained.
When the earth is backfilled around the pool and has a chance to settle in, pack down, and have roots and vegetation grow within it. It then stays much firmer against the outside of the wall when the pool is emptied (like during a liner change). So, the longer you can go without having to empty the pool, the firmer the earth and better the chance of not getting a cave-in.
#4 It's perfectly OK to use the same earth that came out of the hole for backfilling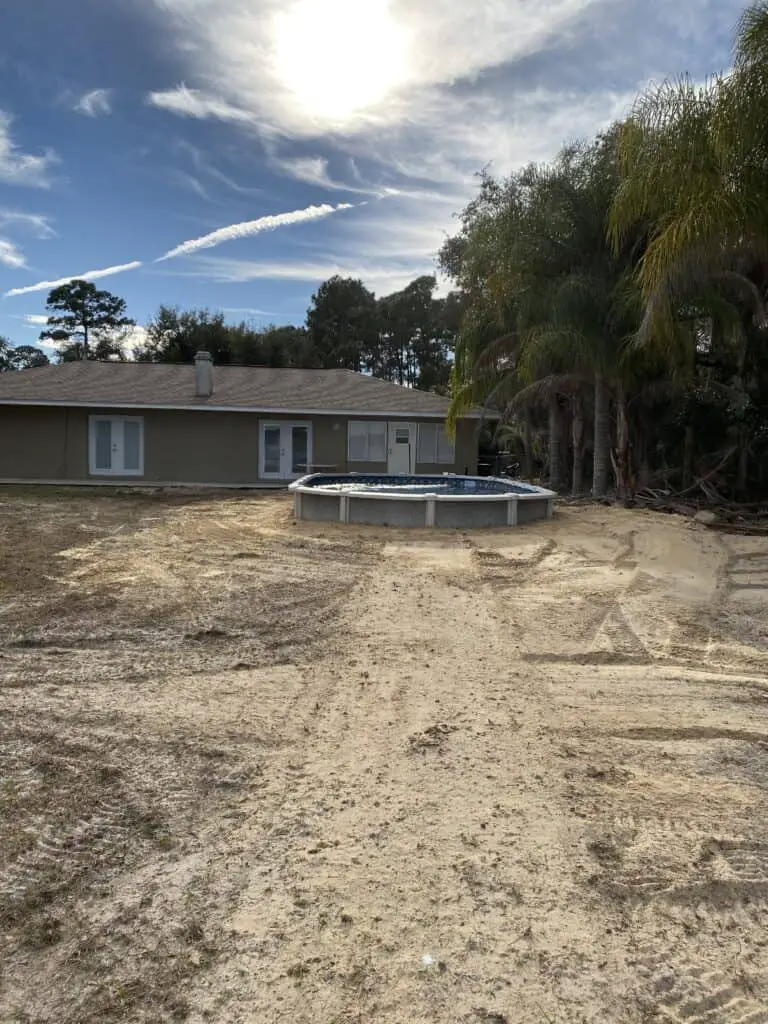 I have people commonly ask me what material should they use for backfilling. Some think that rock or some special type of earth is needed. It's not.
The earth that came out of the ground is usually the best, easiest, and least expensive material for backfilling. The concern here for some is that the earth will cause some rusting or water retention. In almost all cases, the earth will not cause any issues for the pool's wall or uprights. Don't worry about it.
I have very rarely seen the outside of pool walls rust from being in the ground. And if the worry is about erosion or frost heaving, then what you backfill with will have very little to do with preventing those. I'll get to those concerns later.
#5 Backfill to a little higher level. Some settling will occur.
Dirt that has been in the ground for a while is very compacted. What compacted really means is that it doesn't have any air and/or water in it.
When putting dirt back in the ground, there will be a lot of air in it. And eventually, that air will release and the earth will settle and pack down. This is why you want to backfill a little higher than what level you want the earth to ultimately be.
And you don't have to worry about compacting the backfill. While backfilling, I will sometimes push some areas down some by stepping on them, but that's about it. Don't bother with a hand tamper or compactor. That will just be a waste of energy and time.
#6 Adding a moisture barrier or painting the outside of the pool is not recommended
During my 35 years of installing above-ground pools, I have seen some crazy stuff. Some of it was what some do to try to protect the outside wall of their sunken pool.
I have seen homeowners line the outside of their pool with roofing felt paper, paint it with everything from Rustoleum to tar to liquid rubber. These things take a lot of time and some can cost a lot of money.
The verdict of 35 years of observation is that doing these preventative things are a waste of time. In truth, I've seen some of this stuff do much more harm than good.
Any process or condition that causes moisture to get trapped is a very bad thing. Allowing the pool wall to breathe and dry if it gets wet or stay dry or stay wet is best overall.
Metal in the earth (that isn't thick aluminum or stainless steel) will eventually corrode away. So will metal on top of and above the earth. Just like animals, metal is breaking down and dying the day it's made. Sometimes the rate of corrosion is faster and no one knows why.
I have seen pools rust prematurely in the ground and above it with no clear explanation. And I have seen pools have no rust for 20 years in all conditions (wet, dry, in-ground, above-ground) also with no clear explanation.
If you are the type of guy who has to try to control nature, then you will most likely go ahead and try to protect the outside of the buried pool wall in some way. That's cool, bro. Be you.
If you are on the fence about it, then let a guy who has been around above-ground pools for three and a half decades give you a nudge toward not worrying about it. The buried pool wall will be fine.
#7 If your earth is loose (like sand) and you are more than one foot down, consider reinforcing the earth.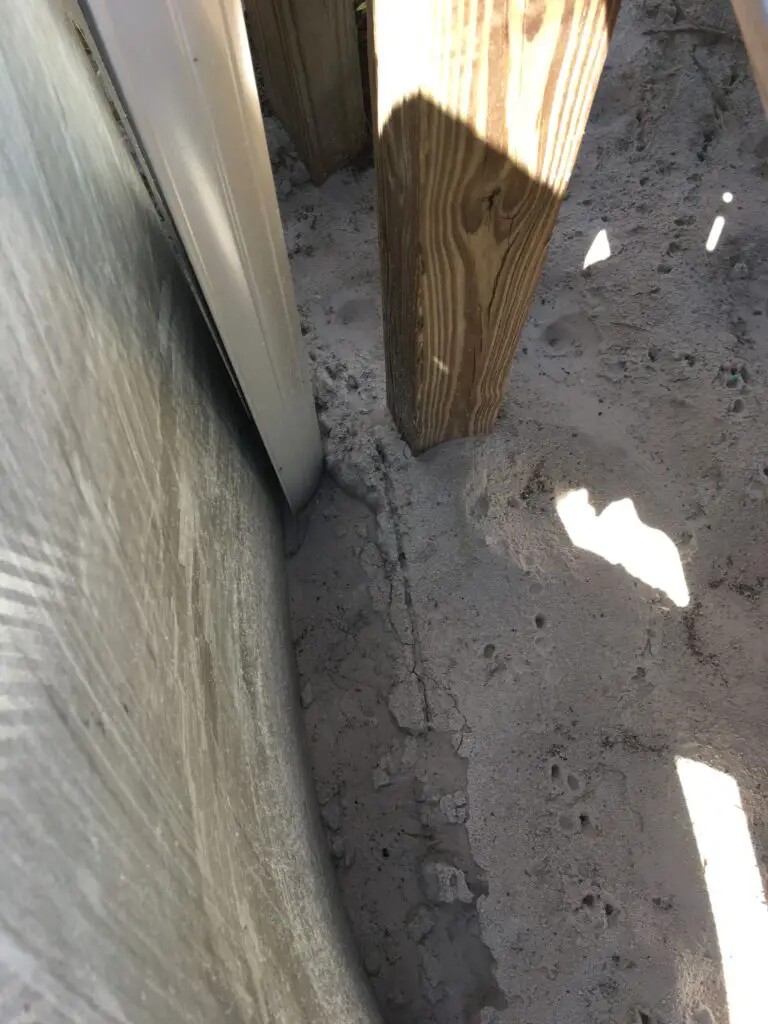 As long as the pool is filled with water, what is around the outside of a buried above ground doesn't at all matter because it's impossible for a pool to cave in when full.
When the pool has to be emptied for a liner change is when there can be a problem. And if the earth is loose, it can press against the empty pool wall and start caving in. This is not good.
If the earth around is firm or if the pool is only a foot or so in the ground, you don't have to worry above an empty pool cave-in. If down more than a foot or the ground is very sandy, then something should be done to firm up the earth.
Sprinkling in some concrete when backfilling will help keep the earth firm when it comes time to change out the liner.
#8 Backfill with regular earth, then add rocks or mulch on top.
Some will think that they have to backfill with rocks all the way down. Yeah, no.
Adding rocks or mulch around the outside perimeter of the pool is recommended and a great idea. When your pool is in the ground some, you only need a top layer of rocks or mulch for preventing erosion or keeping the pool's wall from grass or other foliage growing against it.
Backfill the pool with the earth that came out of the dug hole. Then put a few inches thick of rock or mulch as a top layer and you are good.
#9 If your area has frost heaving, build a retaining wall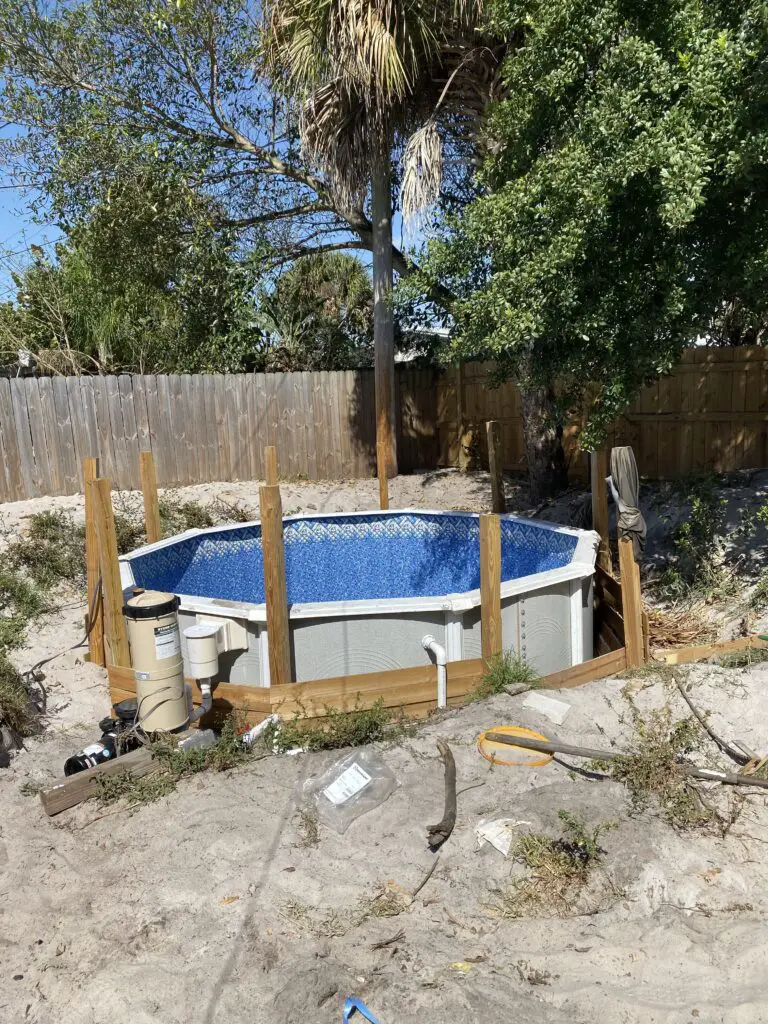 I install above-ground pools in Central Florida. Here, we have our own issues with the ground, but frost heaving isn't one of them.
I don't have any personal experience with frost heaving but have seen what it can do to an above-ground pool in the ground. And it's not good.
Frost heaving is an issue only in the extreme north. This is where the ground freezes, then thaws, then freezes again. This makes the earth expand, then contract, then expand again.
What frost heaving can do to an above-ground pool that is in the ground is push it upward. And it won't push it upward evenly, so the pool can get pretty badly uneven after just a winter or two. Nope. Not at all good.
To prevent your pool from being affected by frost heaving, it's best to keep the pool completely out of the earth. The best way to achieve this (if you want your pool in the ground some) is to dig a big hole and build a retaining wall around it. This will keep the pool (that is in the hole) completely out of the earth.
Retaining walls are not cheap or very easy to build well or correctly, but if you are in the extreme north in an area with frost heaving, I recommend it.
Note: There may be another way to prevent frost heaving from moving your pool. My advice is to ask a concrete contractor local to your area. They most likely will know how to deal with frost heaving well.
#10 If planning on building a retaining wall, build it before installing the pool.
You only have to build one retaining AFTER a pool is installed to know it's best to do it first.
Retaining walls are much easier to build if you have a lot of room in front of it. Build your retaining wall at least one foot bigger than the size of the pool (I recommend 1.5ft) so there's enough room to install the pool afterward.
All retaining walls aren't equal. Some will only use some plywood and 4×4 lumber to hold back the earth. Others will build theirs with cement blocks made for retaining walls. And everyone else will do something in between these two extremes.
How much you spend and how well (or poorly) you decide to make your retaining wall is up to you. I'm not a fan of overbuilding, but you do want a wall that will hold the earth back away from the pool wall for many years.
The earth has a way of reclaiming what it used to be. Do some research on retaining walls because poorly made ones will fail quicker than you think. At the very least, use pressure-treated wood. Lol.
#11 Using bags of concrete to reinforce the earth? Don't have to add water.
Using bags of concrete to help firm up loose backfill earth is a great idea. It's fairly cheap and accessible as every hardware store carries them. The bags come in different weights too, so you can choose how heavy you want to deal with.
While shoveling the dirt back around the pool, occasionally sprinkle in some concrete. You don't have to mix the concrete with water first. The dry concrete will find the moisture it needs in the earth in a day or so.
Having to mix the concrete with water first would make this a much harder job. So it's a great thing that we don't have to do that.