Sand-type pool filters don't come with the sand that goes in them. This is mainly because sand is heavy, so it's expensive to ship.
Sand not coming with the filter leaves many new pool owners not knowing how much sand or what kind to use.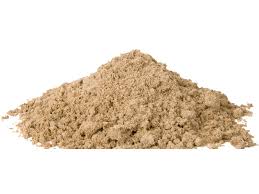 The best way to tell how much sand is needed for a pool filter is to look at the sticker on the filter tank body. There is usually a chart that tells you how much sand is needed based on the size that you have. If you have no way to tell, you can fill the tank body up about three-quarters with filter or silica sand making sure to leave open space at the top.
THE DIFFERENT SIZES OF SAND FILTERS
Sand-type pool filters always come in kind of the same shape, but in different sizes. Here are a few examples to help you know what size you may have.
INTEX-TYPE SAND FILTERS and HAYWARD SAND FILTER SIZES
WHERE TO FIND OUT HOW MUCH SAND GOES IN A FILTER
If you just got your above ground pool package and it came with a sand-type filter, then you will need to know how much sand you filter uses.
Sand doesn't ship with the filter as it's too heavy, so most have to get it locally. As an installer, I have the pool owner make sure and have the filter sand there before I start installing the pool. So, if your installer tells you to get sand, then you have two ways to find out how much you need.
Since your new pool is shipped with several boxes that are shrink-wrapped on a pallet, you may not want to deal with taking the wrap off and finding the box with the filter in it. If so, you can call the company that you bought the pool from and they should be able to tell you which filter you bought and how much sand it needs.
You also may not be able to get anyone on the phone from the retailer who actually knows the answer though, so don't be surprised if they don't know.
The best way to find out how much sand goes in your new filter is to look on the tank body of the filter itself. This will require you to locate the box that the filter is in and take the tank body out. Sometimes the information is on the box, but not usually.
Remove the plastic tank body from the box and look at the label on the body. It may have a list of different sizes. If it does, look for a check mark of some kind next to one of the sizes. That will be the size tank that you have.
Once you find the amount of sand needed, it should be clear as to how much.
CHANGING THE SAND IN YOUR EXISTING FILTER AND CAN'T READ THE LABEL?
When filter tank bodies get older and beatin' from the sun, sometimes the label gets too faded to see or falls off altogether. When that happens, there may be no way to tell which filter size you have.
If you've bought a used pool with an empty sand filter or are changing the sand in your existing one, you may find yourself not knowing how much sand goes in your filter.
If this is the case with your filter, then fill the tank body up with filter sand about three-quarters full. A sand filter needs open space at the top of the sand, so DO NOT FILL ALL THE WAY UP!
WHAT KIND OF SAND GOES IN A POOL SAND FILTER?
Not just any kind of sand can be used in a pool's sand filter. It has to be the right shaped and sized sand.
WARNING: Using play sand in a pool sand filter won't work. The sand will blow out of the filter and into the pool.
You have to use sand that either says "silica" or "filter" sand on the bag.
WHERE TO GET FILTER SAND
Like just about everything else, you can buy filter sand on Amazon, but it will be expensive because of shipping.
Most will get the filter sand they need locally. Big box hardware stores (Home Depot and Lowe's) carry it in some regions of the country. Smaller hardware stores like ACE and TruValue also carry it depending on the area of the country.
Also, pool stores will usually carry filter sand, although you usually pay considerably more for it there.
Filter or silica sand will come in 50-pound bags, so it's usually manageable to carry for most.
MEDIA ALTERNATIVES FOR SAND FILTERS
It has become somewhat popular for people to use something other than sand for their sand-type filter.
Personally, I'm not a big fan of sand-type filters as it is. And if I somehow found myself having to use a sand filter, I would most likely use sand for it instead of some hack not originally designed for the filter.
Some will choose to add something along with the sand to enhance its filtering ability. I never advise that as it can clog up the filter
The following options are supposed to be better than using filter sand. In a controlled and smaller environment, I'm sure data will suggest just that. Out in the real world over a longer period of time is most likely a different story. But no one is going to tell you that, are they?
Here are your options:
FILTER GLASS (Use 20% less than the recommended amount of sand)
This is essentially broken-up glass pieces smashed to the correct sizes and shapes so they won't come through the filter. They are supposed to trap metals better than sand does which is proven by some science. It could be true.
ZEOSAND/ZEOLITE (Use half as much as sand by weight)
Coming from volcanic rock, this is a cool mineral with cool little geometric honeycomb shapes. This wonder medium is rated to filter out (trap) particles ten times smaller than sand will and trap other things in the water that keep the water feeling better for swimmers.
Because of its shape, you only need to use half of the amount that you sand in the same filter body. Although I don't see the harm in using more than half.
I can tell you sand is more than half the cost of Zeolite/sand.
WARNING: If using this product, backwash the filter before initial use. If you don't, your pool will be cloudy for days.
FILTER OR POLY BALLS (1LB = 30- 75 lbs of sand)
This is an interesting alternative to sand for a sand filter. They are super lightweight balls that are the size of super jumbo cotton balls. They are made of 100% polyethylene.
So, now we're getting closer to a cartridge-type filter with using these filter balls.
I guess if I had to choose one of these alternatives to sand, it would be these poly balls.
A big advantage here is the weight of the product. These will be easy to replace if you discover that you don't like them.