It's common for people to install their own above-ground swimming pool. Depending on the type and size of the pool, the project can be a pretty big one.
With most DIYers knowing nothing about installing above-ground pools, they have to research everything. Researching what to put down in the ground to keep the pool from settling is important.
With almost all above-ground swimming pools, no added base is needed for the earth. If installed properly, an above-ground pool will not settle. Only small areas on the pool's bottom can sink down, but not a large area or the entire pool.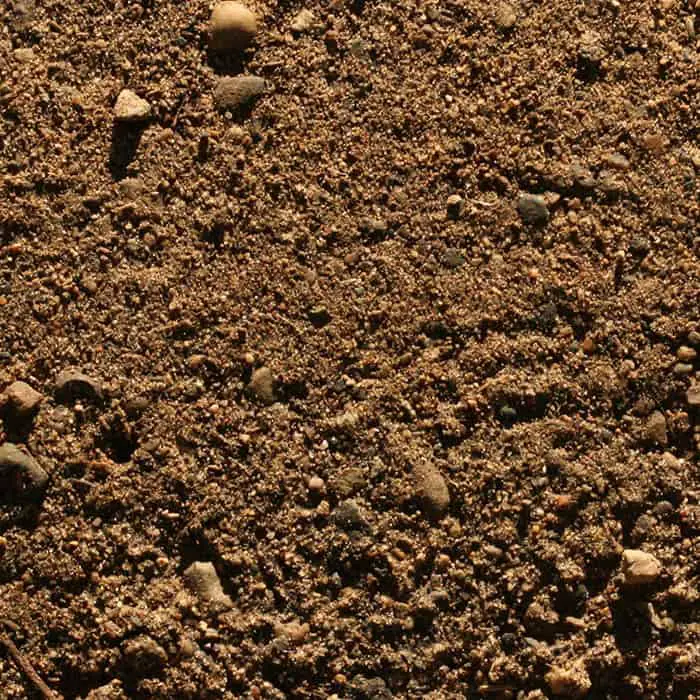 WHEN SELF-INSTALLING AN ABOVE GROUND POOL, SOMETIMES TOO MUCH CONSTRUCTION KNOWLEDGE IS A BAD THING
Some guys that build things can be a pain to deal with when it comes to installing a pool for them. And engineers are the worst. They try to use the logic from their jobs and apply them to above ground pool installation. Yeah, that doesn't always mix well.
When it comes to whether an added base is needed or not for an above-ground pool, some ground-up construction rules don't apply. A hard base is not needed for an above-ground swimming pool.
ALLOW ME TO INTRODUCE MYSELF
Before anyone reading this thinks that this is bad information, know who is telling you first.
I have been an above-ground pool installer for 35 years and installed more than six thousand of every type, maker, and model of pool that exists. Most of my installs were in Central Florida but I did do a few one-season up in Georgia (oh that Georgia clay).
Having installed pools partially in the ground, completely in the ground, on top of the ground, and even on completely built-up hills. I have also leveled the earth and built up the low end of pool locations two-three feet high, and no pool ever settled. Period.
Here in Central Florida, everything is built on sand. I once saw a large retail center built up on a hill. Forty feet thick of earth was added to that hill to level it out enough to build the retail buildings and parking lot. That was 30 years ago, and everything is still there with no movement.
So, if a shopping center built up 40 feet in the air with just sand-based earth doesn't move/settle in more than thirty years, don't think an above-ground swimming pool will settle much.
THE EARTH IS DEFINITELY DYNAMIC, BUT NOT ENOUGH
Coming from a guy who has built on the earth for decades, I can tell you that the earth is alive and well. What the earth's surface is made of and what is growing and living in it creates so many variables when installing a pool on it.
Different aggregates hold or repel moisture. Plant life and roots push the earth around, create voids, and are a part of an ecosystem with its own dynamics and cycles.
Bugs and critters of all kinds burrow, nest, and look for food in the earth. Then there's the dynamic of bacteria in the earth and how it forms and changes the aggregate around it.
All of the above factors make the earth move around a little, but these vibrations aren't enough to affect the properly installed above-ground swimming pool structure above it.
AN ABOVE-GROUND POOL IS HEAVY, BUT THE WEIGHT IS VERY EVENLY DISTRIBUTED
Water is really heavy. Each gallon of water weighs 8.3 pounds/3.8KG, so a 24' round pool (most common size) with fourteen thousand gallons will weigh 116,000 pounds.
That's a lot of weight pressing down on the earth, but it is so evenly distributed that it's not that bad.
Some will mistakenly think that the wall of the pool has a heavy downforce. That's why they think thick blocks are needed to support it under each upright. In truth, the pool's wall has very little downforce and the patio blocks are not needed for support.
The patio blocks used under each upright are optional. When I started installing above grounds in the eighties, we didn't use patio stones. Earlier this year, I disassembled a 15' round in downtown Orlando that was only a year old. It was installed by a guy who has been an installer for 15 years. This pool didn't have any supports under the uprights and it was perfectly level.
I always use patio stones under each of the pool's uprights, but not for any structural reason. I use them so I can get the bottom track perfectly level and use them as a reference point when rolling the wall in place (the bottom track can move around some when inserting the wall).
ARE SOME AREAS OF THE PLANET MORE DYNAMIC THAN OTHERS?
I ask this question because some have argued with me that the earth moves where they live and not in Florida. Of course, there are areas of the planet that have some plate dynamics and therefore have earthquakes and tremors.
Even an earthquake may not affect an above-ground pool if no part of the footprint of the pool moved away from itself. And that's the most extreme dynamics that exist.
Some will argue that their area settles more than others. Again this can be true but not likely as any area that gets that much settling probably won't have a house or any type of permanent structure anywhere close.
THINGS THAT CAN CAUSE THE EARTH TO SETTLE UNDER AN ABOVE GROUND POOL
There are really only two things that can make the earth settle downward under an above-ground pool.
1. Air in the earth
Typically, the earth will have three things in it – aggregate, water, and sand. The type of size aggregates in your yard can vary from big rocks with clay to pure sand (essentially tiny rocks) like in most of Central Florida.
The aggregate cannot change in size much. Most things that make up the earth are whatever size and shape they're in and although may be breaking down into something smaller, it will take years for that to happen to any big degree.
Now, the aggregate (earth) can have some air and moisture in with it. Air can be in between the aggregate causing the earth to take up more volume or be "fluffy" so to speak.
This is what happens when you dig a hole and there seems to be more dirt when you fill the hole back in. The action of removing the earth (from the hole) adds air to the aggregate, thus making it more voluminous (if that's the correct word).
So, if you install an above-ground pool on volumized earth, then the weight of the pool water will eventually cause the earth to press down and release some of the trapped air. This will take some volume out of the earth and the level will settle down some.
NOTE: Spraying the earth with water a couple of times and/or tamping the earth that makes up the pool's bottom will release the air in the earth. This is what is meant by "packing the earth down".
2. Decomposable materials in the earth
Anything in the ground that can rapidly decompose or break down can cause the earth to settle.
There are tree roots below the earth's surface everywhere. Most of these roots are too small to make a difference in the volume around them when they die and decompose. Plus other roots are constantly growing to make up for the lost space.
Bigger tree roots or tree bases or trunks can cause some local earth settling though. Different tree roots decompose at different rates. Most will rot away without displacing the earth surrounding it much at all. Other roots (especially from trees that were cut down) may decompose very rapidly and thus cause voids in the earth. And these voids will be replaced by the earth lying above them. This will cause some earth surface settling.
Some trash that has been buried can decompose quickly and cause the earth to settle too. Anything foreign to the earth can cause eventual voids in it which will be replaced by the dirt sitting above it. This will cause settling as well.
Professional installation tip: When preparing the earth for an above-ground pool, it's best to remove any large tree roots or foreign matter (like from an old trash burn site) from the earth. This may prevent an uneven pool bottom later due to decomposition.
EARTH SETTLING IS NOT THE CONCERN – EROSION IS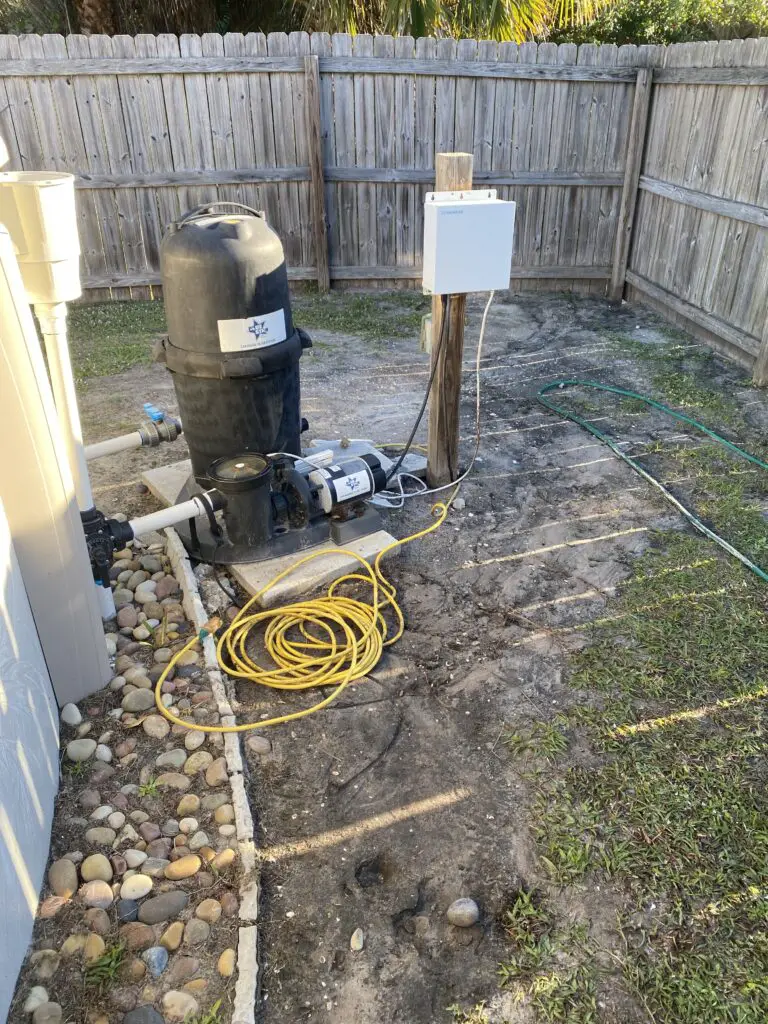 Taking steps to re-enforce the earth from settling under and around your above-ground swimming pool is a waste of time and money. Making sure to prevent any erosion from happening isn't.
Erosion happens when the earth is displaced (carried away) by the flow of water.
If water can flow in any way and any direction at any time next to your above-ground pool, then that is cause for concern. In most cases, (rain) water can only flow when there's an elevation difference or slope in the yard.
The water will travel from the high part of the yard to the low part due to gravity. Duh! This moving water will take with it any aggregate (earth) light enough to move and displace it at a lower part of the yard. This is what erosion is.
If you have moving water in your yard during any extreme weather situation (even if it's only like once a year) AND this moving water is close to your pool, then you should address this issue.
Preventing erosion can be as easy as putting down a layer of rock around the pool (to prevent the water from taking the earth away) or as hard as having to pour concrete and build retaining walls. Whatever it is that you have to do to prevent erosion around your pool, it's worth doing.
DOES YOUR REGION HAVE "FROST HEAVING"? THEN ALL BETS ARE OFF
Fortunately, most areas that people live in aren't super cold climates. If you live in the extreme north though, you may have a condition called "frost heaving". And if you do, then you may have to take an extra step or two when installing an above-ground pool.
Frost heaving happens when the earth freezes, then thaws, then freezes again. This makes the earth do crazy things. One thing it can do is push your above-ground pool upward on one side, thus making it off level quite a bit.
If your above-ground pool is completely above the ground, then it shouldn't be affected by the earth underneath it expanding and then thawing. This will be an issue if your above ground pool is in the ground at all in these areas.
Assuming you live in a area with frost heaving, it may be a good idea to lay down a hard base under an above-ground pool. This base would have to be below the frost line of the earth and be made of a material that won't hold much moisture.
A HARD BASE IS NOT NEEDED TO INSTALL AN ABOVE GROUND POOL, BUT A SOFT ONE IS
What I mean here is that you want a layer of material that can be soft enough to make it smooth for the bottom of the pool.
When it comes to pool bottoms, smooth and flat are best. You don't want anything too hard, bumpy, or full of rocks, sticks, or things that you may feel when swimming.
Most above-ground pool installation manuals will tell you to use sand as a base. Sand is good as long as it's not too thick as sand can be very soft. The good thing about sand is that it is clean and free of any objects that you might feel on the pool bottom.
For me, a clean darker earth (soil-like) with some clay in it makes the best pool bottoms. It is denser than sand, so it will hold less air and water, which will allow it to pack better and stay smoother during the final stages of the installation.
And the clay aggregate portion is nice in that it hardens the earth some after it dries, which helps keep the bottom smooth.