Making an above-ground swimming pool a saltwater pool has become a popular option in the last ten years. But what does that mean exactly?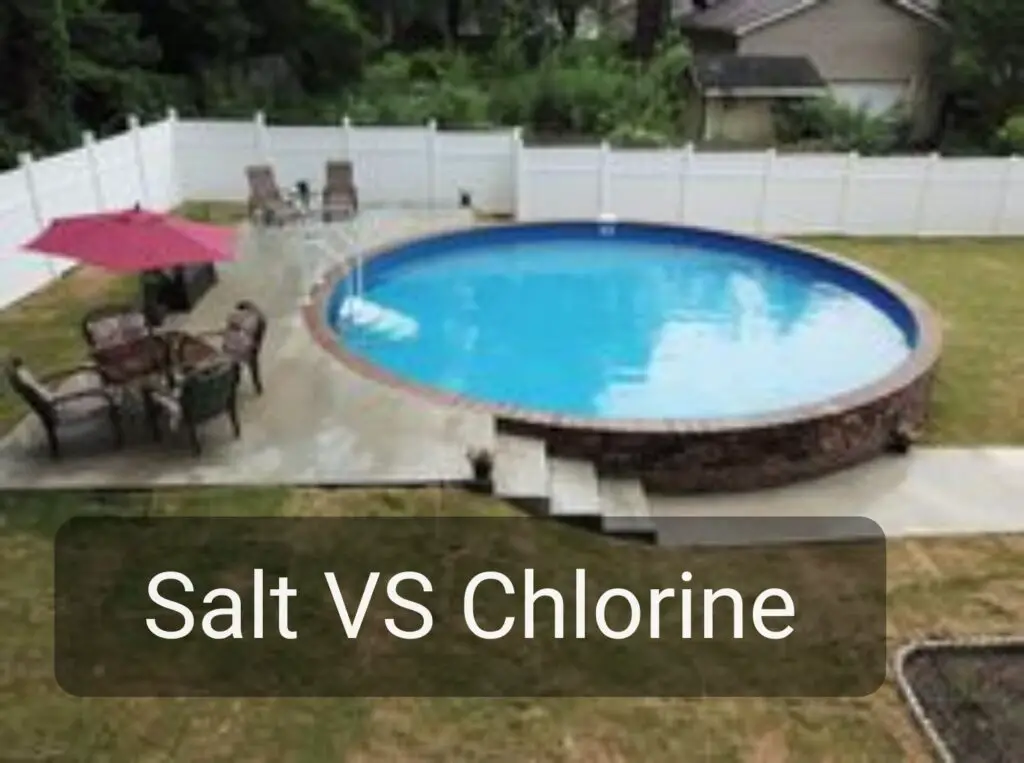 And what is the difference between a saltwater pool and a chlorinated pool?
There's really not much difference between a salt pool and a pool using chlorine. The salt pools make chlorine from the saltwater, so both will have a level of chlorine in them. The biggest difference is that a salt pool (when operating properly) will be easier to maintain chemically.
WHAT MAKES A SWIMMING POOL A SALT POOL EXACTLY?
There are only two things that make a swimming pool a "saltwater" pool. One is that a salt-chlorine generator has been installed within the pool's equipment, and the other is that the water has had a small percentage of salt content added to it.
Everything else is the same. The pump and filter are the same. The pool surface(liner) is the same. And the pool chemistry is the same.
With some pools, having a salt-chlorine generator making chlorine may change the chemistry very slightly. Some will have higher PH or need some Cyanuric acid added depending on the chlorine demand, but not all.
CHEMISTRY DIFFERENCES BETWEEN A SALT POOL AND A CHLORINATED ONE
Swimming pool chemistry has really only six factors. And they are:
1 Chlorine level
2 PH
3 Total alkalinity
4 Cyanuric acid or CYA level
5 Calcium level
6 Total dissolved solids or TDS
With these six factors, the conditions between a salt pool and non-salt(chlorinated) are almost exact. The recommended ranges for each factor are the same.
There could be a few minor characteristic differences. Depending on the unit and chlorine demand, some salt pools will need the PH adjusted a little more often. And some salt pools will need more cyanuric acid added, but not all of them.
While having a pool maintenance business for sixteen years, I noticed that each and every swimming pool is different and will have slightly different chemical demands.
I had many salt and non-salt pools on my routes. Other than how the chlorine levels were managed, there was almost no difference chemically between the two in terms of levels and demand.
WATER DIFFERENCES BETWEEN A SALT AND NON-SALT SWIMMING POOL
Pools with a salt-chlorine generator added to their equipment(saltwater pool) will have a bunch of salt added to the water. This is because a small and very specific amount of salt must be present in the water in order for the generator to make chlorine.
The amount of salt needed is about one-tenth of what is in the average ocean (Atlantic, Pacific, etc.), so it's not much.
Some will think that they can feel this amount of salt in the pool water. I can't speak for the sensitivity of all people but can tell you that most cannot feel this amount of salt. They just think they can.
Bear in mind too that non-salt pools (chlorinated) have a level of salt in them as well. And depending on factors like weather, bather load, area of the country, added well water, and how the pool was maintained, the salt level in a non-salt pool can be closer to the levels in a salt pool than you might think.
If you Google geek out about the topic, you may conclude that a saltwater pool is considerably different than a non-salt chlorinated pool. In the real world though(which is the one that I have gathered my info from), there is little difference.
Ironically, saltwater pools typically will carry a higher chlorine level. This is not because of any water difference though. It's mainly because a chlorine generator continues to make fresh chlorine for the pool versus a non-salt pool having to rely on the pool owner or service guy to add chlorine to it.
Some will assume that the water in a salt pool is healthier for humans in some way. Again, the only difference is that there slightly more salt in the water, so if all things were exactly the same, there's a possibility that the water is better. But that is if all other conditions are perfect.
A salt pool can have poor circulation, algae, be dirty with debris, have metals, have a high level of total dissolved solids, and other factors not related to saltwater that can make it less healthy.
TRYING TO AVOID CHLORINE? YEAH, THEN DON'T HAVE A SALT POOL
I cannot express how common it is for people to want to avoid chlorine for one reason or another. Many will get a salt pool for that very reason.
In reality, not only does a salt pool have chlorine in it, most will have EVEN MORE CHLORINE PRESENT THAN A NON-SALT POOL
It's common too for people to think that they (or their kids) are allergic to chlorine. This is an impossibility. You cannot be allergic to chlorine. The reason – Because our bodies make chlorine as we are mainly made up of water and need it to live.
Some have true sensitivities to chlorine for sure, but for most, their bad experiences with chlorine were from combined chlorine. A swimming pool that is properly maintained and balanced will not have much combined chlorine present. This is regardless of whether it's a salt pool or not.
THE BIGGEST REASON TO GET A SALT POOL
If you have read above, then you know that there's really no difference between a salt and non-salt pool in terms of chemistry and feel.
A salt pool will do one big thing, and that is it will make chlorine every day for the pool whether you remember or not or are away on vacation.
When you really get to know how to maintain a swimming pool, you learn that it is mostly about chlorine. And having a machine making you fresh chlorine and automatically introducing it into the water removes a lot of human error and neglect.
Salt pools still need to be chemically balanced, but the other balancing factors (other than chlorine) usually require less frequency and have less time sensitivity.
So, if you are wanting easier maintenance for your swimming pool (and who doesn't), then a salt pool(having a salt-chlorine generator) is what you want.
SOME NEGATIVES TO HAVING A SALTWATER ABOVE GROUND POOL
Coming from a pool guy of 37 years, I don't think there is any substitute for a pool owner learning and then knowing well how to chemically maintain their pool. This is why I will rarely recommend any supposed chemical aids or add-ons for pool equipment.
If I had to recommend an add-on component though, it would most certainly be a salt-chlorine generator (salt pool). Chlorine generators have some definite advantages, but there are some drawbacks too. Here they are:
1 Cost of the unit and salt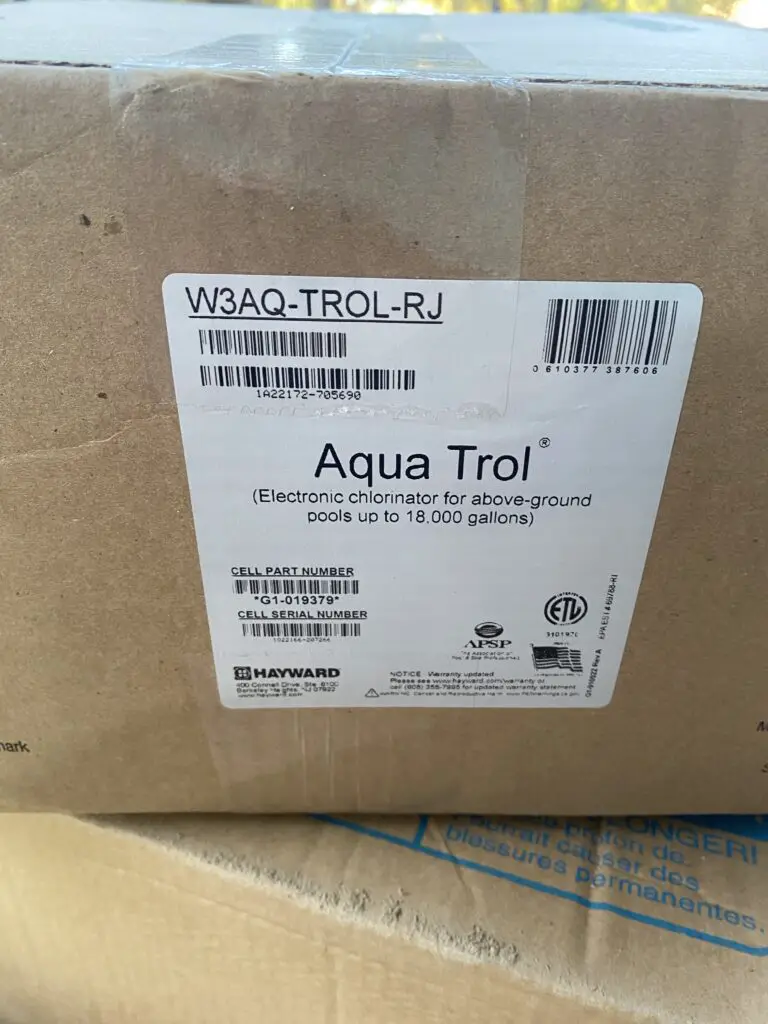 Although the price for some has come down a little, a quality salt-chlorine generator for an above-ground pool is going to cost in the range of $400 – $900.
When comparing this to not having one and instead adding chlorine to the pool, then $400 – $900 buys a lot of chlorine.
This upfront cost alone will never be recovered by the chlorine that you won't have to buy, so just know that a salt pool ultimately costs you more. Period.
NOTE: A SCG only makes chlorine when the pump is running. If your pool has a greater need for chlorine, then you may have to run the pool pump longer than usual which adds to the cost.
2 The SCG cell requires maintenance
About three or four times a year, the salt cell will need to be removed and cleaned. This isn't a big job or anything but has to be done and can't be neglected(unless you're ok with it not working).
Again, this isn't a big maintenance job, however this is worth mentioning as you are getting a salt pool to make things easier for you.
3 The SCG cell will need to be replaced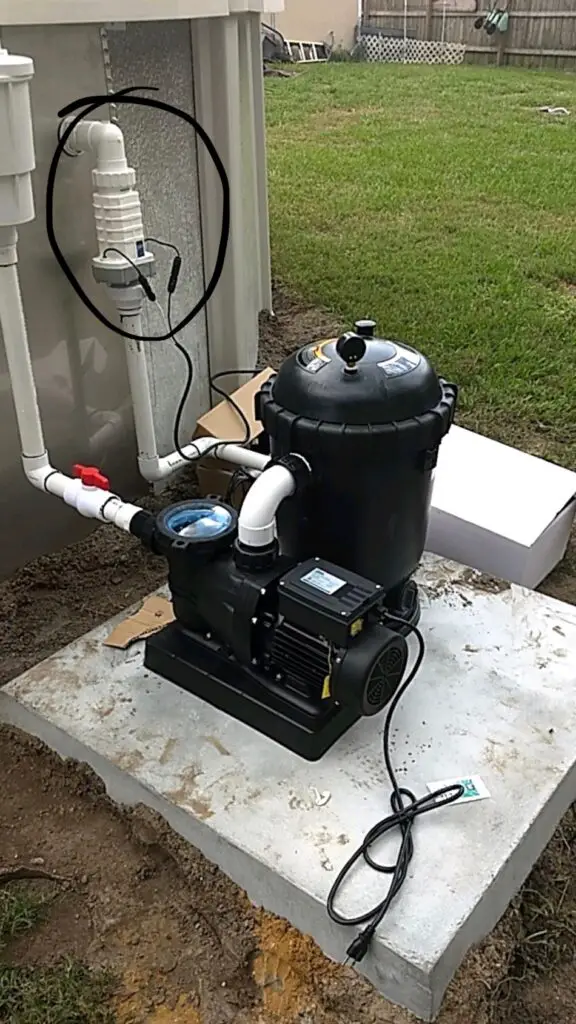 For anyone who has done some math and think that they will save money in the long run by having a salt-chlorine generator, consider that the average cell in a good quality chlorine generator unit will last about three years.
Salt cells are easy to replace, but they are not cheap. So don't think that you will ever recover the cost of having a salt pool. As stated above, you can buy a lot of chlorine for what you will pay to purchase and maintain a salt pool.
4 You may think that a salt pool will cause an above-ground pool to rust
Personally, I don't think salt pools rust out any sooner than one without, but I am mentioning this because many think that it will.
And if you think that a salt pool will cause rust, then that would be a negative to you. You can find my opinion in my article "The truth about saltwater above ground pools"
WHAT WILL HAVING A SALT POOL REALLY DO FOR YOU?
First off, there is more than one way to chemically maintain a swimming pool. For this reason, a salt pool may do more, less, or something different from what I will describe here.
Having given the above disclaimer, a salt pool (a pool with a salt-chlorine generator) can do only one thing for every and any pool. And that is it produces a small amount of fresh (free available) chlorine and introduces it into the pool water while it's on and running. That's it!
The most common (and best) way to maintain a swimming pool using chlorine is by adding it in two ways.
One way is by shocking the pool with chlorine. Shock means nothing more than introducing a whole lot of chlorine into a body of water in a very short period of time. This large amount of sanitizer hits the body of water fast and hard killing everything it can.
The other way chlorine is added to a pool is by dropping slow-dissolving tablets in a floater or chlorinator for the pool. These tablets are designed to slowly dissolve introducing a small amount of chlorine into the water constantly all day long.
Chlorine tablets are used to maintain the chlorine level in the pool between shockings.
When you have a salt pool, you have a salt-chlorine generator making a small amount of chlorine and introducing it into the water (see above). This then takes the place of the chlorine tablets used in a non-salt pool.
A salt chlorine generator cannot shock the pool. It can only add small amounts of chlorine over a long period of time
What all of this means is that a working salt pool will not need the slow dissolving chlorine tablets. It may still need to be shocked periodically or when there is an extreme weather event or a big party with a huge bather load( a lot of swimmers).
The bottom line here is that all a salt pool will do for you is replace the need for having slow dissolving chlorine tablets.
When described this way, it may not seem worth it to have a salt pool. And for a pool guy like me who has a high degree of knowledge AND will stay on top of the pool chemistry, it isn't worth it.
For most pool owners though, having a salt pool is worth it. This is because when the pool is automatically having fresh chlorine added to it, then a lot of human error and neglect is corrected.
SALT OR CHLORINE. WHICH ONE IS FOR YOU?
In case you didn't read much of this article or need something a little more direct, I'll try to bottom line this decision for you.
If you have it in your budget (can afford it), then get a salt pool – Most who get a salt-chlorine generator for their above-ground pool will also be getting an upgraded pool model. This is because most will want what is called a "salt-water friendly" pool.
This means that having a salt above-ground pool may cost you considerably more, but you'll be getting a nicer pool.
If you are not good with maintenance or don't have a lot of time, get a salt pool – Some are just not good at maintaining stuff. If you can't keep a cactus or bamboo alive, get a salt pool. This will make it easier for you to keep the water clear and healthy in your pool.
Also, if you are a super busy person and won't have time to service the pool at least once a week (during the summer), then get a pool with a salt-chlorine generator (salt pool).
If you are new to maintaining a swimming pool and have the money, get a salt pool – Although having a salt pool requires a lot of learning, having a salt-chlorine generator with the pool increases the margin for error. So the learning curve is an easier one.
If you are retired and love maintaining things, do not get a salt pool – I have put in pools for some very happy retired people who love to keep their household in perfect order. If you are this person or have someone like this taking care of things, then don't bother with the expense of a salt pool.
If you have a lot of knowledge of chemical maintenance, do not get a salt pool (But you already know this) – Bottom line – If your knowledge level is high, a salt pool is just not cost-effective.
If you are looking to strictly save money, do not get a salt pool – It costs more to get and have a salt pool. That is the bottom line.