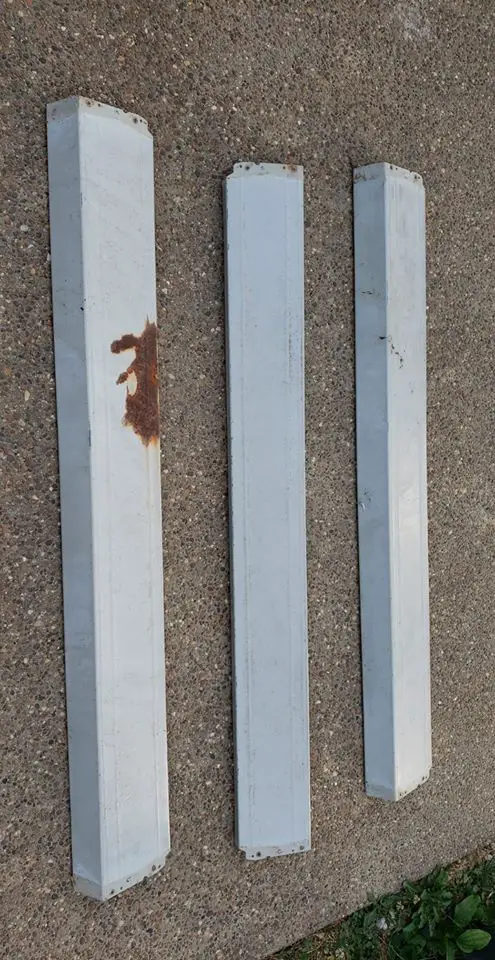 A decent quality metal-walled above ground swimming pool can last a really long time. The top rails may get some rust if they are made of steel or might sag some if they are made from resin. And some of the parts underneath the top rails (stabilizer bars and connectors and screws) can rust as well.
For the most part though, even with some rust, an above ground pool will last for years. There really is only one thing that will kill your above ground swimming pool. And that is rust or corrosion on the pool's wall.
The biggest way to prevent an above ground swimming pool from rusting is to fix any leaks it gets as soon as possible.
THE DEATH OF AN ABOVE GROUND SWIMMING POOL
An above-ground pool can look terrible. It can be off level, out of shape, faded from the sun, have rust all over the top rails, have half of the uprights rusted apart, and the bottom track could have mostly disintegrated long ago. With all of that, the thing can be up, holding water, and being a greatly enjoyed swimming pool. The opposite can hold true too.
An above-ground can also look great and even be just a couple years old. It can be perfectly level and shaped, have a well-preserved pattern design with all the pieces of the frame in perfect condition. But, it can also have an almost unnoticeable rust spot on the wall of the pool which causes the pool to split open, tear the liner, and have all the water rush out into the yard. This perfect looking pool is now usually dead and can't be repaired. Time for a new pool. Yikes!
Most of the parts of an above ground pool can be rusted, broken, not properly installed, off level, and look in bad shape and other than aesthetics, it won't matter too much. But have a spot of the wall rust completely through, and "Houston, you have a problem".
RUST OR CORROSION ON THE WALL IS ENEMY NUMBER ONE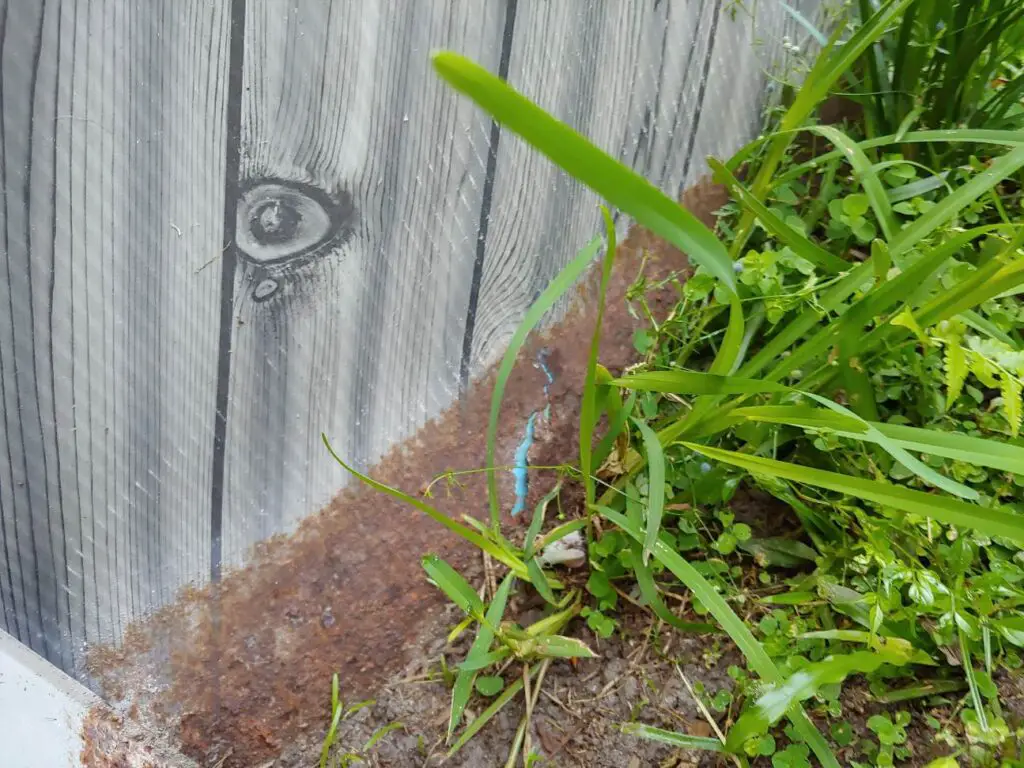 Most who don't know about above ground pools very much will think that the frame of the pool (uprights, top rails, top, and bottom track, and connectors) are what keep the pool up and in place. In truth, it's the pool's wall and only the wall that matters. While the frame is important in keeping the shape of the wall, it's the wall that has the amazing job of holding all that water in. And it's a big job.
The most common sized above ground pool is the 24' round. A 24' round pool holds about fourteen thousand gallons. Times that by the weight of a gallon of water (8.34lbs) and you have over 100,000 pounds of water being held in place above the ground. That's a lot of weight.
Now, it's the wall of the pool that holds all of that weight, so it's very important for the structural integrity of that thin piece of metal to remain strong. Some surface rust is ok and won't affect the wall's ability to hold the water. But if it starts to rust all the way through the wall, then guess what? Yep. The wall may not be able to hold the water anymore and you'll have a temporary backyard flooding.
DON'T BELIEVE THE HYPE. ALUMINUM WALLS CORRODE TOO
Most metal-walled above ground pools are made of steel. Some of them though are made of aluminum, which is great and all, but don't think that makes a difference in terms of a wall losing its ability to hold water.
Aluminum walls don't rust like steel does, but they do corrode. And it can corrode to the point that it can't hold all that water anymore just like rust with steel. The difference is that steel will corrode in big areas, turn a rust (reddish-brown) color, and flakes off in pieces. When aluminum corrodes, it turns white in little spots everywhere.
Eventually, those little white spots will eat all the way through and make a bunch of pinholes everywhere. Those pinholes weaken the integrity of the aluminum made wall and eventually can cause it to split open and release all the water into the yard. Ouch.
Knowitall alert – Some reading this will think that I am wrong here about aluminum walled pools but I'm not. It is true that the more expensive and thicker, slatted aluminum walled pools will not do this. Let me explain.
When aluminum corrodes, it forms a weird protective coating on it which actually prevents further, deeper corrosion. This is a kind of cool fact about aluminum in that it protects itself. The problem with a continuous-rolled aluminum above ground pool wall is that the aluminum material is too thin to make its protective coating.
Aluminum has to be thick enough to make its own successfully protectful patina. With the more costly slatted walled pools, the aluminum is thick enough, so it may look discolored and pitted, but it will never lose its ability to hold water in.
The continuous roll aluminum walls for above grounds are too thin. They cannot form a patina before it corrodes all the way through in the form of a pinhole.
WHAT CAUSES AN ABOVE GROUND POOL TO RUST (OR CORRODE)?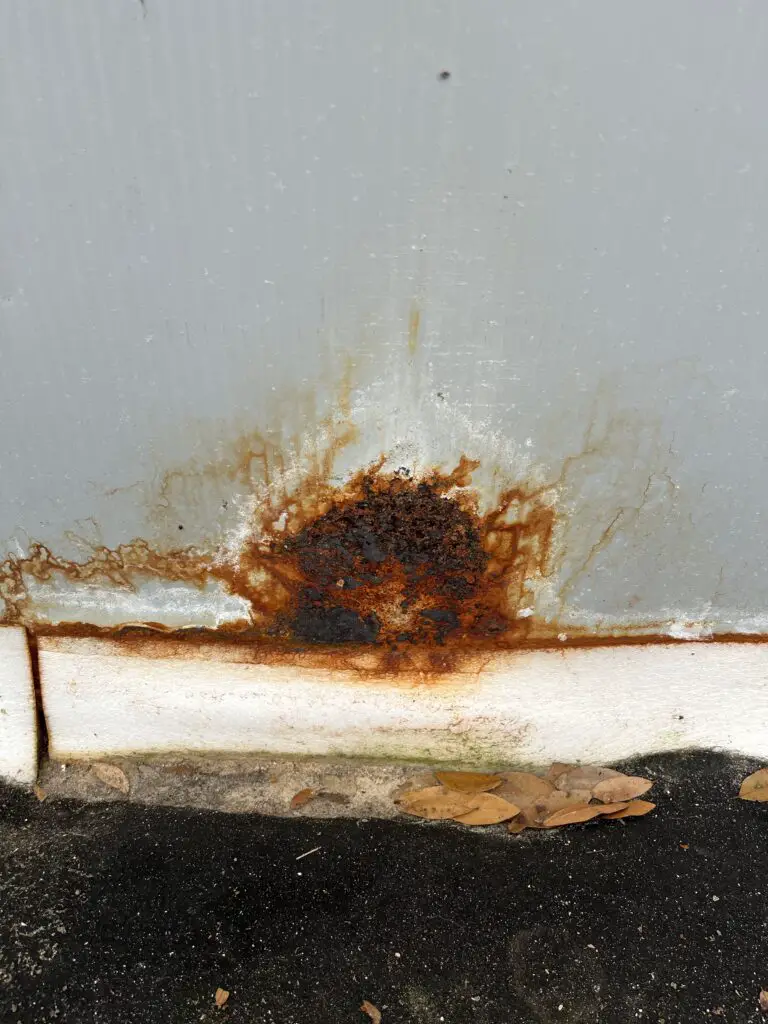 That's a good question and is one that I have wondered hundreds of times while looking at a rusty above ground pool. In reality, sometimes I can clearly tell why, and sometimes I have no clue. But, even though I'm not a chemist or some kind of metal specialist, I have my ideas.
If you want, you can go "geek out" and learn about what causes metal to break down around its elements. You're probably a click away from knowing more about it than me. What I can tell you though has to do with what I have seen over a really long time of being around these pools. And with what I have seen, it's about moisture control.
A swimming pool has water in it (go figure), so you can't just keep things that are made of metal dry and go about your way preventing rust. Things with get wet for sure and some things will rust sometimes. And it's the "sometimes" that will drive a guy like me crazy. I have seen just about every extreme situation with these pools when it comes to moisture exposure and have seen mixed results.
I have seen everything thing from pools that were installed halfway in the ground in a swampy area where the ground holds water year-round, and not one speck of corrosion anywhere. And I have seen pools installed completely on top of the ground in a sand-based super dry area with rust everywhere after a couple of years. And I have seen everything in between too.
With this, I have considered the P.H. of the earth, materials used to manufacture the pool, wind and weather exposure, bather type and load, chemical balance, type of pool and usage, bonding presence, and, of course, the big one – salt pools. With all of this, I have only discovered a couple of constants. Here they are.
5 THINGS I KNOW FOR SURE THAT WILL HELP PREVENT RUST IN AN ABOVE GROUND POOL
#1 If you have a leak, fix it right away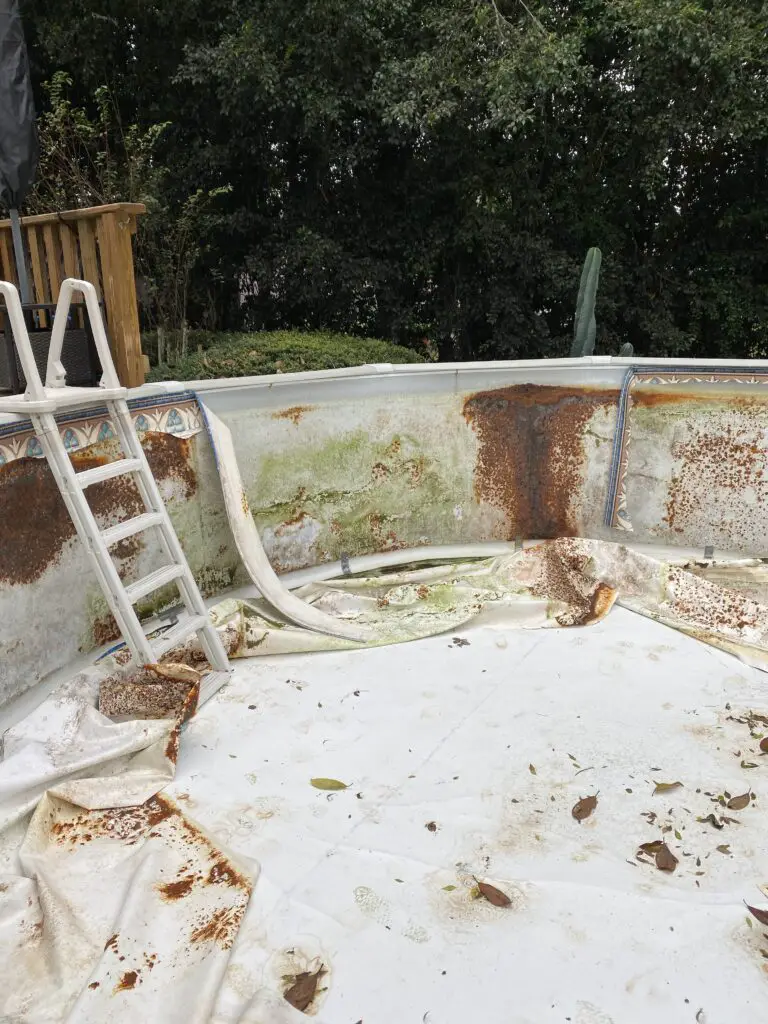 When I change liners out in existing pools, I get to see what is happening. Clearly, when a pool owner has a leak and just adds water instead of fixing it, it often creates rust on the wall.
It's not easy to find a leak in an above ground pool. It's much easier to just keep adding water. Do what it takes to find and repair the leak and you may prevent your pool wall from rusting.
#2 Maintain the outside area around the pool
Some people just let grass grow right up against the pool and then take the coating off the pool wall when they use a weed eater/whacker.
Also, some let plants grow right next to the pool allowing them to grow up against the pool wall. This is an invitation for moisture to get held next to the wall of the pool. Yea don't do that. You don't want that anyway. Bugs and spiders live in plants. Keep foliage clear from your pool.
Go out around your pool and put down mulch or rock or something that allows for good drainage. You don't want rainwater hanging around the outside of the pool any longer than it should.
And don't allow discharged backwash water to flood around the pool. You don't want constant standing water near the wall.
#3 If you can afford it, get an above ground with resin parts instead of metal
Resin parts on an above ground pool isn't always as good as metal parts, but resin doesn't corrode.
The parts that rust the most on above ground pools are the ones at the top of the pool. If you get a pool with resin top rails, stabilizer bars, and connectors(located underneath the top rails) and top caps, then you'll be good to not worry about it. The wall of the pool will still be made from metal as it needs to be strong enough to hold all that heavy water (see above). Interestingly, I recently heard of an above ground with a resin wall, but I haven't seen one yet (UPDATE 2022: I have seen and installed a couple of resin-walled above grounds). And honestly, I don't know that I would be the first on the block to get a resin walled above ground pool.
#4 Generally maintain your pool well
Keep your pool in good working order. Clean and maintain the area around the pool and the top. Don't let the thing turn green every other week and then have to create a chemical miracle to bring back to swimmable. Overall good maintenance of the pool will make you aware of things like leaks and moisture trapping items sooner than later.
A QUICK NOTE ABOUT SALT CHLORINE GENERATORS AND RUST
This is where I might lose some of you, but I don't think salt chlorine generators cause rust in above ground pools. If you are looking for me to have some ulterior motive like a link selling salt systems, you won't find one. I just can't find a connection with saltwater pools and rust.
This may just be my opinion, but it's more qualified than yours, so take it any way you want. If you don't want to deal with this debate and want a salt-chlorine generator, then just make sure your pool's top rails, stabilizer bars, and connectors (located underneath the top rails), and top caps are made of resin and you're golden. You can get resin bottom tracks and connectors too, but I don't think they are important if they rust or not.
Just like a soda or beer can, a liner sweats or transfers moisture from the inside of the pool to the outside of the liner. And that moisture needs to be able to go into the ground.
If you put something down that traps moisture(like visqueen plastic sheeting), then the liner's transferred moisture will be trapped and could cause the wall to rust from the bottom up.