One of the coolest things about being a human living in a civilization is that many can design, build, install, repair, maintain, and improve most things in their households.
There are some things that the average person cannot DIY, but it's a fairly small list. Things like changing out an electric service, replacing a septic system, or adding a bathroom are not recommended for most everyone to do themselves.
Other things like painting, landscaping, replacing a ceiling fan, and putting a new gas grill together can be achieved by almost everyone.
What about installing an above-ground swimming pool? Can the average person do that themselves? The quick answer I would give is "YES", but that's the quick answer.
Most people can install the average above-ground swimming pool themselves. You being one of those people depends on your level of DIY(Do-it-yourself) experience, which type and shape of pool that you have, and the condition of your yard.
WHAT PERCENTAGE OF PEOPLE INSTALL THEIR OWN ABOVE-GROUND POOL?
I am a moderator of the largest Facebook ground for above-ground swimming pools. Recently, I did a series of surveys to see who is installing them. This is what I found out.
| | |
| --- | --- |
| Metal-walled self-installation | |
| Metal-walled professional installation | |
| Soft-sided self-installation | |
| Soft-sided professional installation | |
METAL-WALLED ABOVE GROUND POOLS ARE INSTALLED LESS BY DIYers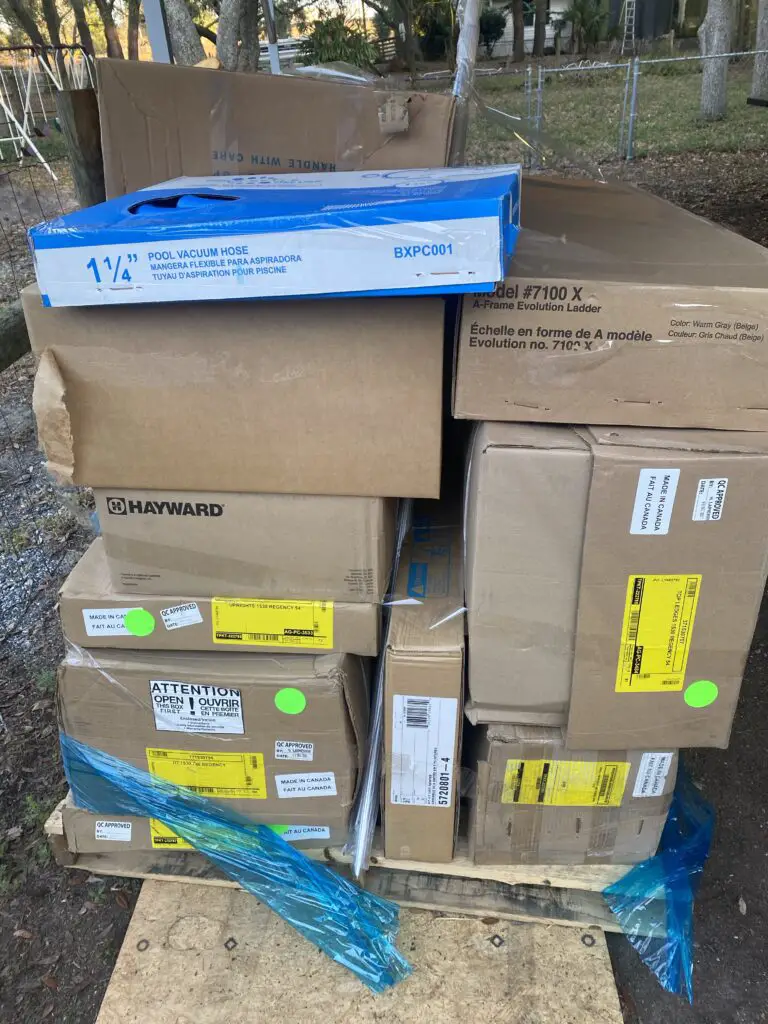 According to the survey, only about one in three install a metal-walled pool themselves. This is a smaller number than several years ago.
When I started installing above-ground pools in the late eighties, more than half were installed by the home/pool owner. Things have changed in thirty years though. Here is why I think metal-walled above-ground pools are installed by the homeowner less now.
1 It's a less physical world
In the 80s and 90s, people did more things on their own. Our civilization was less specialized then, so now, homes don't have as many standard tools and people aren't as used to figuring out things that they don't know much about.
Also, because jobs are much less physical, people aren't as able to do hard physical work. And installing an above-ground pool is very physical and usually done during the hottest time of year and outside.
2 Above ground pools are harder to install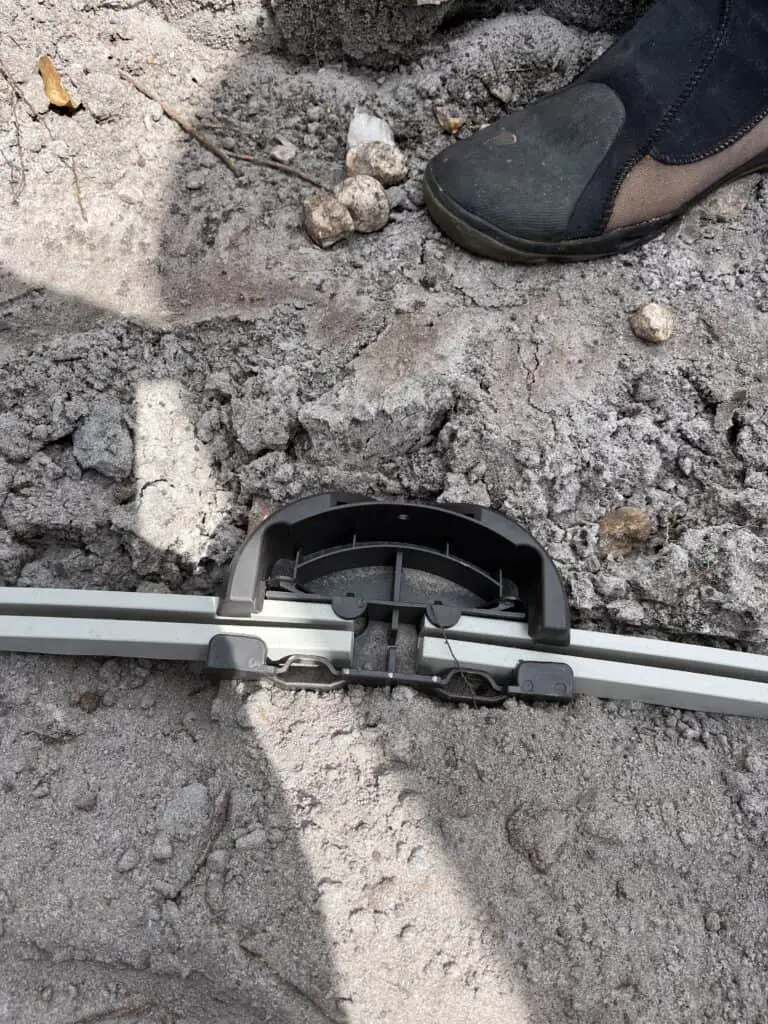 Just like every other thing, above-ground pools are more complex and often over-engineered. Their walls are taller (52" and 54" instead of 48") and the frame designs are more complicated.
Many frame parts are now made of resin instead of metal. This can make things go together tougher as you have to worry about plastics cracking and being less forgiving if you have to push and pull to "make it fit". And that is very common with these above-grounds.
There are also often a lot more parts to the frame of an above-ground pool than 30 years ago.
3 Youtube doesn't help much
As a DIYer, I absolutely love using Youtube videos to help me do things that I don't know how to do. Many things are very well covered by how-to Youtube videos. Unfortunately, installing above-ground pools isn't one of those things.
I have made a video about installing an above-ground pool. It's OK but doesn't hold your hand enough for most to be successful at their installation. And I have yet to see a YouTube video about installing that is any better.
With above-ground pools, there are too many variables to cover everything in one video. If you can find an install video of someone installing a pool of your type, close to your model, AND in the area that you live in with a yard similar to yours, then you would be golden. But that most likely doesn't exist.
SOFT-SIDED POOLS ARE MOSTLY INSTALLED BY THE HOME/POOL OWNER
The much less expensive soft-sided type of above-ground (Intex/Coleman/Bestway) is much easier to assemble and install. But that is only one reason why most install these themselves.
WHY MOST SELF-INSTALL THEIR SOFT-SIDED POOL
1 They are on a smaller budget
Most that get a soft-sided pool over a metal-walled one because they don't want to spend as much for a swimming pool. This spills over when considering paying someone to install it.
As an installer of 35 years and counting, I don't install many soft-sided pools. There are two reasons for this with one being that I have to charge too much to do it.
Soft-sided pools are much easier for me to install than metal-walled ones, but the groundwork is the same or often harder to do, so I cannot charge much less to install them.
As a result, pool owners don't want to pay as much or more for a professional installation than what they paid for the pool itself. And I don't blame them.
2 They cannot find a professional to install it
It's hard enough to find a metal-walled above-ground pool installer. But finding an experienced pool guy that will install a soft-sided pool can be nearly impossible.
Installers like me don't like to put up soft-sided pools because we have to charge too much in comparison to what the pool cost AND soft-sided pools don't have bottom tracks.
With these pools not having bottom tracks, there is no easy way to make sure the pool will be perfectly level. And I don't want to install a pool that may be off-level some despite my effort and experience.
REGARDLESS OF THE TYPE OF ABOVE GROUND, THE GROUNDWORK WILL BE AT LEAST FIFTY PERCENT OF THE JOB
There is a very wide range of difficulty with the assembly of the different types of above-ground pools. Some are very easy to install and require very few tools. Others are so hard that even I avoid installing them.
Regardless of the pool type though, leveling and preparing the ground is going to be a challenge.
For many thinking about installing their above-ground pool themselves, considering and investigating what it will take to prepare the yard will be the deciding factor.
Some yards are easier to work with than others, so here are some questions to answer about yours
THREE QUESTIONS TO ASK ABOUT HOW DIFFICULT WILL YOUR YARD BE TO INSTALL AN ABOVE-GROUND POOL ON?
1 What is the quality of your grass?
If you get just one takeaway from this article, then this is it – "You absolutely must remove the grass/sod before installing an above ground pool"
Now that you know this, what is the quality of the grass where you want to put the pool? Some yards have very little grass and mostly just weeds while others have beautiful, pristine, rug-like grass.
If your grass is really good, then removing it will be harder. Good grass has a thicker root base(sod) and all of it has to come out. If you have just weeds, then that will be much easier.
Thick carpet-like grass will kick your butt and all those involved when removing it by shovel. With this, I recommend renting a sod cutter. It will be the best money you've ever spent. This is not an over-exaggeration!
2 How hard is your earth?
The ground that your house sits on (and your yard) can range in hardness wildly. Earth can be made up of sand, clay, soil, rock, or a combination of them.
In Central Florida where I install pools for example, the natural earth is mostly sand or soil which is easier to work with. This doesn't mean that the earth will be the same in any particular neighborhood though.
In many areas of the country(including Central Florida), neighborhoods or individually built homes will have fill dirt brought in to raise and level the ground. This means that the type of earth any particular yard has, can be different depending on what the developer or builder used.
Here in CF, there are a few neighborhoods down in the Kissimmee area(where Disney World is) that have super hard earth made of clay. In some cases, the earth is so hard that even my skid-steer machine has a hard time working it.
You may not know how hard your earth is to work with. Remember if you ever had to dig in your yard to plant something or find a pipe. Was it hard to dig?
If you're not sure how hard your earth is or if you have large rocks in it, then you may want to dig a test hole in the area where you want the pool.
If your earth is super hard or has large rocks and you still are wanting to do this job yourself, then renting a skid-steer (Bobcat type) machine is worth it.
3 Is there a slope to your yard?
There are very few areas of this planet that are perfectly flat, so when installing an above-ground pool, you will need to level the earth at least some.
If your yard has a fairly severe slope to it, then that's a different story.
A swimming pool has got to be level. This is mainly because it holds water. And water must be level. It has no choice. Other things in your yard can be off-level and not matter as much. A pool though has to be level.
Think of a glass of water. Tilt the glass and the water doesn't tilt with it. It stays level. A sloped yard is like tilted glass so you must level the earth so the glass sits level.
Some yards will have a big slope, but what does that mean in terms of installing the pool? Well, if there is a two-foot difference between the low point of where the pool is going and the highest point, then that means a lot of earth has to move to make the area level.
Bigger sloped yards mean a bigger job of leveling the earth. Consider this before deciding on doing this job yourself. And if your yard is fairly level, then the job will be much easier.
TYPE OF ABOVE GROUND POOL FROM EASIEST TO HARDEST TO INSTALL
Now that you know about the groundwork and how it applies to any type of above-ground pool, it's time to see how difficult the pool itself can be to assemble and install.
Here are all the pool types listed from easiest to hardest to install.
1 Round soft-sided pool
This is the easiest pool to install. I have installed these by myself but recommend two people or more for the assembly. This may remind you of assembling something from Ikea. Fairly easy, doesn't need a lot of tools, and easy mostly picture-only instructions.
2 Rectangle soft-sided pool
This is also very easy to assemble but a little harder as the shape is not consistent(like a round shape is), so it has four corners to deal with.
Important tip: Follow the directions and use pressure-treated wood to level the buttresses(straight side supports). Cement pavers or patio stones may break after the pool fills with water.
3 Round metal-walled pool
Traditional metal-walled above-ground pools are considerably harder to assemble than soft-sided ones. They have a lot more and different parts for one, and the pump/filter assembly is much harder.
These pools require more tools and need at least two people to assemble if not more.
In my opinion, this is the cut-off for people who aren't seasoned DIYers. A round metal-walled or soft-sided pool can be done by most, but beyond this will require more knowledge and experience with first-time projects.
4 Round slatted aluminum-paneled pool
These pools are more expensive and made to go in the ground some. Instead of one continuous-roll wall, these have panels that lock together when assembling the wall.
The only noticeable difference between these and traditional metal-walled pools (#3) is the wall being in pieces instead of continuous. This makes the job just a little harder.
Most of the time, this type of pool is installed in a hole which makes the assembly job harder as the hole can be tight and you have to get in and out of the hole a lot during the installation.
5 Oval metal-walled pool
Traditional metal-walled above-ground pools are tough to assemble and install. Period. This is not for the light-hearted, do-it-yourselfer. Accomplishing this install will take lots of patience and sweat.
If your marriage is questionable, then don't install an oval with your spouse. Unless you are using the experience as an exit strategy. Lol.
The design and engineering for almost all of these ovals are poor, so don't expect perfection. Instead, expect frustration.
I don't recommend DIYing a metal-walled oval above ground pool. If you can find someone good and experienced to do this, pay them what they are asking. It'll seem like a lot, but after doing one yourself, you'll know it's worth it.
6 Rectangle metal walled pool
These pools are fairly rare but are still out there. Some now come with resin walls but they are still a pain to install. They are just slightly harder to install than ovals but if you've read about ovals then you know they are tough.
I don't install rectangle pools. They are too rare and too tough for a guy like me to deal with them. This should give you some pause when considering a self-installing one.
7 Oval slatted aluminum paneled pool
These pools are expensive and will last for decades. But they are ovals and have hard-sided walls, which means they are a pain to install.
This type of above-ground is considerably more expensive and designed to go partially in the ground, so most are installed in the ground. And installing in the ground will add to the challenge for sure.
8 Round semi-inground paneled pool
The term "semi-inground" can be confusing as all metal-walled above grounds can be installed semi in the ground.
This type is made to go in the ground and many will install them all the way in the ground. That will make the install harder. There's a definite difference in the amount of effort in installing a pool 2' down versus 4' down for sure.
These pools usually require poured concrete all around the outside bottom perimeter of the pool which makes the jobs a lot bigger and harder.
9 Oval or free-formed semi-inground paneled pool
As an above-ground pool installer of thirty-five years and counting, it's hard for me to categorize these as above-ground pools. They are really just inground vinyl-lined pools sold as semi-inground.
A hundred years ago, I installed a few inground vinyl pools with my brother. These are closer to those than any above-ground pool. And they are much harder to install for sure.
I don't recommend trying to install one of these yourself. Not to say you can't do it as I have no idea who you are and what your level of knowledge is. On average though, only a pro should install this type of pool.
TOOLS NEEDED TO INSTALL A SOFT-SIDED ABOVE GROUND POOL
These Chinese-made pools have no screws, so they don't need much for tools. As mentioned above, the groundwork is the same as with all pools set above the ground, so you'll need tools for that.
GROUND TOOLS
1 Squarehead shovel (preferably with a grinded sharp edge)
2 Metal rake
3 Landscaper's rake (Ideally 4' wide)
4 Come-along rake (concrete placer)
5 Some type of level (4' level, line level, builder's level, laser level)
6 Tape measure
Optional ground tools
A Sod cutter (rental)
B Skid-steer machine (rental)
C Wheelbarrow
POOL INSTALL TOOLS
1 Utility knife (to open the boxes)
2 Large channel lock wrench/pliers
3 Lubricant (to help slide frame parts together)
That's it !!!
OTHER SUPPLIES
1 Patio stones for the frame supports
2 Nutgrass killer
3 Sand or clean fill dirt (if needed)
4 Patio stones to set the pump/filter on (optional)
TOOLS NEEDED TO INSTALL A METAL-WALLED ABOVE GROUND POOL
GROUND TOOLS
1 Squarehead shovel (preferably with a grinded sharp edge)
2 Metal rake
3 Landscaper's rake (Ideally 4' wide)
4 Come-along rake (concrete placer)
5 Some type of level (4' level, line level, builder's level, laser level)
6 Tape measure
Optional ground tools
A Sod cutter (rental)
B Skid-steer machine (rental)
C Wheelbarrow
POOL ASSEMBLY TOOLS
1 Utility knife
2 Tape measure
3 large flat-head screwdriver
4 large #3 Philips screwdriver
5 Large channel lock pliers/wrench
6 Cordless drill with specific fittings
7 Spring clamps (to temporarily hold up the liner)
OTHER SUPPLIES
1 Patio stones for the uprights
2 nutgrass killer
3 Sand or clean fill dirt (if needed)4 Patio stones to set the pump/filter on (optional)
5 Duct tape ( to tape the wall bolts on the inside) 6 Silicone(for the fittings)
A FEW OTHER FACTORS TO HELP YOU DECIDE WHETHER YOU CAN INSTALL YOUR OWN ABOVE GROUND POOL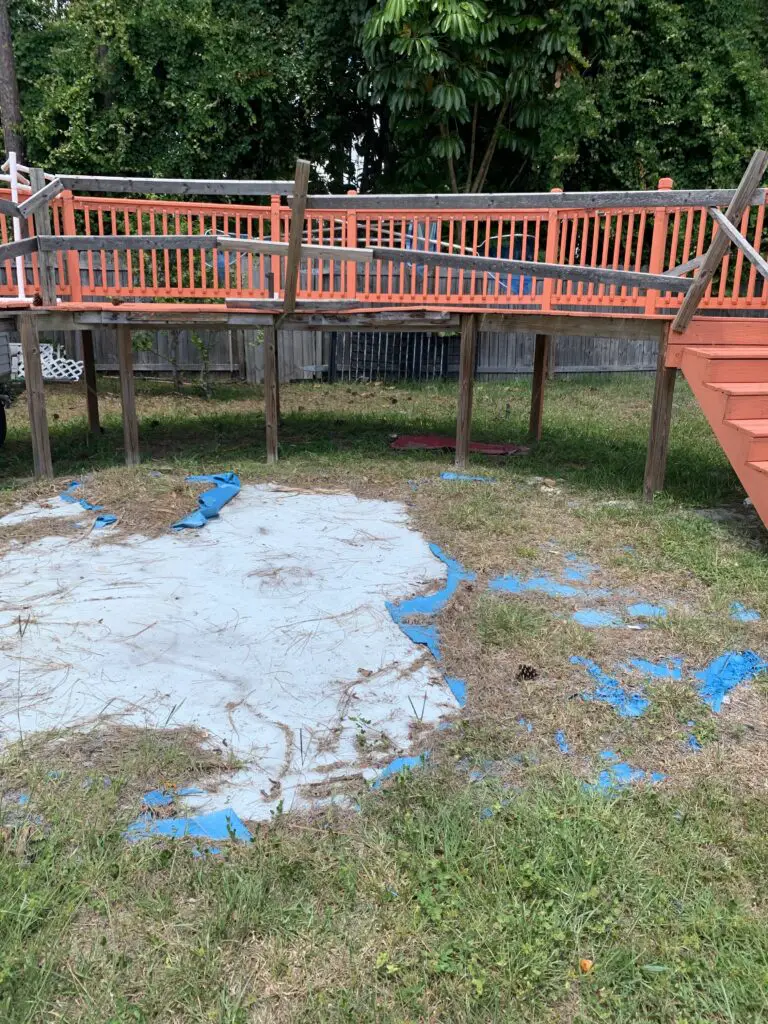 A This project requires at least two people (At least)
It's not uncommon for people to use four or five people to get the job done (especially when rolling out the wall)
B Above ground pool instruction manuals are not very good
If you are needing very specific step-by-step guidance with your DIY projects, don't expect the pool's instruction manual to give you that. These things are NOT written by anyone who has ever assembled a pool in the real world. (I'm serious)
C Installation YouTube videos will only help a little.
YouTube is great for many DIY projects, but so far, above-ground pool installation is not one of them.
D You don't want to roll out the wall in high winds
If the area where you live gets windy, then you will have a really hard time rolling out the wall and keeping it up for the time it takes to finish the pool install.
E Almost everyone can assemble a soft-sided pool. A metal-walled pool is a different story
This is especially true for metal-walled oval shapes. They are truly a challenge.
ONE LAST PIECE OF ADVICE
A lot of areas don't have access to a good installer. And many installers aren't that good. In my opinion, it takes at least 100 installs before someone starts to get the job.
If you can find a good installer for your area that you can verify does good work, then pay them to install your pool. You may have to buy locally to have them install your pool too. Please believe me when I tell you that this isn't just my opinion.