With above-ground swimming pools, bees (actually wasps) are always a concern. They just love to make nests in them.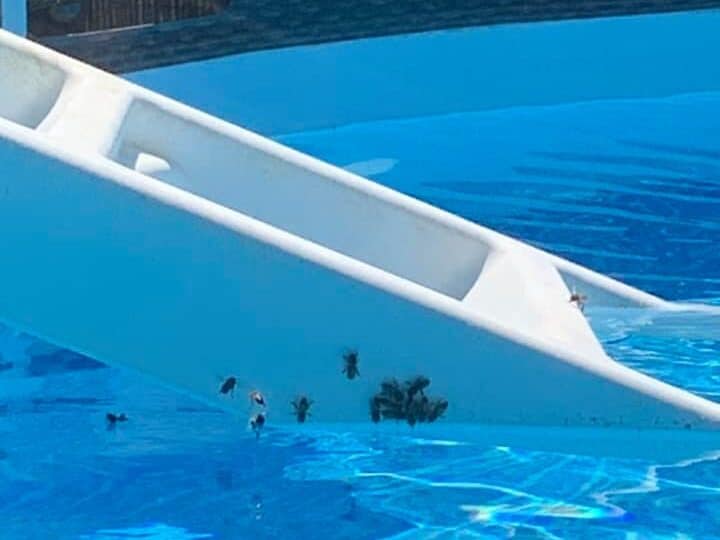 No one likes to have bees flying around when they are swimming. I mean, one could sting you. And that's never fun. Even if they don't sting or have never stung anyone in your pool, they are a nuisance and take away from the relaxing environment of a swimming pool.
WASPS ARE USUALLY THE ONES TO MAKE NESTS IN ABOVE GROUND POOLS
The very generic term for something that can fly and sting you is "bee". To be more definitive, it's actually mainly wasps that are a nuisance to above-ground pools. I have seen bees hanging around pool water, but they usually are there briefly and don't have a nest nearby.
WASPS VS BEES VS HORNETS IN ABOVE GROUND POOLS
As far as visual distinctions, you can research a hundred differences between bees, wasps, and hornets. This isn't National Geographic and I'm a pool guy, so the big difference that I will say is that bees are hairy and wasps/hornets are smooth and often shiny.
If you are wondering what kind of flying stinger bug you have around your pool, take a pic of it and do a Google search.
There are big differences between bees and wasps/hornets. Bees make and eat honey while wasps and hornets are predators that eat mainly bugs. Wasps/hornets are also more likely to act alone than bees.
This means that you can get bothered by only one or two wasps whereas bees will summon more bees if they are having an issue with you.
In terms of being a human concerned about them, the biggest difference between bees and wasps/hornets is that bees (unless female) can only sting once, and then they die. Wasps/hornets can sting multiple times without dying (unless you can crush them).
This "If I sting, then I die" scenario makes it rare for a bee to just randomly sting you. They have more at stake. A wasp or hornet, on the other hand, can be having a bad day and decide to take it out on you with a painful sting. He then gets to just fly home and be a hero to the other wasps with his story of how he let a human have it. Not cool, bro.
Even with the fact that bees don't sting humans as much as wasps and hornets do, bees are considerably more dangerous. This is because they are more likely to act as a collective hive. And if a bee hive has an issue with you, then you may have hundreds of bees come to sting you. And that is a serious situation.
During my now 36 years of working on above-ground pools, I have only seen two actual beehives nearby. And they were both not within the pool frame. They were hives under the attached wood deck.
Having a beehive near your swimming pool is a serious situation that should be addressed. I have nothing against bees, but if too close to your pool, they have to go.
This is because your human activity may be too close to their home for their comfort. And they may attack you and your family. Also not cool.
WHERE DO WASPS MAKE NESTS IN ABOVE-GROUND POOLS?
I've done thousands of liner changes. And with almost all of them, the top of the pool has to come apart. This is where I see the locations that wasps pick to make nests in above-ground pools.
To give you some anatomy of an average metal-walled above-ground pool, there are top rails and top caps. These are what you see.
Under the top rails and caps, there are connectors and stabilizer bars. The connectors are called so because each one sits on the very top of each upright(also what you see) and "connects" two top rails to one upright.
These connector plates are where wasps love to make nests. It's nice for them as there are openings for them to fly in and out of while it's a safe and relatively dry place out of direct elements.
Wasps will also choose anywhere on the underside of a top rail or within certain top caps depending on their design.
And they can choose to make nests under any deck that is attached to the pool. If under a deck, they are almost always very close to the pool.
What the nest locations have in common is that they are out of sight. This means that finding them can be tough. Simply following a wasp for a while will show you where they are entering and exiting their nest somewhere underneath the top rails of your pool.
SOMETIMES YOU WILL NOT SEE THE NEST
Most wasp nests in an above-ground pool are underneath a top connector piece. Depending on the design of the pool, you probably won't see it just by looking up and under your top rails each upright joint(where each connector plate is located).
You only be able to verify that a nest is there by waiting for a wasp to either fly in or out of the area.
SPIDERS AND FROGS ALSO LIKE TO LIVE UNDER TOP CONNECTOR PLATES
These connector plates for above-ground pools are prime waterfront real estate for wasps, frogs, and spiders. You won't usually see many spider homes unless you are taking the top of the pool apart as they are more hidden.
Frogs can surprise you though when you look under a top rail and see one. Some will seem too big to occupy such a small space. But they manage and love living there.
IF YOU HAVE FROGS LIVING IN YOUR POOL, YOU MAY WANT TO KEEP THEM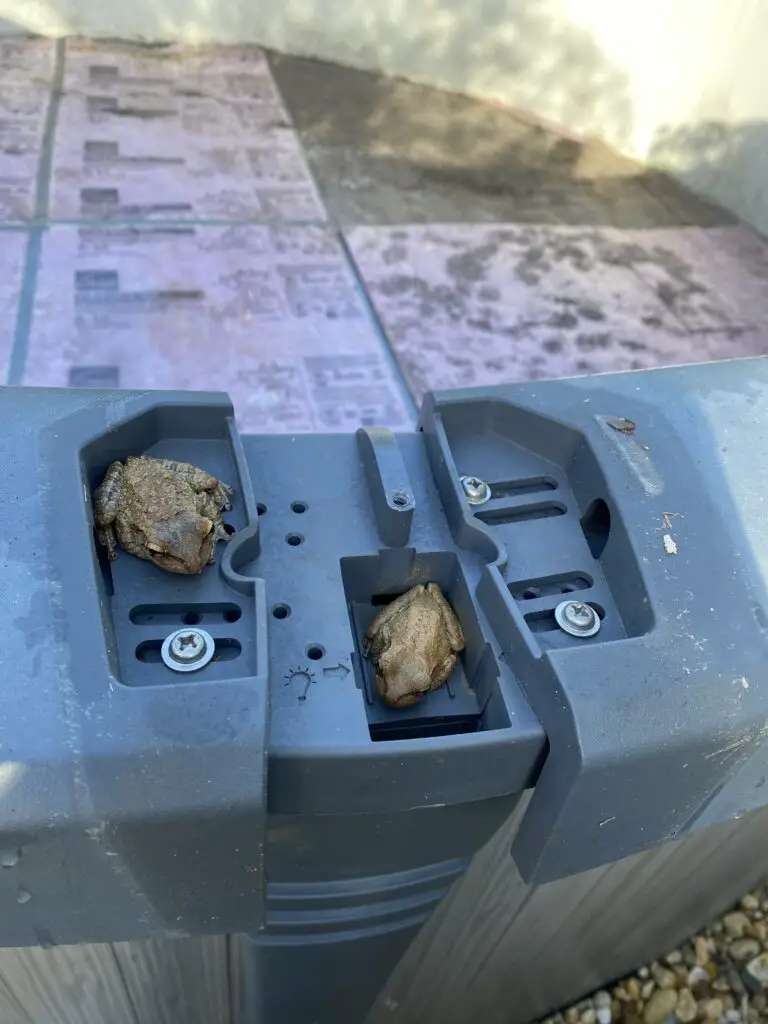 During my 36 years of working on above-ground pools, I've noticed that frogs and wasps don't like to live together. When I take a pool apart for either a liner change or complete disassembly, I will often see frogs living under top connectors or wasps nests, but not both.
With each upright that your pool has, there is a connector plate(of some kind) at the top. This is housing for wasps frogs or spiders. This means that your pool has several of these prime housing spots depending on the size of the pool.
An average 24' round pool, for example, has sixteen uprights and top connectors. So, for a pool this size, there can be sixteen different homes for frogs or wasps. Now, if you have a couple of frogs living in a couple of connectors, then chances are that you won't have any wasp nests in any of the other non-occupied connector plates.
I'm not sure if certain frogs eat wasps and that's the reason they don't cohabitate. I can only say that it's been my long-term observation that usually where there are frogs, there aren't wasps or hornets. This is a good thing if you don't want any wasps living in your pool.
HOW MANY WASPS NESTS CAN THERE BE LIVING IN AN ABOVE-GROUND POOL?
In theory, there can be a large number of nests within one pool. I have seen as many as six or eight different wasp nests living in top connectors and under the top rails of any one pool. That's a lot.
Usually, if a pool has wasps, there are one or two or three active nests. This is enough to be quite bothersome to swimmers.
HOW TO GET RID OF WASPS LIVING IN ABOVE GROUND POOLS
WD-40 or Wasp Spray
The only successful way of getting rid of wasps that are living under the top rails of a pool is to spray them with poison.
When I do liner changes, I use a rust penetrant like WD-40 to kill wasps. This is because wasp spray is expensive and there's not much in each can. I usually need a lot of it, so since I have some WD-40 anyway to loosen rusty screws, I use it.
A can of WD-40 goes a long way to kill wasps, but there are drawbacks. WD-40 doesn't kill them instantly and doesn't spray too far away from you.
My advice is to spray your poison of choice underneath the top rails at each and every top cap. This is where the top connectors are. By spraying under each one, you are guaranteeing that you get to all the nests including the ones you can't see.
Peppermint Oil
A favorite of our above ground pool Facebook group for killing wasps is peppermint oil. Users say to spray all the top rails and underneath each day to keep them away. Bonus it smells great.
DIY Vinegar/Sugar Mix
Another favorite of the group is this vinegar mix. Just mix it in a bucket and leave it out next to your pool overnight. The wasps are attracted to the mix and drown in your bucket and not the pool.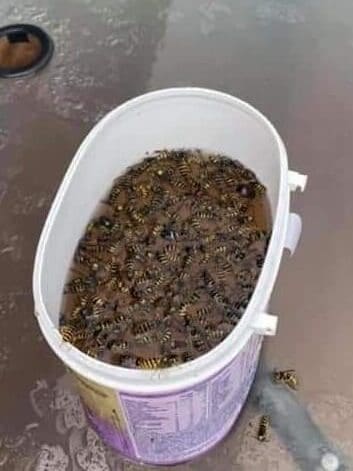 Vinegar Wasp Killer RECIPE
2 cups Apple Cider Vinegar
2 cups Water
2 cups Sugar
12 drops of Dish Soap
MIx with a whisk and put outside.

KILL THE WASPS WHEN IT'S COLD OUT OR EARLY IN THE MORNING
Wasps don't fly very well when it's cold out OR during the early morning. This is a good time to kill them because they won't be as aggressive or even fly at all. That makes it a good time to kill all living in the nest.
Any wasps that are away from the nest will continue to fly around their nest (and your pool) for hours after you spray and kill their home. This is another reason to spray for them early in the morning before they start their day of flying around.
ONCE THE NESTS ARE KILLED, DO THEY COME BACK?
Absolutely yes! You can kill all the wasps that you see and in a little while, new nests will appear!
I once installed a new pool in the same spot that had an above-ground five years prior. This means that this spot in the backyard had no pool for five years and was just a patch of land.
As soon as I started rolling out the pool wall, wasps started flying around. They must have had a memory of where the old pool was(even though no pool was there for years) and were already making arrangements to move into the new one. Nature is amazing!
So wasps will come back, again and again, year after year.
WHAT YOU CAN DO THE KEEP THE POOL "WASP-FREE"
I have seen some try to plug up the openings around the top connectors under the top rails of their pool to prevent wasps from making nests. That works only marginally at best.
If you have a wasp problem with your above-ground pool, my recommendation is to periodically spray bee spray under the top rails at each upright. This way, you'll be killing new nest as they try to establish themselves. A few times a year should keep the pool free of wasp nests.
BONUS FACT: DRAGONFLIES AREN'T BEES
Dragonflies like to hang around the water in above-ground pools. This is because they eat tiny flying bugs and these bugs hang around the water surface.
Despite their cool but diabolical name, dragonflies don't bite or sting humans. They instead eat things that you don't want around.
Next time you are swimming and see a dragonfly, stick your finger out. It may land on it.