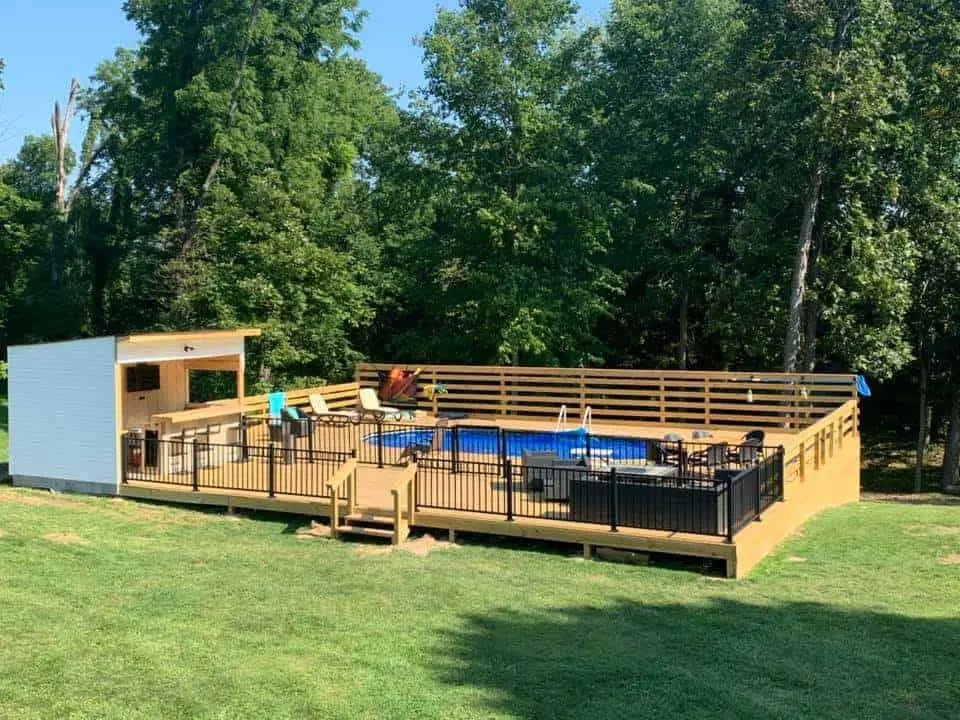 Decks and above ground swimming pools have always been like peanut butter and chocolate. Where I install pools in Central Florida, I estimate a little less than half of all (metal walled) above ground pools have decks. And that percentage would be a lot higher if decks weren't so costly.
It's really nice having a deck with an above ground pool. Most decks are built higher up to meet the top of the pool somewhere, while others are built at ground level. Still, some others are built half-way up the pool height or will have multiple levels. I'll get into this later. For now, let's get started with the basics.
NINE REAL LIFE CONSIDERATIONS WHEN THINKING ABOUT AN ABOVE GROUND SWIMMING POOL DECK
1 How much are you willing to spend?
I have made this the first thing to consider because, for most, this will be your greatest limitation. Chances are at the point that you are reading this, you are getting a swimming pool for your backyard and are really excited about that. The cost of the pool may have already been worked out maybe with installation and electric, and it may be a bigger number than you thought. Now, get ready for maybe an even bigger number.
Let me begin to adjust your expectations right here. "Pool decks ain't cheap"! Add the dreams and fantasies of your perfect backyard pool, and the cost will be super high. I think you know what I'm talking about here.
Put a realistic figure in your head, now double it. For many, this will be the number that they will need to get what they want as far as a deck goes. Here in Central Florida, people can easily spend in the neighborhood of about $15k for the total pool project including the pool and deck.
Set your highest allowable number that you are willing to spend right now, and then proceed. This is the best and most enjoyable way to get your deck.
2 How big do you want the pool deck?
Most people reading this are in the US. And in America, bigger is better. Personally, I rarely agree with this mentality, maybe except for pool decks. I can't tell you how many people have told me that if they ever get another pool project done, they will get a smaller pool and a bigger deck.
When we think about getting a swimming pool, most only think of the size of the actual pool and not the deck. If you think about it though, most of your time with the pool will be on the deck and not in the water. And most of the things that you are doing on a deck take more space than what you're doing in the pool. So that's my observation and opinion. Here are four things to ask yourself:
A Cost (read above)
B What are you using the deck for? – Some have large families and will be doing a lot of things together around their pool. Others just need a deck as a stable way to get in and out of the pool and that's it.
Will there be a lot of sun tanning or barbecues going on? Do you have small children or elderly that you have to keep an eye on or have a safe and stable place for? Visualize what this deck will be used for so you can determine how big you want or need it to be.
In relation to this, ask yourself what shape the deck needs to be. Do you want just a narrow walkway around the pool or do you need a bigger square area for backyard components like furniture and grill areas?
C What do you plan to keep on the deck? – Pool furniture takes up a lot of room. How many lounge chairs will you have? Will there be a table and chairs? How about a grill or pool toy container? You can fill an outside deck area up pretty quick with stuff.
D How many people do you plan to be on the deck? – How many people live in the home with the pool? How many human bodies will be using this pool deck often and at the same time?
You may be a social person with plans on having people over to your pool or your kids may have their friends over to swim a lot or layout in the sun. It could also just be the two of you and you're just wanting a nice place to have a beer and take a swim and enjoy the weather. That shouldn't take much space.
3 What height will the deck be in reference to the pool?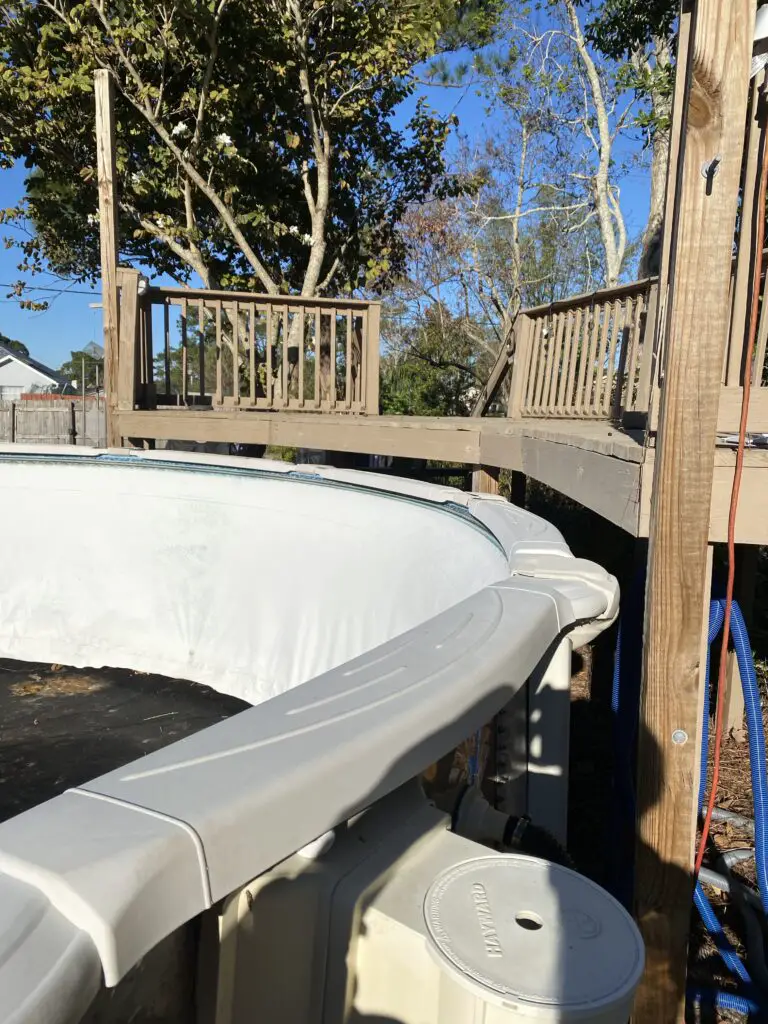 This is a big question for some. Most want their deck at or near the pool's water level. Some want a deck on the ground only. There is a lot to consider here, so I am going to talk about this later in this article in more detail.
4 What material will the deck be made with?
There are four main options for which material can be used to build a deck. Here they are:
A Wood – Regular pressure treated wood is by far the most common material used for building decks for above ground pools. Wood decks cost less than the other options, are most versatile in terms of the shape and elevation, and can be DIYed easier than concrete or pavers.
B Composite – This is just like wood, but it's more expensive and is supposed to last longer. In my Florida sun, composite wood does not last forever. I have seen it look bad by twisting and turning just like regular wood does. For the most part, though, it endures well and for a pretty long time.
In my opinion, the cost of composite wood is too much. It does look nice, but will not look any better than when people stain or treat regular pressure-treated wood decks. And if they treat real wood yearly, it will last forever.
C Pavers – Pavers look great if you are planning on your deck being at ground level. The main and obvious drawback here is that you can't have your deck at water level. Some will bury their above ground pool in the ground and with that, pavers can work fairly well. Sinking an above ground in the earth is a whole different story, so you can read about that in another of my articles.
D Concrete – Concrete for pool decks aren't as popular as they were as the pavers option has replaced it. Personally, I'm a fan of concrete, but it is only for ground-level decks and usually is no longer a DIY consideration for most.
5 What area of the pool/yard will the deck go
This is an important question and should probably be answered before you decide exactly where the pool is going. Where your deck should go may depend on the layout of your yard, where the most (or least) direct sunlight is, swimmer foot traffic to and from the house, what the pool area will look like from the inside of the house, and how visible you need to be to small children playing or swimming.
Spend some extra time determining where the deck will go. It's kind of a big deal because the deck is the go-between your home and your pool. And aesthetics and usability are important things.
6 What will the deck look like?
This question is asked mostly for decks that will be built up high along the pool. Decks built higher have a structure underneath the boards you walk on and they are visible from the rest of the yard.
In most cases, it's good to cover the outside of an elevated deck with something like latticework or landscaping. Also, consider what the deck will look like with your pool. Will it completely hide the walls of the pool where you can see from the house or just partially. Usually, a deck will improve the look of things around the pool area, but make sure it does by properly visualizing what the deck will look like overall with the pool.
Also, elevated decks need railings so people can't just fall off the side of them. How the railings are designed can make a deck and pool area look great. Nicer deck railing can cost more so consider that too.
7 Do you have safety or special needs with a deck?
Again, this is mainly for elevated decks. If it's just you and your SO (significant other) and you are both agile and physically able, then your pool deck needs no special safety considerations.
If there are small children, elderly, overweight, or any physically/mentally challenged using the pool and deck on a regular basis, then safely considerations should be thought out. Things like the height of the railings, width of the steps going up and down, safety gates, and the height of the deck in reference to the pool's top rails are just a few things to think about depending on who will be using the deck.
8 Accessories
There are a few add-ons that you can have with a pool deck. Lighting is really nice for a deck. And I've seen things like built-in benches or planters that can really add to the look and functionality. Permanent sun cover and gates can be added as well.
9 VERY IMPORTANT – What level to build the deck adjacent to the pool ?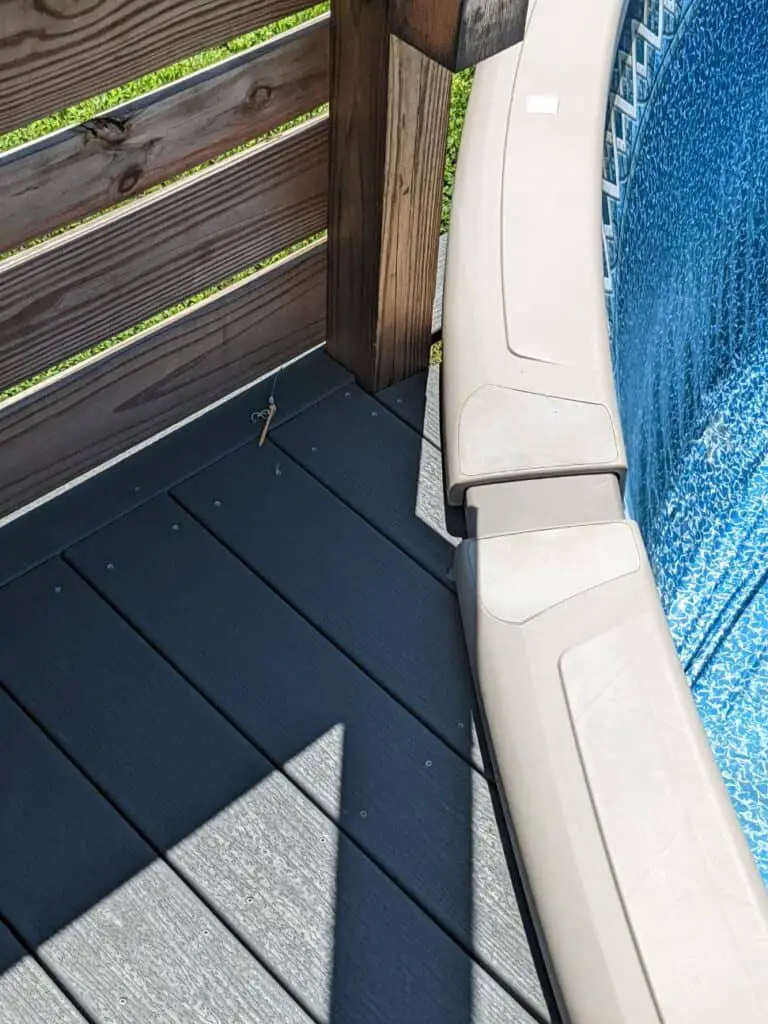 Many people want their pool deck to end at the water's edge. That means they cover the top rails of the pool with the deck. Do not build the deck over the top rails of your above ground pool!
The top rails of an above ground pool have to come off when it's time to change the liner. The pool's liner won't last as long as the pool which means you'll need to replace it at some point. If the deck is built over the top rails, then the deck may have to be removed so you can get a new liner in the pool. This can be bad.
Just this week, I had a guy that I built a 33' round for just last year. He had bought a Chinese liner and I told him it wouldn't last long and it didn't. I also told him that when he builds a deck for the pool to not build it over the top rails. Well, after just one year, he needs a liner replacement, so he contacted me to do the job.
I asked him if he had a deck. He said yes, so I asked him to send me a pic. Sure enough, the guy had built his deck over his top rails about a quarter of the way around. I told him I wasn't interested in doing his job during the busy season. It was because that deck was going to make the job a pain for me and more expensive for him.
I tell every customer that I install a pool for, to not build the deck over the top rails. I guess some just can't help themselves and do it anyway. Like this guy with the 33 footer with no one to do his liner replacement halfway through the swim season.
Some will build over the top rails, but try to leave enough space above so the liner can be changed later. For me, this is not ideal as the top of the deck is too far from the water's surface.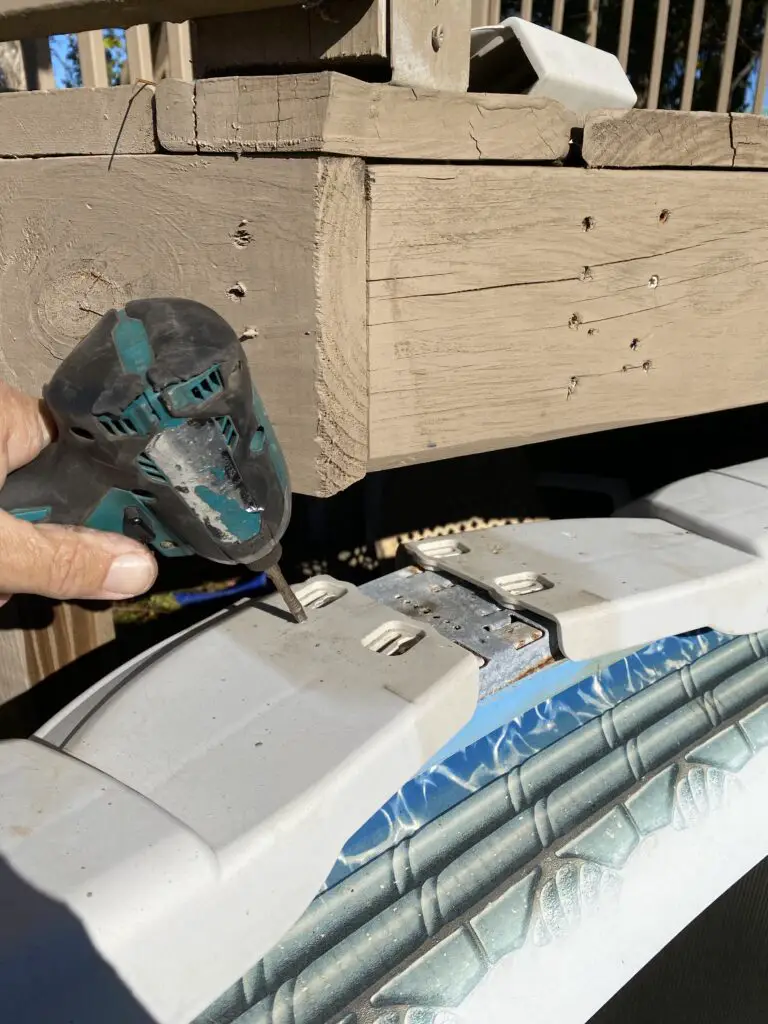 A lot of space is required so the deck is not in the way of a liner change. Even with 4″ or 5″ clearance, the deck can still be in the way some.
CONSIDER HOW YOU WILL BE ATTACHING A POOL COVER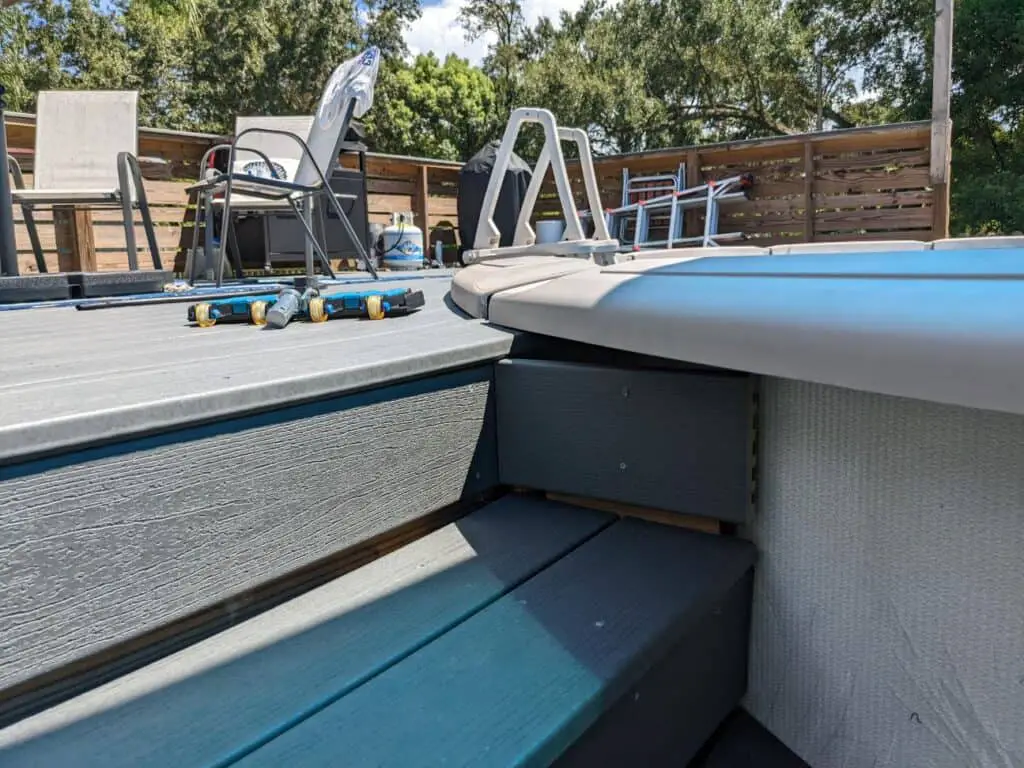 Covers for above ground pools are designed to wrap around the top rails and then a draw wire is pulled in tight underneath. With this design, the cover is then wrapped over the entire top of the pool including the top rails and top connectors.
If the pool deck is flush with the top rails of the pool(or over the top rails), then there will no room to wrap the cover over the top rails and draw the cable tightly underneath. This will be a big problem as you won't have a way to secure the cover.
Keeping your deck elevation at least a few inches below the top rails of the pool will allow room for the cover to be firmly secured under the top rails.
ELEVATED DECKS VS GROUND LEVEL DECKS
Most people want the deck for their above-ground swimming pool to be at or above the level of the pool water. The result is most decks are built at an elevation. Some choose to keep the deck on the ground, so here are some advantages and disadvantages to both.
PROS FOR A GROUND LEVEL DECK
You can use all building materials – Pavers are really nice. They are durable, long-lasting, and contemporary looking. Concrete is great too. With a ground-level deck, you can choose any decking material available. And you combine them too, which can look awesome. The Combination of wood, concrete, and/or paver decks can really make the entire pool area stylish.
It can be more private – If you like your privacy from neighbors, ground-level decks in combination with a privacy fence is the way to go.
It can be safer – Decks at ground level don't have any elevation for anyone or anything to fall off of.
You can build a permanent fire pit or grill – These things are pricey, but permanent fire pits or grills look awesome.
Leaves and debris on the deck won't blow into the pool – If you have trees nearby, then fallen leaves can make it to the pool. If they only make it to the pool deck and it's much lower than the water level, then they will not blow from the deck into the pool.
CONS FOR A GROUND LEVEL DECK
You don't have the water below you – There a natural psychology with water being at ground level. In nature, water is almost always at your feet when standing next to it. This may not be something that people think about, but it's maybe the biggest reason people want to sink their above ground pools or build elevated decks next to them.
Harder to get in and out of the pool – With a ground-level deck, you're going to have climb in and out of the pool using a ladder. This is fine, but also where most above ground pool accidents happen.
You can see the pool – Visually, above-ground swimming pools have come a long way since the eighties(when I started installing them). They used to only come with either an ugly blue wall or an ugly brown(barnboard) wall. The Uprights and top rails were also very small and plain looking. Some of today's above grounds are nice looking and stylish, so them being an eyesore isn't as much of an issue. Some don't like the look of them but still want one, so they want to hide them. With a ground-level deck, that is a tougher feat.
You can't see swimmers – It can be important to keep an eye on small children or elderly swimmers. With a ground-level deck, you'll have to stand to see them.
Harder to clean the pool – It is harder to skim, brush, and vacuum pools that are at chest level. I know this first hand as I had a pool maintenance business for 13 years. I stopped adding them to my route because they were more difficult to clean.
PROS FOR A ELEVATED ABOVE GROUND POOL DECK
Easier to get in and out of the pool – Even if your elevated deck is at mid-range of the pool and has a step or two going up to the top, it's still very easy to get in and out of the pool.
To have the pool water seem at ground level – As mentioned above, there's something very natural about having the water level at your feet or close to it. This(in my opinion) is the biggest reason people choose to have an elevated deck with their above ground pool whether they realize it or not.
To clean the pool easier – Occasionally (or often depending on trees), a pool has to be cleaned. It's much easier to skim, brush, and vacuum when you are above the water looking down in it.
To keep a better eye on kids or weaker swimmers – This can be supremely important to some people with young children or anyone with special needs. With an elevated deck, you can sit in a chair and easily keep a good eye on the swimming activity. For some parents (or children of elders) this can be the most enjoyable part of having a pool.
To hide the wall of the pool – Some don't like the look of an above ground pool but still want one. With an elevated deck, you can partially or completely hide the outside of the pool with landscaping and latticework. This also works well when sinking the pool partially in the ground.
CONS FOR AN ELEVATED DECK
Can only use wood or composite – Decks made with wood or composite can look amazing. If you'd rather have pavers or concrete, you won't be able to have an elevated deck. Well, you can, but it would be practical as the cost and size of the project would cost as much as an Inground pool.
Can be more dangerous – Anytime you have something elevated from the ground, there's always more danger than at ground level. Of course, you can build an elevated pool deck to be super safe with stable, tall, and solid railings, and very safe steps.
SOME FINAL WORDS ON ABOVE GROUND POOL DECKS
Pool decks can cost more than the pool the rest of the pool project combined. In reality, most people enjoy their deck even more than their swimming pool. I would never recommend anyone spending money that they don't have. When it comes to the deck, spend more money. You'll be happier in the long run.
When building a deck next to your above ground pool, keep in mind that you'll one day be replacing the liner and will have to take the top rails and top connectors off for the changeout.
Also, consider how hard it might be if you ever have to replace the entire pool one day. I know it sucks to be thinking about replacing something you maybe just bought, but years can go by fast. If you build the deck too tight against the pool either at the top of the pool or the bottom, replacing the pool can be a pain and expensive.