Metal-walled above-ground swimming pools come in packages that have five or six options. One of the bigger options you have is which type of liner will come with the pool.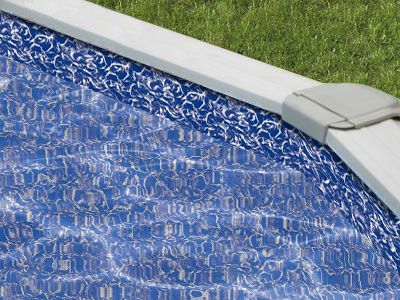 When choosing which liner to get, you'll see the terms beaded, overlap, J-hook, uni-bead, and expandable. From these options, the expandable liner is the least common. This is because you only need an expandable liner for one very specific reason.
An expandable liner for an above ground swimming pool is used when the pool has a deep center or deep end that goes deeper than one foot.
Expandable liners are always overlap types and the only difference between it and a standard overlap is that the expandable liner has an extra 12" of vinyl material on the side walls.
THERE IS ONLY ONE REASON TO GET AND INSTALL AN EXPANDABLE LINER
Expandable liners are not as special as their name suggests. Some will order an expandable liner only because they think it's better than a standard liner in some way. In most cases, not only is an expandable liner not better than most standard liners, it's often not as good as one.
SO, WHEN SHOULD YOU GET AN EXPANDABLE LINER?
The only time that you should get an expandable liner for an above ground is when you are planning on having a really deep center or deep end in the pool. That's it.
Even if you are planning on having a nice one-foot deep center/end in your above ground pool, you won't need an expandable liner. This is because a standard liner will easily stretch enough to accommodate a one-foot deep center or less.
THE ONLY DIFFERENCE BETWEEN A REGULAR OVERLAP LINER AND AN EXPANDABLE LINER
The name "expandable" is deceiving. It suggests that maybe the liner is made of a different, more stretchable material. It is not. An expandable liner is made of the exact same material as a standard overlap.
The only difference is that an expandable liner is made with 72" of side-wall material instead of 60". This extra foot of material allows the liner to accommodate for a deeper bottom for the pool.
EXPANDABLE LINERS ONLY COME AS OVERLAP TYPE LINERS. HERE'S WHY
Overlap liners are designed to be adjusted at the top of the pool's wall. This means that only a certain amount of the liner is used for the pool. The rest hangs over the wall and drapes down on the outside.
With this method, the expandable liner (with its extra 12" of wall material) has a lot more available material for the pool which is needed for the extra deep bottom.
The other types of above-ground liners have specific wall height dimensions. This is because the top of the liner either hooks to the top of the wall (j-hook type ), or fits into a bead channel at the top of the wall (beaded-type).
CAN YOU HAVE A BEADED, UNIBEAD, OR J-HOOK TYPE OF LINER WITH A TWO FOOT DEEP CENTER/END?
If you are wanting a very deep center or end (2' or more) in your above ground pool and want to use one of the better types of liners like a beaded or j-hook, you can, but it will have to be custom made.
CUSTOM MADE LINERS ARE NICE, BUT THEY COST CONSIDERABLY MORE AND TAKE A WHILE TO GET
Most liner manufactures will make custom liners, but expect to pay more for it and expect it to take weeks to get.
Also, most above ground pool retailers won't want to make an order for a custom liner. This is because there is a form to fill out giving the dimensions you want AND there's some extra liability with selling one.
I do like custom liners, but am not sure if it's worth the extra effort to get one. You can expect to pay 30-40 % more for it and when you get it depends on when the liner maker has your selected pattern scheduled.
They won't just make it when the order comes in. They will wait for when they are making your particular liner design. This means that if they are about to make the Caribbean pattern of liners when your order reaches them, then you will get it much sooner. But if they just finished with your pattern, then you'll have to wait until they have to make more Caribbeans.
OLD SCHOOL DOUGHBOY LINERS ARE STANDARD BUT CAN EXPAND TO 3' DEEP
The liner maker named Latham makes liners for Doughboy, and they are exceptional. The reason I call them old school though is that doughboys can now come with regular type liners. They are like all the rest of the liners out there and will not expand.
Most of the time, you can't tell if you are getting one of these great liners with your doughboy pool. The best way to tell is with the price of it. One of these superior liners will cost between 2-3 times what a normal standard liner costs.
Knowing that this good liner costs more may not help. Since doughboys can be sold as a complete pool package,you won't know the cost breakdown of each item.
Overall, I'm not a fan of doughboy pools. They are overpriced and unnecessarily more difficult to install. However, these original Latham liners that some of them come with are badass!
The best way to find out is by asking the Doughboy retailer about the liner it comes with. They should tell you that it's made by Latham and can allow for a three-foot deep end or center.
EXPANDABLE LINERS USUALLY ARE OFFERED WITH JUST THREE PATTERN OPTIONS
Most expandable liners are made by the two big liner makers. And they don't give you much of an option. So, you'll probably have either the solid blue, solid blue with printed bottom, or the fully printed expandable liner patterns.
Out of these three choices, I only recommend one. And that's the fully printed one. It's usually called something like Sunburst or Sunlight.
The reason I only recommend the fully printed expandable liner is that solid blue liners for above ground pools don't last nearly as long as one's with printing on them. This goes for liners with partial printing as well. Unfortunately then, the Sunburst or Sunlight(or whatever retailer calls it) is the only one with printing everywhere.
The good news is that this sunlight pattern looks pretty good in the pool, so you should be happy with that.
CAN YOU USE AN EXPANDABLE LINER FOR A STANDARD FLAT BOTTOM POOL?
There is nothing wrong with using an expandable liner in an above ground pool with a flat bottom. It will just be more of a pain to install because there will be a lot of extra material hanging over the pool's wall.
When I say "a lot of extra material" I mean you'll probably have two feet or more of liner hanging over. With all of this liner hanging over, the outside of the pool won't look as good, but the inside of the pool will be the same.
When the pool is filled with water, you can always go back and cut the excess liner around the outside of the pool. It will be a pain to do but can be done.
HOW TO KNOW IF YOU NEED AN EXPANDABLE LINER FOR YOUR EXISTING ABOVE GROUND POOL
Let's say you moved into this house that already had an above ground pool. After a while, you determine that it needs a liner replacement. Now, you know that it has a deep center in it, but does it need an expandable liner for replacement or will a standard liner do?
To need an expandable liner, the deep center or end of the pool has to be greater than an extra foot. Find out by measuring from the top of the pool down to the bottom of the deepest part of the bottom.
If this measurement is greater than five feet, then you probably need an expandable liner. This is because above ground pools come with 48", 52", and 54" walls. Adding about 12" to that figure will give you the maximum depth that a standard liner can go down.
Anything deeper than 12" more than the depth of the pool wall will need an expandable liner. There are some exceptions to this, but you would need an experienced installer to tell. Plus, deep centers usually are dug at either 12" deep or 24"(2ft) deep or more. There's usually nothing in between.