Let me guess your scenario. You just installed or had an above-ground swimming pool installed and it's now full of water. It's been a day or two and you notice that a portion of the bottom track of the pool is out and away from the wall.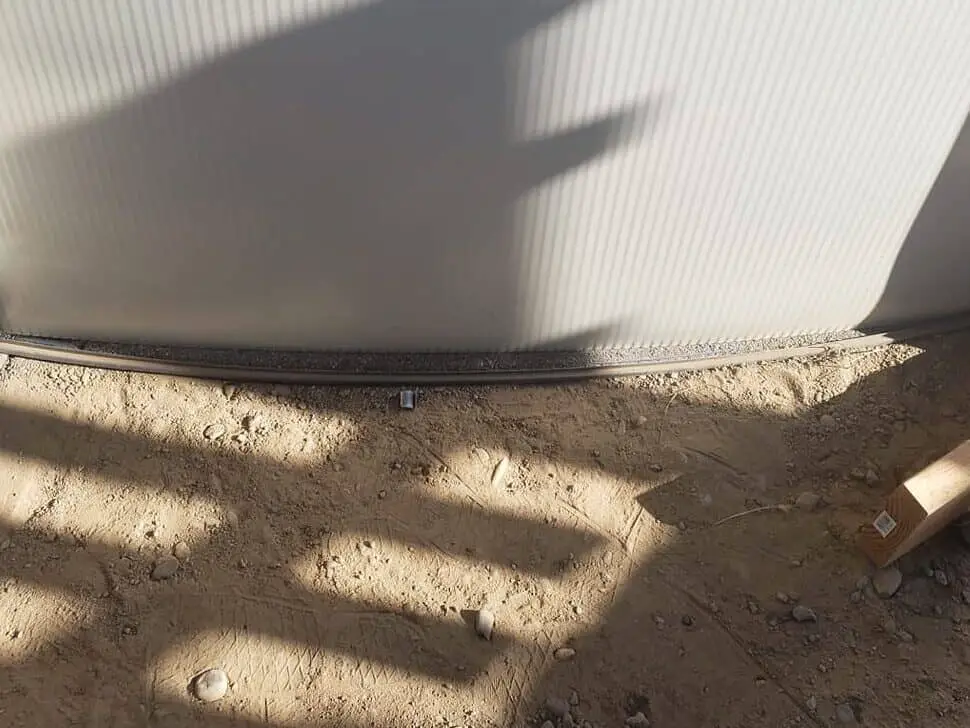 Upon seeing this, you get a sinking feeling in your stomach. Something big is wrong with my pool, you think.
While reading this, take in a breath, hold it, now exhale as you read these words.
"An above-ground pool wall out of its bottom track is most likely no big
concern"
WHY 95% OF ALL ABOVE GROUND POOL WALLS ARE OUT OF THEIR BOTTOM TRACKS
Metal-walled above-ground pools have bottom tracks. These tracks come in pieces and each attaches to a bottom connector plate. This plate is at the bottom of each of the pool's uprights. That is what you screw or snap each upright to.
If installed properly, each of these bottom connectors will have a leveling block underneath them. This is how the entire bottom track (and ultimately the pool) is made level.
So for example, if you have a 24' round pool, then it will usually have sixteen bottom connectors that each have two ends of a bottom track piece connected to either side, an upright attached to it, and a leveling block underneath it.
This then would be a round track 24' in diameter sitting on sixteen separate blocks that are (hopefully) all the same level.
Now, the wall of the pool (which is a continuous piece of metal) is rolled out and sits inside this bottom track. This is what gives the pool its round shape.
Are you still with me?
So, the pool wall is now positioned upright. Sitting in a bottom track supported by sixteen level blocks under each connector. Where the track (and wall) is NOT supported is at each track piece in between each bottom connector plate.
And it's at any of these points (track piece between each leveling block) that the track can sag down and drop below the wall.
So, if you are looking down in between two uprights and noticing that the bottom track is sagging below the bottom of the wall, then that's common and no big deal.
This piece of track dropped down below the wall because it (the track piece) wasn't supported by any earth. This is no big deal as the WALL of the pool didn't drop out of level. Only the middle of a piece of bottom track.
WHY I COVER THE BOTTOM TRACK WITH DIRT WITH MY INSTALLATIONS
There are a couple of hundred different models of metal-walled above-ground pools. Some of them are very prone to the track pieces coming off of the wall between connector plates.
I cover the bottom track on the outside of the pool. Because I don't want a call back from a customer two days later when they looked down, saw that a piece of track wasn't attached to the bottom of the wall, and then think that I did a poor job of installing their pool.
In reality, the track doesn't have to be connected to the wall in these spots. I do like them to be and stay in place as that looks much better, but it doesn't matter much.
When I started installing above-ground pools 35 years ago, I was installing four or five Wilbar models that Recreational Factory Warehouse sold. Two of these models were very prone to having the bottom track sag down between the uprights (leveling blocks).
The solution back then was to place what we called "quarter blocks" in the middle of each bottom track piece. This way the track couldn't sag down and away from the wall. We didn't bother leveling these small pieces of block with blocks under each upright. We just placed them there as one of the last things before we finished.
I stopped using these "quarter blocks" because they were unnecessary. Don't have anything against placing a piece of block under each track piece though. I just don't do it.
HOW TO GET THE TRACK BACK IN PLACE
If this is the case with your pool, then it's no big deal. As a pool owner, you'll probably want to get the track back up and attached to the wall instead of just covering it with some dirt (out of sight, out of mind).
This may seem dangerous, but you'll have to grab the track piece that is sagging down and try to push it up and back with the wall bottom.
This could be easy if the wall is at the exact same curve as the track. After pushing up and in place, add some dirt or a rock to keep the track up and with the wall and you're done.
Sometimes the wall will be at a slightly different curve than the track piece. This can happen for a couple of reasons. None of which is usually of any issue. In this situation, you'll have to be more forceful to get the track to snap into the wall.
If you watched me do it, you might think that something is going to break or that I might disturb the coving inside the pool. Sometimes you have to be kinda violent to get that track back with the wall.
If you have tried and can't get it. Don't stress too much about it. It can be intimidating to be shaking things directly next to all that pool water. If you can't get it, leave it and cover it so you don't see it. You can fix it if you want in a few years when it's time to change the liner and the pool is empty.
WHEN YOU SHOULD BE CONCERNED
The above situation of the bottom track being down and away from the wall is the most common scenario and not concerning. Sometimes though, the wall being out of the track IS something to worry about.
Before describing a real issue with the track away from a wall, I have to explain some things.
"The main function of the bottom track for an above-ground pool is to make sure it's installed level and round" That's it!
In reality, once an above-ground pool is up, level, and in its correct shape(round or oval), you can remove the bottom track and nothing would happen.
The bottom track of an above-ground pool has very little to no structural value. Weirdly enough, the frame at the top of a pool is much more important structurally than the bottom frame.
I know this sounds ridiculous to those readers who think they know things. Engineers are the worse for this. It's an absolute truth though. I verified this not by using a computer and mathematics (which can be grossly inaccurate in the real world). This is proven by my observation out there in that now strange place called "the real world".
Don't believe me? I'm shocked. Quick, go out and find a soft-sided above-ground pool. If it's too hot for you out there, find the schematics of an Intex pool in your online world.
Notice how a soft-sided pool DOES NOT HAVE A BOTTOM TRACK! That's right. No bottom track on a product that is up and holding water in a million different yards as you read this.
As long as a soft-sided pool is installed on somewhat level ground AND the top frame of the pool stays mostly intact, it will be fine.
BE CONCERNED IF THE WALL IS OUT OF THE TRACK AT A BOTTOM CONNECTOR OR TWO (OR THREE)
Since the function of a bottom track is to make sure the pool (wall) is level and round during the installation, then if the wall is separated from the track at a leveling point(which is at a connector with a block underneath), then that can mean that the pool is now off level.
It can also mean that the pool is out of shape too as the wall may be either inside where the track is or the bottom track has pushed outward (away from its original round spot.
When the bottom track is out from the wall at a connector plate or two, it's usually an indication that the wall moved out of place either when it was rolled out and into the track OR when the pool filled with water(and the water moved the wall).
The big concern here is not with the structure of the pool. It's that the pool may be extremely off level, extremely out of shape, or both. This should be addressed.
FIXING A POOL WALL THAT IS OUT OF THE BOTTOM TRACK AT SOME CONNECTORS/UPRIGHTS
Before attempting to put the track back under the pool wall, I suggest trying to figure out if the pool is both off-level and out of shape. This will help you access your situation and determine whether or not the pool will have to be drained.
TRYING TO DETERMINE HOW LEVEL THE POOL IS
There are three ways to tell how level a pool is when it's up.
1. Using a laser level/builder's level
This is what a pool guy like me would use and is the most precise way. I would set the laser up high enough to be able to check the level of the top rails.
To be more accurate, I may remove the pool's top connectors so I can measure the very top of some(or each) uprights.
2. Looking at the water line in reference to the liner or top rails
Since the pool is full of water, you'll be able to look at the waterline and reference it to the liner's tile pattern or the distance to the top rails.
All bodies of water have to be perfectly level. This is best understood by tilting a glass of water. Notice how the water stays level regardless of how much you tilt the glass.
Checking level by referencing the liner pattern(if not a solid blue liner) can be deceiving as the liner may be stretched further on one side of the pool. If the pool is off more than an inch though, you'll be able to see it with the liner pattern regardless.
Measuring down from the top rails to the waterline will also give you a fair assessment of how level the pool is. Again, this is not as accurate as using a laser, but if way off, this will show that.
3. Eyeballing the pool from afar
This sounds like a dumb way to tell if a pool is level, but your eye will pick up on it if it's off more than an inch.
Standing 25 feet or more away from the pool, line your eye up with the top of the pool. As you look at the pool, reference the top rails closest to you to the ones farthest. If the pool is level, then the foreground top rails will line up with the background ones.
Do this from a couple of different points always well away from the pool. If it's off-level, you will see it fairly clearly.
This is the quickest method to tell if a pool is off level. I do this every time I'm coming up on a pool to repair it.
HOW TO DETERMINE IF A POOL IS OUT OF ROUND
An above-ground pool wall moving out of the track at bottom connectors (where each upright is) is a good sign that the pool may be out of shape.
First off, take a look at the pool from a distance. Does the wall look tilted inward or tilted outward as if it's not perfectly vertical everywhere? Out of shape and/or off level above ground pools can have a "wonky" look to them.
Measure a few different areas across the pool from inside of the wall to inside of the wall.
NOTE: Measuring from top rail to top rail across may not give you accurate measurements for determining if the pool is round or symmetrical.
Using a 24' round pool as an example, when you measure across from inside of the wall to inside of the wall, you should get a number something like 23'11" consistently.
You could get 23' 10" in one direction and 24' in another and that's fine. Above-ground pools are rarely perfectly shaped (round).
If you get a measurement difference of six inches or so, then the pool is pretty severely out of shape and that's probably why the wall came out of the track when the pool filled with water. Not always though.
NOW THAT YOU KNOW IF YOUR POOL IS OFF LEVEL, OUT OF SHAPE, OR BOTH, WHAT'S NEXT?
If you have determined that your pool is NOT off level much and close to the shape it's supposed to be (for both round and oval pools), then try to put the track back under the wall while the pool is full.
You may want to take off an upright or two when doing this so you can see the track and bottom connector better.
Warning: This is not an easy fix.
The wall of the pool won't move at all. You'll have to get the track back on by moving it and the connector/s only. Dig a little under the track and temporarily remove the leveling block that is under the connector plate in the area needing the track replaced.
Move the track to fit under the wall. If successful, replace the leveling block to about where it was at about the level it was at and replace the earth under the track. Don't try to be perfect about this.
If you have an area of wall out of the track that is greater than the distance of one connector plate, then only replace the track under one connector at a time. You don't want to remove more than one leveling block at a time. This is to help keep the pool level.
If you weren't successful at getting the track back under the wall everywhere, don't be too upset about it. This is a more difficult fix than it looks and many cannot be fixed this way(with the pool full).
At this point, you can either live with it (since your pool is level and in the correct shape) or you will have to drain the pool so the wall can move and do the repair that way. This may result in you having to get a new liner or have some wrinkles when done.
If you have determined that your pool IS off level by more than two inches and/or out of shape by six inches or more, then I recommend doing a major fix.
This would require completely draining the pool, removing the liner, and maybe even taking the wall back down. In most cases, the only right way to fix a severely off-level or out of round pool is to redo the bottom track. And that means taking the wall back down (basically a complete re-installation).
REMEMBER THAT 95 PERCENT OF ALL ABOVE GROUND POOLS THAT ARE OUT OF THEIR BOTTOM TRACK ARE FINE AND CAN EASILY BE FIXED OR NOT EVEN HAVE TO BE FIXED
And with the other five percent of pools out of their bottom tracks, they're usually very visibly off to where you know something is seriously wrong. Also, if the pool is way off, then the liner won't set well and the frame won't go together well.
These will be the signs that the pool will need to be re-done.