Before getting a swimming pool, many people don't think about what the water temperature will be or if they will like it.
Most just think their pool will be refreshing or therapeutic or whatever emotions they have planned to feel with one.
Overall, 78° Fahrenheit. A good water temperature for an above-ground pool depends on each individual. Some like it to be refreshingly cool while others want it warmer. Typically, people living in colder climates want the water to be colder, elderly swimmers like it warmer, and kids don't care.
COMMON TEMPERATURE RANGES MOST PEOPLE LIKE TO HAVE IN THEIR POOL
On my thirty-six-year-long "pool guy" resume is a sixteen-year-long run of owning a service and weekly maintenance business here in Central Florida.
The area where I had most of my pools was Southwest Orlando. In the 1990s and 2000s, this area had a lot of corporate people come from all over the country to live for a couple of years. Then they would get transferred to some other part of the world and be gone.
This gave my pool service business a lot of new customers from different parts of the US. Many came here to live never having had a swimming pool before.
For the first year of living in Orlando, most that came from up north enjoyed their pools at temperatures that we local Floridians would consider way too cold to enjoy. After the first year or so of being here though, they would start to find that the pool water was too cold and then they would start liking pool water temps closer to what Central Floridians like it at.
A common question new pool owners have is about the water temperature. This is what I learned.
| | |
| --- | --- |
| | |
| | 78°F - 82°F  (25.5°C - 27.8°C) |
| Living in the Mid-states of the US | 75°F - 79°F  (24°C - 26°C) |
| Living in the north states of the US | 70°F - 75°F   (21°C - 24°C) |
| | 65°F - 90°F   (18°C - 32°C) |
| | 82°F - 90°F   (27.8°C - 32°C) |
WHAT DO YOU USE YOUR POOL FOR?
Swimming pools can have different purposes. It's my observation that pools are wanted and used for five main reasons.
These main reasons will help determine what water temperature you like.
1 To be refreshed
Need a pool to cool you off? Then, you're going to like it colder than most. Chances are that you will not spend too much time in your pool. You get in, move around enough to cool down your body temperature, then most likely get out.
2 To relax/therapeutic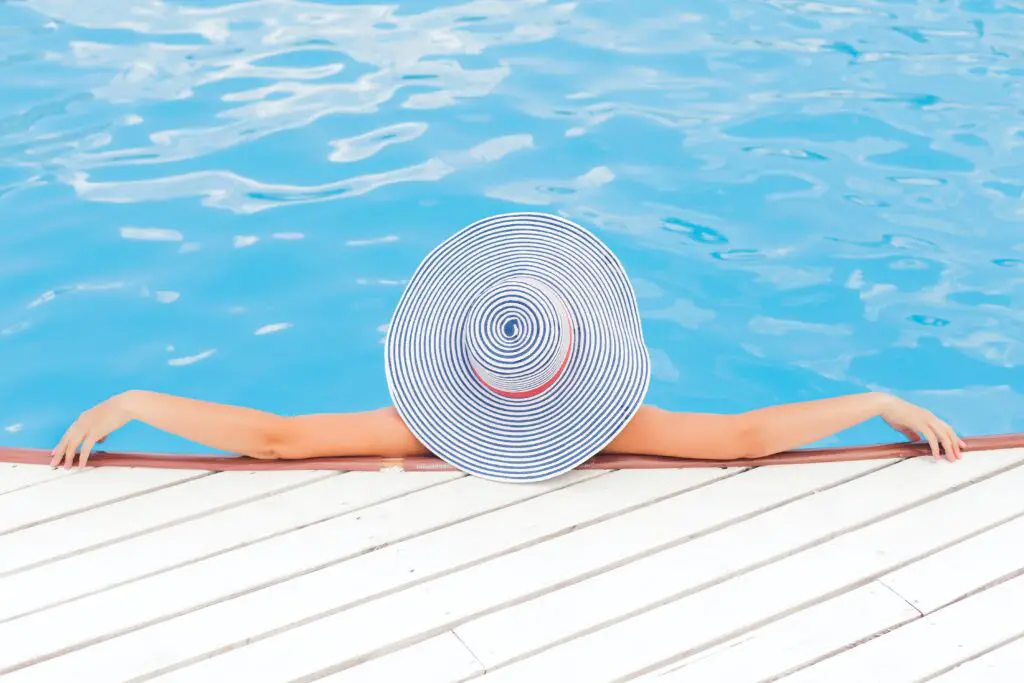 Like to get in a pool and hang out? If so, you'll like the water to be slightly warmer. When "chilling out" in the pool, you don't want it to be too cold or too warm. Just perfect so you can stay in and be comfortable for a long time.
3 For exercise
Typically, those using a pool for exercise want the water to be in the middle somewhere. They want to be concentrated on exercising or rehab movements and not think about if the water is too warm or cold.
4 To look at (aesthetics)
Most don't get a pool with just this in mind, but this is really how the majority of people enjoy their pools. The look and sound of a large body of water have a natural calming effect on people, so many will look forward to just sitting next to the pool and not getting in.
With this type of usage, the water temperature can be anything.
5 For kids to use
Having a pool for your kids to swim in is a very popular reason. And kids will use the heck out of it when they are younger.
Younger kids don't care what the water temperature is. They will jump in shivering with blue lips OR not say a word about it being 95°F and like a hot bath.
MOST POOL THERMOMETERS AREN'T TOO ACCURATE AND DON'T WORK FOR VERY LONG
Most water temperature indicators for swimming pools are not very precise devices. When people first get a pool, the water temperature is super important. After a year or so, most stop caring what the actual water temp is.
This is partially because they learn that there isn't much they can do about the water temperature AND they learn they can't trust their thermometer.
If you are new to having a pool, buy a new thermometer. If they are cheap, buy two different ones and compare them. This will help you in the beginning.
THE OVERALL BEST SWIMMING POOL WATER TEMPERATURE
For those reading who aren't really getting the fact that ideal water temps are unique to each of us, here's an answer that you can go with:
78 DEGREES FAHRENHEIT (25.5 CELSIUS) IS THE BEST POOL TEMPERATURE EVER AND OF ALL TIME!!
This of course depends on who you ask and where they are from, but generally, if a temperature had to be picked, then 78F would be the ideal pool temperature.
BEST POOL TEMPERATURE FOR DOGS
Dogs are like young kids when it comes to pool water temperatures. They really don't care.
You can think the water was too cold for him/her though and when it comes out of the water, you can humanize him by making him wear a sweater.
OUT OF STATE COMPANY/RELATIVES MAY THINK THE POOL IS TOO COLD OR WARM
As mentioned earlier, how you like your pool water depends on what climate you live in. People come down to Orlando from the north usually think the pools are way too warm.
And when people from the south go up north, their pools are way too cold for them.
ELDERLY PEOPLE TYPICALLY LIKE SWIMMING POOLS TO BE WARMER
I can't determine what "elderly" is to you. My mother used to say that old starts at your age plus fifteen years.
People are living longer and some healthier, so I would say to look for people over the age of 70 wanting the pool to be warmer. Everyone is unique though, so don't hold me to your parents or grandparents wanting the pool warm.